Breaking News: InvestorPlace Launched Positive Steemit Coverage! (and I need YOUR HELP)!!
Financial and business news resource InvestorPlace Media just launched today its first-ever in-depth coverage of Steemit, and this article was written by none other than your homeboy, @bullishmoney! Please do yourself, your loved ones, and anyone you like (or even dislike) a BIGLY favor and read/share/like this piece -- http://investorplace.com/2017/06/facebook-inc-fb-fear-social-media-kingslayer/#.WUGbXdyQyM9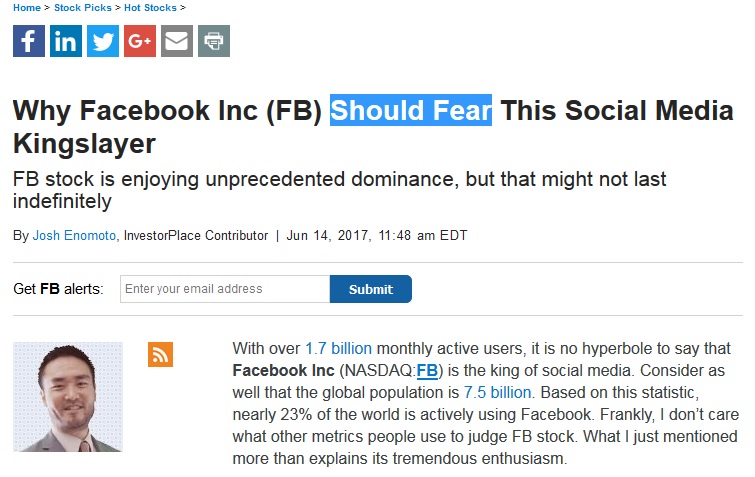 Steemit FINALLY Gets Media Coverage After a Year Hiatus!
"Why Facebook Inc (FB) Should Fear This Social Media Kingslayer" discusses the point that while Facebook enjoys unprecedented dominance in the social media sphere, Steemit is aiming to become a giant killer! The reason is obvious -- why waste your time blogging for free on Facebook when you can get paid on Steemit? Furthermore, you are engaging the cryptocurrency markets, the future of finance and global commerce!
My fellow Steemians -- this is what we have been waiting for! A major push of mainstream media coverage that positively portrays the Steemit opportunity. We always knew that Steemit was going to be the number one social media network; this article, and hopefully many others like it, will get us there quicker! :)
Steemians Helping Steemians
I do however, have a MAJOR ASK! As many of my followers know, I don't do e-begging. But this time, I must make an exception. I boldly proclaimed that this article will be easily one of the most heavily-trafficked or engaged pieces for this week.
I'd really love not to make a fool out of myself in front of the editors at InvestorPlace! So please check out the post, and if you'd like to go the extra step and share among your friends, or those who you are trying to convince to join Steemit, send them this link!
Thank you all so very much!
Once again, the Steemit vs. Facebook article can be found here -- http://investorplace.com/2017/06/facebook-inc-fb-fear-social-media-kingslayer/#.WUGeZ9yQyM-