Hello to you!
---
As many services on the web, this one is also in english. So I have firstly to introduce myself in the shakespear language. My real first and second name are Frédéric HAUGUEL (alias Aeden). I live in France in Brittany ("Bretagne" in French), this is in the north-west part of my country, more precisely it's a peninsula which has two seas close to it: English Channel ("Manche" in french) and North Atlantic Ocean. I'm interested in many fields as language learning, graphics, programmation (web developpement), music, writing and more.
French translation
Comme beaucoup de services sur le web, celui-ci est aussi en anglais. Donc je dois dans un premier temps me présenter dans la langue de shakespear. Mes vrais prénom et nom sont Frédéric HAUGUEL (alias Aeden). Je vis en France en Bretagne, c'est dans la partie nord-ouest de mon pays, plus précisément c'est une péninsule qui a deux mers à proximité : la Manche et l'océan Atlantique nord. Je m'intéresse à de nombreux domaines tels que l'apprentissage des langues, le graphisme, la programmation (développement web), la musique, l'écriture et plus encore.
Here is a picture of me at the edge of the sea :D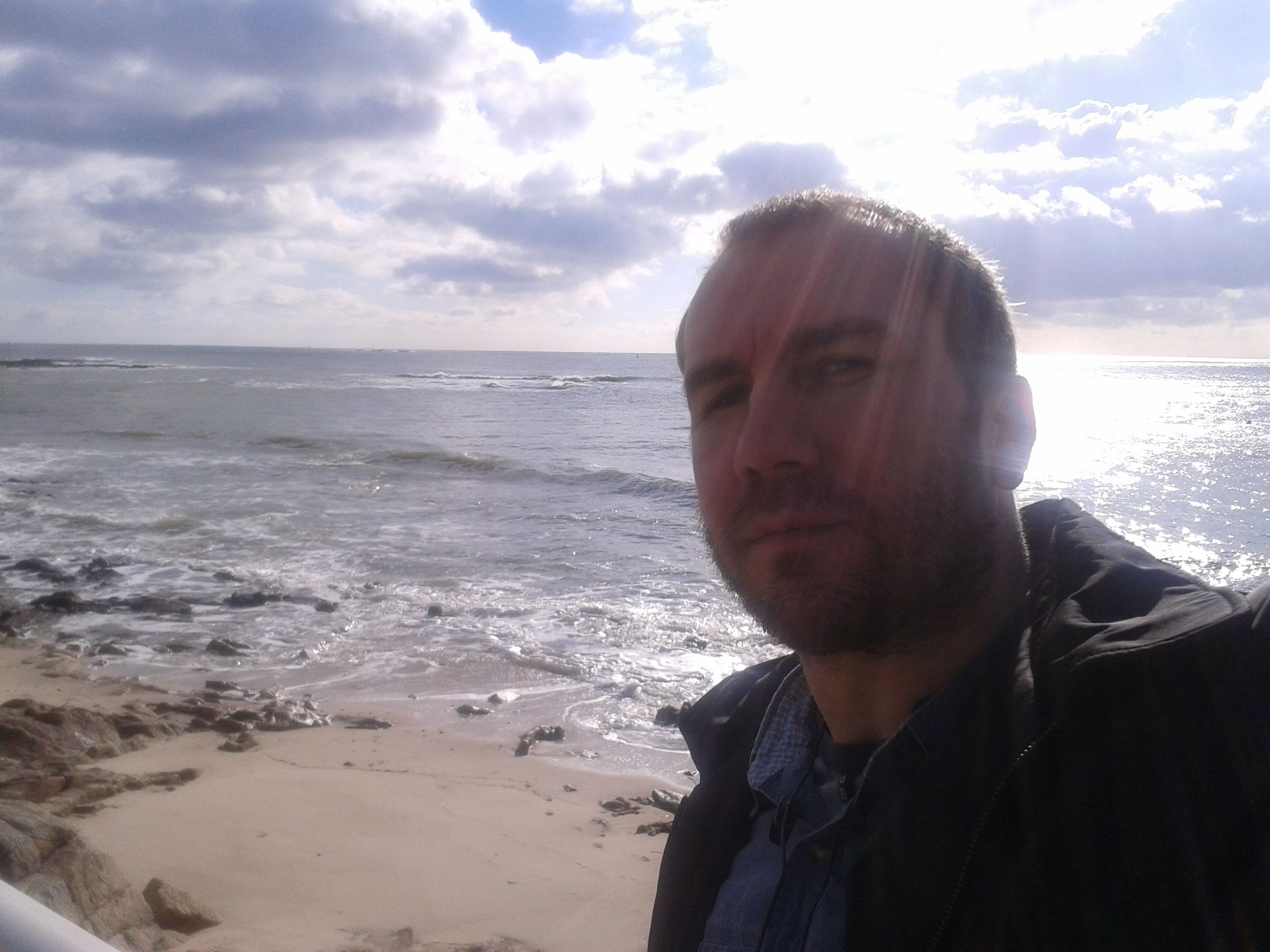 How did I format my content ?
---
If you wonder how I justified my text, there is a plenty of usefull articles written to explain the principles of markdown formatting, but I can give you one rich of information and another about emojis/emoticons
What I expect of Steemit and what I can offer it
---
I discovered some months ago the principles of the blockchain; I knew nothing about it. What I understood, it's a kind of unfalsifiable, ineffaceable and undestructable big public (or private) noteboook where everyone can read and write content; as much the transactions as any texts. The crypto-currencies are an aspect very interesting of the blockchain in a world where our economies are between the hands of the big banks. All this is very attractive and ideologically interesting regarding the alternative aspect of this model.
Concerning what I'll offer, my mindset, my way of thinking is simple:
As many people on Steemit, I'm interested of earning money through what I can produce, but I'm also perfectly conscious that it's something hard to get and it should not be the main thing to have in mind when coming into this community; too many people produce content only thinking about how much money they can earn and it seems to me that it's the bad way to proceed; if we are really passioned by what we do, what we are interested in, so we'll naturally get attention from people who read us.
As I said above, in my introduction, I'm interested in many fields, so I'll produce content about them. Language learning remains, since many years now, the topic which interest me the most, because it represents for me a tool to connect people, to learn more about their reality and how I can get close to them celling fraternity.
Conclusion
---
I written this first article listening to this radio : Midnight Cafe Radio.
It was a good moment to me, writting in a kind of transcendental state, in line with my emotion and it's enough to make me happy. I forgot something: I'm also interested in constructed languages, so I'll obviously write about some of them starting by esperanto (because I'm esperantist :D No, don't go !). I hope you had pleasure to read me and I say you to next time for a new article 👋.