Steem Basic Income
Steem Basic Income is a social experiment to bring a basic income to as many Steemians as possible. Members join by sponsoring others into the program. Steem Basic Income is delivered through providing regular upvotes to member content.
Welcome to @steembasicincome's tenth member interview!
To provide more interaction within Steem Basic Income (SBI), we are continuing our interviews with prominent members of SBI! We hope to bring a greater sense of community, get to know our members, and gain a better understanding of why Steemians are choosing to be a part of SBI.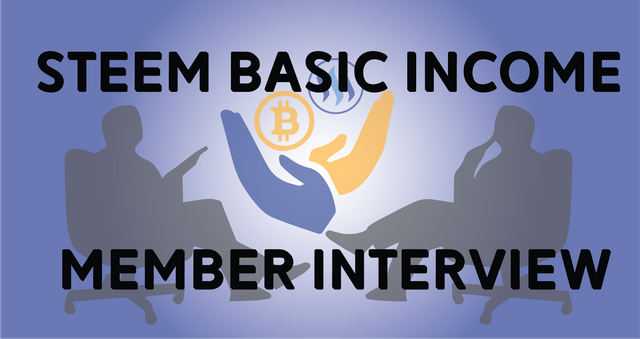 Graphic by @katysavage
From a young age,
@ecoinstant
continues to be very interested in the mechanisms of sustainability, and loves being a part of several teams working on promising projects, including the marvelous Steem Basic Income!
Perhaps you have heard of Steem Basic Income? Have you ever wondered about the mind behind this 'hidden orca' account? Who designed this unique program?
I had the privilege of interviewing Joseph Savage, the man behind the units. We even got a chance to meet in person this past week in Austin, Texas as a part of Global Block Builders. Now that I have verified his identity, I believe that I am the perfect person to write up an interview about this very interesting individual and his perspective.
@josephsavage and @ecoinstant
Let's start with a quote I like from him.
Freedom from oversight makes each individual inherently accountable for their own stupidity. That accountability can be extremely uncomfortable for anyone not used to it.
-J. Savage
Ecoinstant: Why don't we start talking about your experience with Steem. Did you start with Steem Basic Income already in mind?
josephsavage: I initially joined Steem figuring it would be a blogging journey; a place to put down some thoughts about crypto in a more organized fashion, to hold my opinions to the fire of public criticism. But I went into Steem like I used to go into hedge fund clients on consulting assignments: full focus, taking notes, asking questions, identifying all the moving parts, reading the whitepapers, the current discussions on the github, etc. I got the general lay of the land; trying to learn what worked and what didn't.
I started The Daily Sneak on the @sneakyninja account (now on @thedailysneak) because I saw that content discovery was a huge problem and I believed that improving curation rewards would help. Then I started Steem Basic Income right after that so the two programs could integrate.
(The Daily Sneak rewards SBI, that results in viral growth for SBI but also steady value for The Daily Sneak, enabling it to become sustainable without being dependent on bid-bot profits.)
This is actually why SBI works so well for contests - it was explicitly designed from the very beginning to make contest accounts 100% sustainable after reaching initial ROI. But I designed SBI to be fully scalable and sustainable, whereas The Daily Sneak really doesn't scale well.
Ecoinstant: So you designed Steem Basic Income as a program to support contests?
josephsavage: Actually SBI is designed to gradually soak up SP and provide strong reasons to move capital into Steem (regardless of broader crypto market behavior). I anticipate SBI eventually growing to a point where it distributes 10-15% of the total reward pool, but at that point growth relative to reward pool should slow significantly, and SBI growth will start to uplift the broader Steem ecosystem.
Be the rising tide you want to see in the world.

Ecoinstant: So how would you characterize your childhood?
josephsavage: I was a precocious kid. Hyper-intelligent, but no people skills. Not exactly the best recipe for making friends and I didn't have many. The few I had were other misfits like me, though we've mostly grown apart over the years. The most successful of the group works for Google now.
I had a supportive home environment. My parents were smart and loving, but they started having kids before they were financially stable. My dad worked his way through school and then pivoted career paths right before graduation, immediately rendering his major pretty much irrelevant. (Political science degrees are basically useless outside of politics and law.)
Ecoinstant: So in your hyper intelligent childhood, did you have any desires of changing the world or anything like that?
josephsavage: Not as a kid, no. What we had were libraries. we went every week for a couple of hours and picked out books. I discovered finance in my early teens when I was reading mostly biographies; I read a biography of Warren Buffett and I was hooked.
I started reading finance, economics, game theory and strategy almost exclusively. I actually did my high school degree through a correspondence course, and coursework only took a few hours per week, so there was plenty of time for extra-curricular activities which were largely books, some computer games (sid meier's civilization and starcraft mostly), and dating.
I learned just enough people skills to be dangerous and I dated a lot in high school and college. I did a 'gap year' and spent some time in brazil before college, which completely changed my perspective on almost everything.
That was when I realized that I wanted to change the world. not because I wanted to do it, but because it needed to be done.
Ecoinstant: Aha! So it was travel that did it. How's your Portuguese?
josephsavage: Very rusty. It's been almost 17 years, and I can still read it and get the gist (likewise Spanish and Italian because they're similar enough), but I can't speak it at all.
Ecoinstant: Language is funny. It takes quite a bit to get it to stick, but I bet you were getting by great by the end of that year!
josephsavage: I got around okay, but people still knew that I was American the second I opened my mouth.
Around the same time I had some shake ups in my spiritual foundation that left me looking for a more meaningful personal relationship with God. I took up meditation and over a couple of years it was like a 100% shift in my personality. I was much less prone to violent outburst, a lot more patient, calm, and collected. But it also took the edge off my ambition. I still wanted to change the world, but I was a lot more comfortable with small sustainable impact instead of trying to set the world on fire.
I still geared into Finance but because it was what I was good at, not because I was trying to get rich or reach the top. I worked to set my own life in order and use that as a base to make an impact around me, then continue to broaden circles of impact into the world at large.
Ecoinstant: Did you work any interesting jobs in those days?
josephsavage: When i was in college, I used to do movie patron audits. The movie studios hire independent contractors; I would print off identifying paperwork and show it the movie theater, hang out all day and validate how many people actually watch each show, and if the showtimes permitted maybe even watch the movie once. There was lots of dead time with a longer movie, like Batman Begins.
Ecoinstant: Oooh, a fun job.
josephsavage: I distinctly remember that for that movie, the book I used to fill the dead time was a complete legal overview (with case history) of the U.S. regulations pertaining to securities.
1933 and 1934 securities acts, 1970 investment acts, Howey test, etc.
Ecoinstant: Oh, a 'fun' job.
josephsavage: It had the tiniest print ever.
Ecoinstant: So you read that in a dim theater? Wow, man I need light for my books.
josephsavage: No, actually you just position yourself in the back of the theater about 20 minutes before the lights dim, validate how many patrons are actually there, update the count as the theater fills, document what previews show and then you can leave after the feature starts. Then just hang out in the lobby.
Now if the theater has multiple screens and the showtimes are too close together to spend 45 minutes in each auditorium you bring a helper. But if the showtimes are far apart (only one auditorium showing the picture) then you'd have a couple hours break between each show.
Anyway … I know quite a bit more about securities regulation than your average stockbroker - which I have also been at one point.
Ecoinstant: Wow!
josephsavage: I worked as a broker after college for a short time, then got my MBA with Finance concentration; I spent almost three years consulting for hedge funds on financial technology before pivoting into corporate finance, specifically business reporting and analytics (which is what I do now).
As I learned more and incorporated my experience and domain knowledge, I started seeing ways I could leverage that into more impact than just being an island in the storm. Ways to leverage my own resources and the resources of others into giant waves of potential impact, instead of just tiny ripples.
Ecoinstant: It sounds like you are talking about multiplicative impact!
How long has SBI been in your mind, even in 'seed' form?
josephsavage: Well SBI itself is only 18 months old.

Source: https://steemd.com/@steembasicincome

Source: https://steemd.com/@josephsavage
josephsavage: There is only a 17 day gap, actually.
Ecoinstant: I have noticed that you don't really talk about yourself a ton 'on chain'; we don't see you 'blogging' a ton about personal matters.
josephsavage: I'm not really much of a blogger. But I do try to add the value I can.

---
---
Sustainability Coverage and VP Management
Sustainability Coverage is currently at 92.21% and rshares reward rate is 737,669,370 per SBI unit per day.
The rshares reward rate for bonus units (delegation reward) is not decreased. It actually is higher, to return curation rewards to our delegators. You can help increase the sustainability coverage (and thus the rshares reward rate on regular units) by delegating to
@steembasicincome
.
For more information, please read
Into the Heart of Sustainability
.
Upvoting Reward multipliers are currently at 1.10x until our Voting Power recovers to 80%.
Enrollment
If you want to get involved, or to increase the level of basic income that you receive, enrollment is pretty straightforward:
Just send 1 STEEM to @steembasicincome. Include the name of a Steemian to sponsor in the transaction memo (preceded by @). You and the person you sponsor will each receive 1 unit in the program. You can sponsor any active Steemian (except for yourself), it does not have to be a current member.
If you're unclear, please check out our full transaction memo guidelines and then let us know if you have any questions.
https://steemit.com/busy/@steembasicincome/transaction-memo-guidelines
The official currency for enrollment is STEEM. If we choose to accept SBD without refunding it, you do not receive extra value for it.
Enrollments are processed automatically every 144 minutes.
Questions?
Please read our
FAQ
. If you still have questions, ask in the comments section or join us in our
discord channel
.
You can look up your current membership levels by using !sbi status in a comment or post, or by using our newly modified member lookup tool.