Misleading IS MISLEADING!
Being in the financial industry for 3 years, I'd learnt and seen quite a lot. Of course I have more to learn and financial management is a life learning journey that never stops because things change quickly especially in the financial sector.
Anyway let's not dwell into that. In this 3 years, no doubt I'd learnt that marketing is one of the key ways people sell themselves. In fact, marketing is a important tool too. Only that at times, when people do marketing especially for financial products, things can be "sound good to be true". See, reason I write this post up is because of this simple "marketing" that annoys me.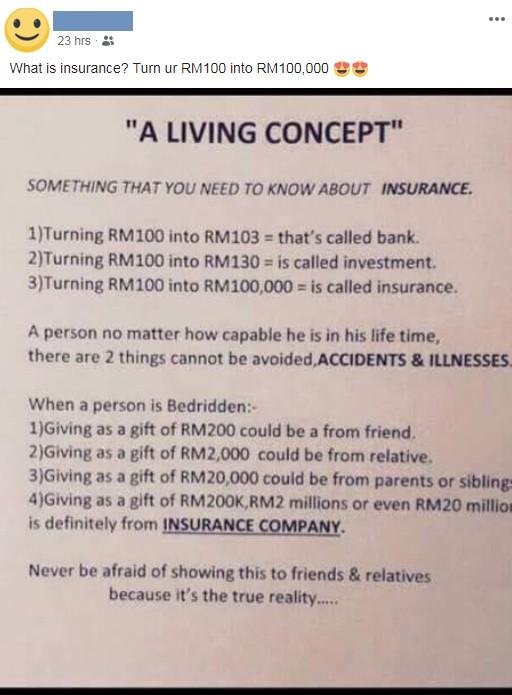 Insurance agents mostly (not all) are trained to only share the very good side of insurance products only. There will be nothing bad about their products. So I guess, based on the points above, looks like insurance is the best investment ever!
Turning 100 into 100,000 = is called insurance
Really? So I have to make sure I buy a RM50 monthly premium (First 2 months of premium payable upon application) of RM100,000 insurance (in this case only personal accident insurance applies) and get myself banged by a car and leave earth after the policy is inforced. Yea that's how I get my best "investment" return.
Seriously I think the industry need to up their game by not promoting enticing products benefits only just to make people buy and regret later.
AND...
Giving as a gift of RM200K, RM2 millions or even RM20 millions is definitely from INSURANCE COMPANY
Hello? It is not a gift, someone paid for it. So you are saying no one pay for the premium and insurance companies just issue cash as gifts to people who passed on?
My rule of thumb - Always remember, you pay for what you got. There is no free lunch when it comes to insurance. I'd came across many who didn't know the actual reason why they purchased their insurance for. Most standard answer is "Agent says good and worth to buy so buy lo, treat it as savings for future." Then end of the day even the savings bring no value in the future.
Again, always remember, the purpose of buying insurance is not hoping to get that 100,000 return. You don't want to get that return upon passing on right?