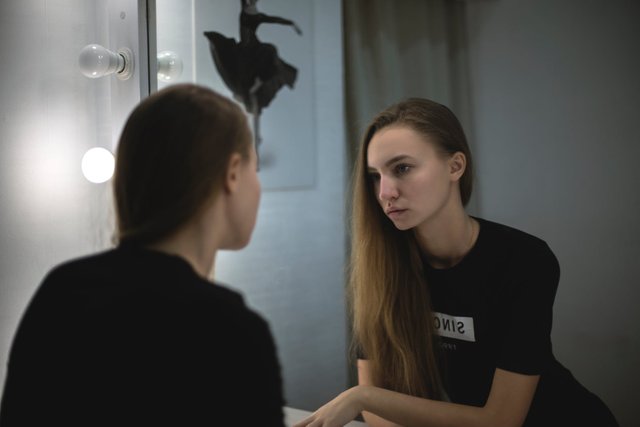 'If you don't follow your heart, you might spend the rest of your life wishing you had'.
There are two channel of inspiration that flows to mankind, one is from the heart and the other is the brain. The heart urges us to be noble, patient, productive, contented, peaceful, calm, show love, and be respectful, but on the other hand the brain throws different pictures that appeals to our senses which may contradict our morals such as indulging in excess of any activity. Mostly when our brain throws up a picture that appeals to our senses, our heart quickly contradicts with a warning or caution. And when we ignore the warnings from our heart, we end up regretting. To have a perfect channel of communication with our heart, we have to keep it clean, purity ensures that messages are constantly delivered to us through our heart. The heart here means conscience as most people call it or intuition as others call it too. The things we listen to, speak, watch, and meditate on end up brightening or dampening our heart thereby making it clear or difficult for clear communication between our heart.
"如果你不跟随自己的心,你可能会度过余生,希望你拥有'。
有两种灵感流向人类,一种来自心脏,另一种来自大脑。内心促使我们变得高尚,耐心,富有成效,满足,和平,平静,表现出爱和尊重,但另一方面,大脑会抛出不同的图片,吸引我们的感官,这可能与我们的道德相矛盾,例如沉溺于过度任何活动。大多数情况下,当我们的大脑抛出一张吸引我们感官的图片时,我们的心很快就会出现警告或警告。当我们忽视内心的警告时,我们最后会后悔。为了与我们的心脏建立完美的沟通渠道,我们必须保持清洁,纯度确保信息不断通过我们的心传递给我们。这里的心脏意味着良心,因为大多数人称之为直觉,而其他人也称之为直觉。我们倾听,说话,观察和冥想的事物最终会增亮或抑制我们的心脏,从而使我们内心之间的清晰沟通变得清晰或困难。
"Si no sigues tu corazón, podrías pasar el resto de tu vida deseando haber tenido".
Hay dos canales de inspiración que fluyen hacia la humanidad, uno es del corazón y el otro es el cerebro. El corazón nos insta a ser nobles, pacientes, productivos, contentos, pacíficos, tranquilos, mostrar amor y ser respetuosos, pero por otro lado el cerebro arroja diferentes imágenes que apelan a nuestros sentidos, lo que puede contradecir nuestra moral, como permitirse en exceso. de cualquier actividad. Sobre todo cuando nuestro cerebro arroja una imagen que atrae nuestros sentidos, nuestro corazón contradice rápidamente con una advertencia o precaución. Y cuando ignoramos las advertencias de nuestro corazón, terminamos arrepintiéndonos. Para tener un canal de comunicación perfecto con nuestro corazón, tenemos que mantenerlo limpio, la pureza asegura que los mensajes se nos envíen constantemente a través de nuestro corazón. El corazón aquí significa conciencia, como la mayoría de la gente lo llama, o intuición, como otros lo llaman también. Las cosas que escuchamos, hablamos, vemos y meditamos terminan iluminando o humedeciendo nuestro corazón, dejando así claro o difícil una comunicación clara entre nuestro corazón.