INSIDIOUS 1-- #Fiction
"Darkness is full of terror!" mom once told me. "You are a woman, women don't stay out late, especially this election eve," she would add, tugging at her ears. And I would wonder how inappropriate it was for her to refer to me as a woman, when I was barely 15. Peharps, a girl child was fit to be called a woman, only when two juvenile breast began to sprout under her blouse.
We lived in an an extensively large house. We had just moved into the house from the two rooms apartment we used to live at No. 6 Amechi Rd. It was 'face me, I face you' kind of public yard. The story of our moving from pit to palace was received by people as fairy tale. It began one night. That night, father had come home in his usual faded yellow polo, which clasped his chest tightly, holding down the flaccid breast in place. His shoes, smiling from the torn edges, in the dim light provided by the bedside lamp. He came in that night, singing and dancing, while my brother —Ikenna, Mom and I grew itchy ears, yearning to be scratched form Papa's good news. Papa told us how he met Ugo; his childhood friend and how he had promised to teach him his importation business. That night, words spilled out of Papa's dark lips swiftly, and his breathe reeked of squadron.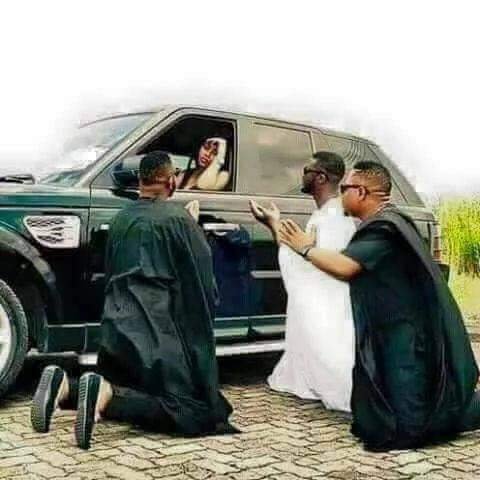 Weeks after the night, a hummer jeep drove us into this big compound. "This is our new house now," papa announced and I caught a sly grin dancing at the corners of his lips. We were dumbstruck. I stared blankly at the big compound. If not that papa had told us about Ugo, we would think papa a ritualistic. In just a space of few weeks, our lives changed. As time lingered, Papa withdrew us from doing home chores. Papa would bark at the maids when he believed things were not in place. I could remember the day he caught me ambling into the compound. I was just coming back from a friend's house. Mama was trailing behind Papa clutching at his Italian Leather briefcase, both reaching for the Red Rover Jeep. When his eyes danced to meet me, they glistened with anger and he took a brisk steps towards the gate.
"Where is that idiot that calls himself my gate man!" an edge of bitterness in his voice, as he paced down to the gate.
Musa —the gateman and Ken —the driver who was assigned to always chauffeur Mama, Ikenna and I, waltzed outside at the sound of his voice. Father barked at them more than I have ever seen him do. The veins around his neck bulged out, threatening to burst as he spoke. He threatened to deal with them ruthlessly, if ever again he learnt that we left the house all by ourselves. The two men, stood some feet away, their heads bowed down, their faces glistening in pain, for papa had pulled on their ears and his palm had greeted their faces with a hot- resounding slap.
Mama and I locked eyes. When Papa was around, Mama would use eye signal to communicate with me and Ikenna. Since our new life began, Mama's eyes were trained to hold back more tears and her mouth grew larger, enough to accommodate the unsaid words.
***To be continued... ***
Chukwuebuka Harrison writes