INKling Wall of Fame: Peter A. Philleo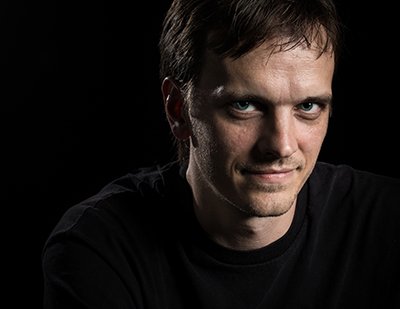 Several members of our INKubator family are achieving success with their writing goals.
In this series, we want to let them share what they've achieved and how they feel about it. Of course, for us it's an extra chance to show these INKlings how proud we are of them.
Introduction
There is one among the INKlings who always has a kind word for everyone, be that a bolstering of courage, a note of humour, or commiseration and torture in effigy when one of us receives a rejection.
Despite his talent as a writer, he doesn't take himself too seriously, and often provides a willing target and dueling partner for the Mistress of Snark, our very own Bug.
As lovable as he is (and he does his utmost best to hide this fact), darkness tends to ooze from his soul and into his stories, and many of them provide us with the most delicious of shivers and shudders as we sharpen our claws and pens on him in peer review. And every now and then, he will catch you completely off guard with a heartbreaking, poignant story that hits you where it hurts.
Yes, Neg. We're talking about you.
Peter A. Philleo, or as we at the INKubator know him, Neg (short for Negativer), has become like the annoying big brother we all love to pester, and we're thrilled and excited--and most of all proud--at his recent accomplishments in publication.
All bow to the Doomsayer!
INKling Wall of Fame: Peter A. Philleo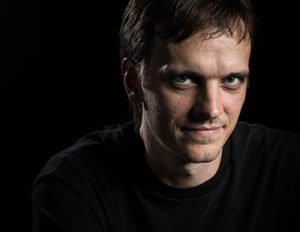 Peter A. Philleo is a web site developer to pay the bills, and a longtime writer of short and long fiction, which doesn't help pay the bills at all. He has been published in Kyanite, Aurora Wolf, Theme of Absence, Tales From the Moonlit Path and other fine markets. An avid reader of sci-fi and fantasy/adventure, homebrewer of fine ales and lagers, and amateur cat herder, he lives in South Florida with his wife Erin and two cats.
Website: http://peterphilleo.com/
Twitter: http://twitter.com/@pphilleo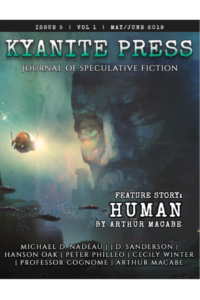 His story "Nothing Is Free," a social science fiction, is the primary focus of this interview. It was included in The Kyanite Press Journal of Speculative Fiction: Volume 1, Issue 5 (May/June 2019). We were so proud to see his name appear on the cover.
In a world entirely run by cryptocurrency, Michael and Kayla find themselves struggling to understand how to get by when everything is monetized. While Michael finally realizes how completely his life is controlled by money, Kayla has already taken a more drastic step to break free of the chains around them.
After the conclusion of this interview, Peter took First Place in the "Demented Mothers Day" contest from Tales from the Moonlit Path with his story "New Mother." This story brings up fond memories for all of us at INKubator of the time he had everyone--even people who hadn't looked at the story in the peer review channel--sticking their hands in their mouth to see how much they could fit.
What inspired you to write this story?
Being involved in the cryptocurrency community for a time gave me an insight as to where the technology might take us in the future, and the negative impact on society when the inevitable abuse of that tech occurs.
Do you have any advice based on your experience so far for other writers still struggling for acceptance?
Gotta keep trying. There's plenty of rejectomancy articles out there to give people ways to rationalize rejection and help deflect the pain of having something you created and that's a part of you getting constantly declined as being 'not good enough.' In the end most of it is luck and timing, and you're never going to be able to write good enough to beat those on their own turf.
Is there a technique or structure or resource you found especially useful in getting your accepted piece ready for submission?
Not enough can be said about the value of peer review. Writing into a vacuum and submitting a piece (with nobody else to read your work before the editor gets it in their hands) is like shooting in the dark and hoping you hit something or baking a cake with the lights off. Having fellow readers pre-read your piece helps you fine tune a piece and turn it from good to great, and gives you the confidence to feel your work is ready.
Which books are your favourite?
Beyond the typical answers for a fantasy/scifi reader (LOTR, etc), I've been a huge fan of anything from Brandon Sanderson, and his Mistborn trilogy ranks at the top; neck and neck with The Broken Empire series from Mark Lawrence.
How long have you been writing?
30 years, but there was a 25 year break somewhere in the midst of that.
What advice would you give a writer just starting their journey?
Make sure you enjoy writing on its own merits. If the editors aren't accepting or you're not getting rich from writing, make sure that you just enjoy the process. As I get older, I am realizing that there is value in the mental activity of writing. It keeps the brain limber and the neurons firing. So, even if you're not published at least you won't be senile.
What is the most surprising or interesting thing you discovered while writing?
That there is a feeling of productivity and satisfaction when completing a piece, and doubly so when you feel it's actually good.

---
Posted from our blog with SteemPress : http://inkubatorcommunity.com/inkling-wall-of-fame-peter-a-philleo/
---
---
Interested in our community? Follow the link below.