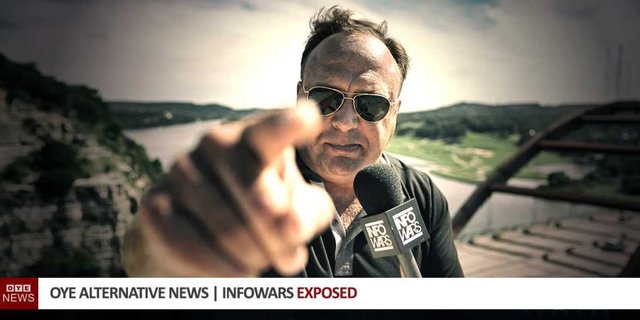 It has long been rumoured and somewhat proved that InfoWars and PJW are the creation of British, US and Israeli intelligence.
Paul Joseph Watson from Sheffield, UK has been the YouTube henchman of the far right fake alternative news organisation for a number of years now. Watson first made his appearance on Infowars back in 2005 in the Terrorstorm documentary, Paul Watson and his Brother Steve Watson both talk about the London 7/7 bombing:
Gradually both Paul and his brother contributed more and more to the show as time went on. Both producing some good material for the show, in fact as recent as 2014 PJW did a video titled 'Did Israel collude with ISIS' where he identified not only Israel's destruction of Gaza, but that Israel is actually supplying logistical support for Al nursra and other compartmentalised Jihadists.
But since 2014 Pauls narrative has drastically changed to an all out attack on Islam. Aside from his sudden hate campaign towards Islam he has also developed the inability to question official narratives, accepting all terrorist attacks and World events as the mainstream media present it, which is quite ironic when you consider how he began his career questioning the 7/7 bombings. So far no one had come out and questioned Paul Watson about his current stance on Islam and the building aggression and hate that is seeping out of his videos. Until now!
Avid researcher and prominent truth speaker David Icke has called out Infowars and their team on his website several times over the last 12 months, questioning their motives.
In this instance, Icke questions Paul Joseph Watsons constant hatred towards Islam:
Paul – why are you condemning hate with hate in your eyes and why are you buying so many official stories without question? Just asking – David Icke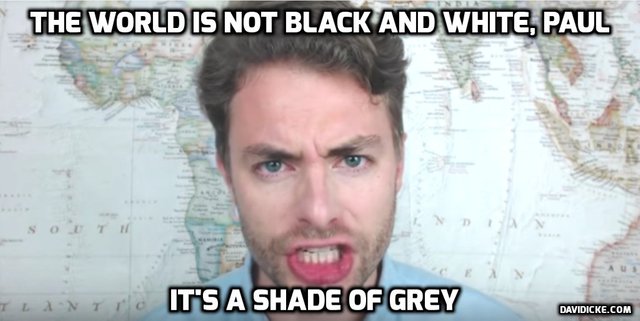 Then in this most recent case which was on the day Donald Trump sent 59 Missiles to a Syrian Government Airbase based on a false flag chemical weapons attack: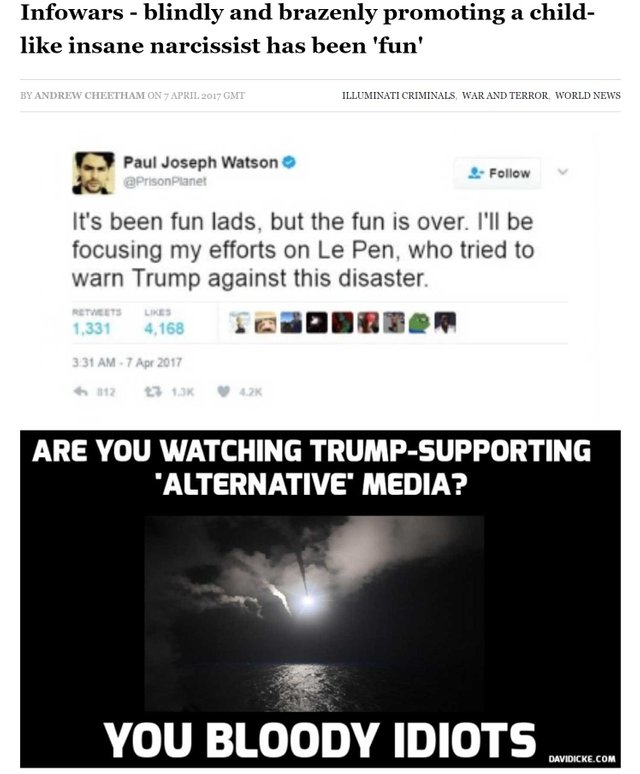 Richie Allen in a recent interview with Max Igan also questioned Paul Joseph Watson & Infowars recent hard swing to the right and their huge push of Islamophobia. A very good question is also raised behind how exactly Alex Jones did make it into Bohemian Grove all those years ago – I mean we are talking infiltrating probably the most secure party on Earth with a hidden camera , and Alex manages to capture the whole lot on video.
Is it possible that Alex was invited to provide a 'safe exposure' of this Satanic Ritual for the Elites in order to satisfy the minds of those questioning this infamously bizarre event?