High Vitamin D Levels Linked with Better Fitness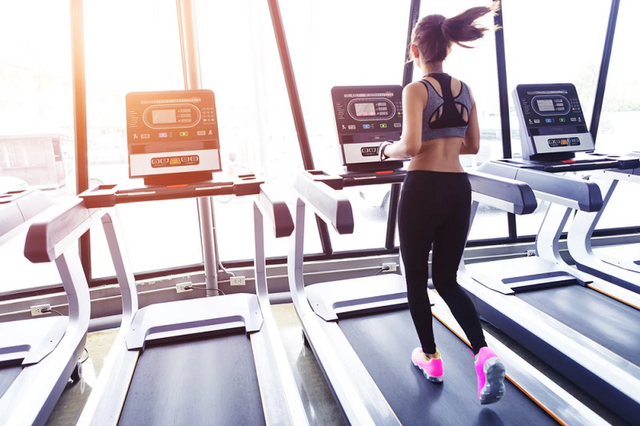 In the study, people with higher vitamin D levels also tended to have better cardiorespiratory fitness, a measure of a person's aerobic fitness level. Indeed, the higher a person's vitamin D level was, the greater their cardiorespiratory fitness was, the researchers found.
However, the study found only an association between vitamin D and cardiorespiratory fitness (CRF) and could not prove that high vitamin D levels actually improve people's fitness.
One could argue that more active and fit people have higher vitamin D levels because they are outdoors more being exposed to the sun and eat foods higher in vitamin D. But I think it's obvious your body needs it to stay healthy or else it wouldn't be producing it.
Still, the link between vitamin D and fitness level was strong and consistent among different groups of people, Marawan said in a statement. "This suggests that there is a robust connection and provides further impetus for having adequate vitamin D levels."
Health benefits of Vitamin D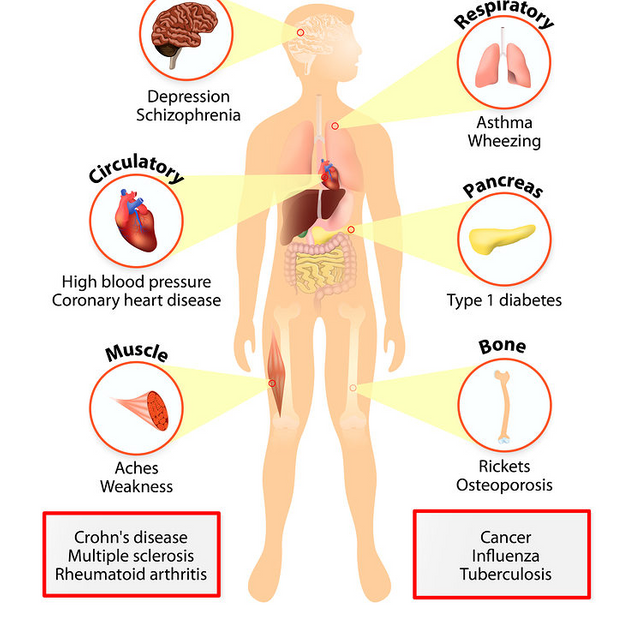 Source: https://www.livescience.com/63959-vitamin-d-fitness.html
Vitamin D also may play a role in preventing depression as studies have shown a link between depression and low levels of Vitamin D. Of course if you go to a doctor for depression they are going to prescribe you a bunch of anti-depressants than test you for low Vitamin D levels that might be the root cause of your depression.
Vitamin D and depression
Studies have shown a link between vitamin D deficiency and depression. Researchers behind a 2013 meta-analysis noticed that study participants with depression also had low vitamin D levels. The same analysis found that, statistically, people with low vitamin D were at a much greater risk of depression.
The researchers believe that because vitamin D is important to brain function, insufficient nutrient levels may play a role in depression and other mental illnesses. An earlier 2005 study identified vitamin D receptors in the same areas of the brain associated with depression.
https://www.healthline.com/health/depression-and-vitamin-d#connection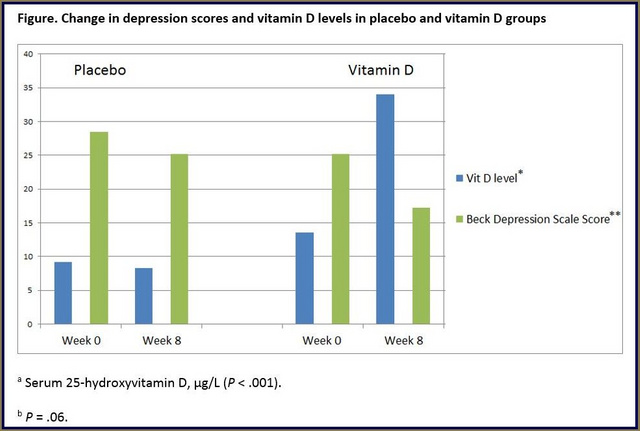 http://www.psychiatrictimes.com/bipolar-disorder/vitamin-d-bipolar-depression
I personally take a bunch of supplements and have seen many benefits from them including more energy and better mood. In those supplements there's about 10 times the governments daily recommended dose for Vitamin D. This is just more evidence to me that Vitamins can improve ones overall health without having to go to the doctor for a prescription drug that has a bunch of side effects.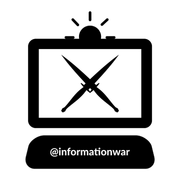 Interested in joining or supporting the Information War?

Use tag #informationwar to post your own stories about the lies and propaganda being pushed on the public. @informationwar will upvote posts worthy of the cause.
Join the discord: https://discord.gg/t5JFAXZ chat with like minded individuals like myself and share your articles to receive additional support
Delegating Steem Power:

Another way you can support the cause is to delegate SP to @informationwar.
Note: remember to keep around 50SP in your account so you don't run into any bandwidth problems.
How to delegate SP, join the fan base and more: https://steemit.com/informationwar/@truthforce/you-can-make-a-difference-join-the-informationwar-and-help-support-others-today