Check out the podcast I did yesterday with @truthforce and @gregorypatrick we covered several topics related to the #informationwar
This podcast is another expansion of the @informationwar project we are doing this order to increase growth and visibility outside of Steemit.
You can catch the show live on Tuesdays and Thursdays at 8 PM EST
Some of the topics discussed:
Current Trump news.
Barney Frank corruption.
Venezuela and socialism.
Land grab in South Africa.
We could use as much help as possible so like and subscribe if you enjoyed the podcast.
In the coming weeks we are planning on having some guests on the show to discuss a number of topics besides politics so be sure to check back for those interviews.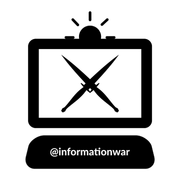 Interested in joining or supporting the Information War?

Use tag #informationwar to post your own stories about the lies and propaganda being pushed on the public. @informationwar will upvote posts worthy of the cause.
Join the discord: https://discord.gg/t5JFAXZ chat with like minded individuals like myself and share your articles to receive additional support
Delegating Steem Power:

Another way you can support the cause is to delegate SP to @informationwar.
Note: remember to keep around 50SP in your account so you don't run into any bandwidth problems.
How to delegate SP, join the fan base and more: https://steemit.com/informationwar/@truthforce/you-can-make-a-difference-join-the-informationwar-and-help-support-others-today