Report For The President: The Real Russia Collusion Story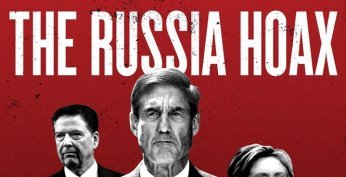 Google Images
I wrote a few days ago about a group of active and former intelligence agency members coming forward to help dispel the fake news coming from the MSM on the phony Russia Collusion probe of Robert Mueller. Among these individuals is William Binney, who many remember from his whistleblowing about the NSA's illegal/unconstitutional surveillance of millions of Americans. They have been releasing information a little at a time redacting, of course, sensitive or classified information. Some of this I reported about before, starting with Robert Mueller, Andrew McCabe and others approaching Russian oligarch Oleg Deripaska for help arranging the release of FBI agent Robert Levinson from Iranian captivity.
The involvement of a foreign national in a plan of this sort is a violation of the "Antideficiency Act Title 31 Subtitle II Chapter 13 Subchapter III U.S. Code 1341, U.S. Code 1342, U.S. Code 1345, U.S. Code 1350 and U.S. Code 1353." Moreover: "This particular Russian Oligarch according to former and current multiple Intelligence Community, DOJ and FBI Officials and some supporting documentation has ties to Ukrainian covert operations, and pursuit of his own stake in Russia controlling the global uranium supply chain that Hillary Clinton and Eric Holder assisted facilitating operatively and by approval via Department of State and on the committee they sat on that actually approved the Uranium One transaction giving Russia control of a strategic asset affecting National Security including nuclear threat potential and United States economy. Deripaska firm Rasperia Trading was being investigated for alleged criminal money laundering."
Having been a part of the Ukrainian operations- investigated by Mueller in the Manafort case- should have made Deripaska a key witness in the Manafort prosecution... yet he was curiously absent. Could his testimony implicate Mueller? It is well documented that it was FBI Director Mueller that hand delivered a sample of yellow-cake uranium to Russia prior to the Uranium One deal. This is a list of potential witnesses that could testify about various parties paying both Bill and Hillary Clinton in Uranium One...
Robert Mueller
Rod Rosenstein
Andrew McCabe
John Pistole
David McGee
Peter Carr
Oleg Deripaska
Vadim Mikerin son of Russian Deputy Minister of Nuclear Energy, Tenam aka
Tenex Rosatom affiliate
Vadim Zhivov
Frank Giustra
William Campbell
Sergei Kiriyenko
Michael McFaul
Maura Pally one of several witnesses who interacted between the Clinton Campaign and the Clinton Foundation
John Podesta shareholder and payee of Rusnano via Joule Unlimited and then transferred holdings to Leonidio
Erik Vanagels part of Leila Global Limited
Stan Gorin part of Leila Global Limited
Hillary Clinton
Ian Telfer major Uranium One shareholder who also was a major donor to Clinton
Foundation
Eric Holder
Denis Katsyv
Natalya Veselnitskaya attorney who met with Paul Manafort and who represented Katsyv in Prevezon matter
Paul Manafort
4 FBI Officials
7 CIA and IC Officials and Contractors
Oleg Deripaska was also a scheduled recipient of much money from the Iran payout by Obama Administration according to a former Obama Administration party.
Not only was Deripaska involved with Uranium One, he was also involved in the Obama Iranian nuclear deal. Fast forwarding to the Russia Collusion scandal... a plot was hatched involving the Obama administration, Russians (not associated with the Kremlin), British Secret Services, particularly MI-6 and GCHQ, along with Alexander Downer former Australian PM to prevent then candidate Trump from being elected and later to sabotage his presidency. This is a partial timeline of how it went down...
"Bruce Ohr who communicated to Sally Yates responding to her about the status, however, at that moment, no one in the U.S. was told about the DOJ and FBI actually running the operation in tandem with Alexander Downer who is best friends with Hillary Clinton, The friendly MI6 Agent was compelled to inform us about Stefan Halper, ______________ and _______________."
​
"At that moment we had to get word to the Trump Campaign that there were potentially 3 spies working in the Trump Tower but without saying anything about Sally Yates or Bruce Ohr being involved."
"We shared the information and asked our alliance to call Robert Caron, an officer who had friends at MI6 and formerly ran internal surveillance over the CIA for President Bush 41."
"This was one of those moments and we had to share with Robert without informing him the spies were being placed by the United States FBI so an internal investigation could start."
"Robert Caron flew from Virginia Beach to New York on November 1, 2016 to tell David Bossie about Stefan Halper, _______________ and _______________"
"Admiral Michael Rogers on November 17, 2016, would also go to the Trump Tower to tell them about the infiltration of their Campaign. Joshua Macias was present at the scene and he went to see an Admiral to give the information."
"Admiral Rogers had been critical of reports by the DNI James Clapper and the CIA Director John Brennan concerning their views of events."
"Finding out Alexander Downer had been intimately involved was big because of his close relationship with Hillary Clinton. Alexander Downer facilitated millions of dollars for Hillary Clinton."
"Stefan Halper was being paid by the United States Government through the office of Net Assessment per instructions of the FBI."
"Stefan Halper had been proactive in trying to facilitate relationships with Russians and Carter Page in addition to George Papadopoulos."
This is a list of some of the conspirators, both at home and abroad...
PARTIES WHO WERE INTERACTING
Richard Dearlove (former MI6 Director)
Robert Hannigan
John Brennan (former director of the FBI)
Stefan Halper
Jonathan Clarke
Louis Susman (fundraiser for Barack Obama Campaign)
Christopher Steele
Alexander Downer (one of the best friends of Hillary Clinton)
Marc Elias (attorney facilitating production of Hillary Clinton Dossier)
Josef Mifsud
Bruce Ohr (DOJ)
Hakluyt (company)
Holdingham (company)
HSBC (company)
​
THE OBAMA ADMINISTRATION CLEARLY LODGED THIS FALSE ATTACK AGAINST OUR PRESIDENT AND COUNTRY, DISTRACTING THE WHOLE NATION AND SLOWING DOWN PROGRESS FOR PRESIDENT TRUMP, AND COSTING US TAXPAYERS, HOWEVER, THE OBAMA ADMINISTRATION WAS ACTUALLY CONSPIRING WITH RUSSIANS AND THE UK VIA FUSION [GPS] AND DIRECTLY THROUGH THE DOJ AND FBI FROM THE BEGINNING.
As you can see, the conspiracy against President Trump goes straight to the top, involving Obama himself in illegal activities. This is only the beginning of the disclosures- all of which have been collaborated by a number of people involved in the American Intelligence Services. This web of criminality is bigger than many imagine and as more people directly involved with US Intelligence come forward and reveal what they know, this will move from "conspiracy theory" to truth... the MSM will have to report on it.