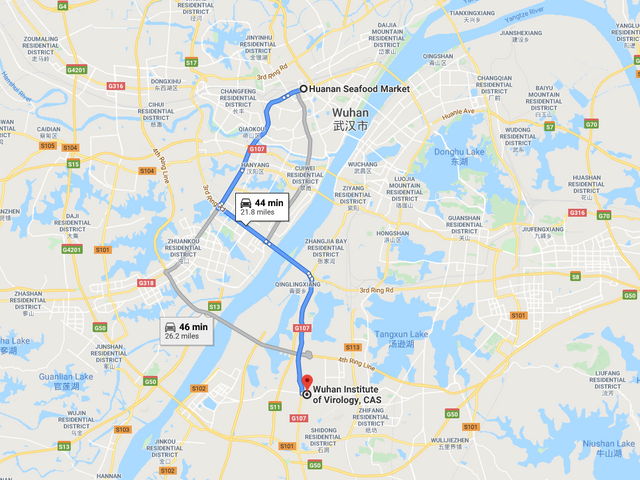 google maps
The outbreak of coronavirus started at Huanan Seafood Market. At first, we were told there's nothing to worry about, just another flu-like from China. Then we hear it's much serious than that, then we hear that at this point some 30 millions of people are under quarantine in China.
If you look at the map above you'll see the market where the outbreak started and the Biosafety Level 4 laboratory that China built in 2017 in order to work on the SARS like viruses. They were warned at that time that a virus may escape from it and while there's no confirmation it happened I invite you to look at the map above.
A lab technician having a lunch, some bat soup perhaps...
The following cities are in lockdown:
Wuhan
Huanggang
Ezhou
Chibi
Xiantao
Qianjiang
Huangshi
Zhijiang
Xianning
Yichang
So far there are over 900 confirmed cases and 22 deaths. The virus has reached the following countries:
Thailand – 5
Singapore – 3
Taiwan – 3
United States – 2
Hong Kong – 2
Macao – 2
Japan – 2
Vietnam – 2
South Korea – 2
Considering the developments we witnessed so far, I believe the situation is much more serious than MSM reports. The Chinese government actively censors the social media, deleting the posts and closing the online groups that shared the information from Wuhan.
Here's a video from inside Wuhan: