Who am I calling a National Socialist?
Well to start the founder of the Arab Nationalist Socialist Movement known as the Palestinian Liberation Organization and Fatah, the Grand Mufti of Jerusalem, Haj Amin al-Husseini who was literally a Nazi, like literally Dude.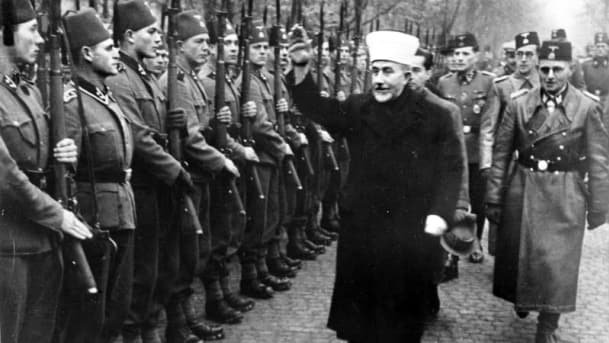 Amin Al Husseini meets with Adolf Hitler in November 1942, weeks before the decision to implement the Final Solution which sent Europe's Jews to the gas chamber. The Third Reich provided Amin Al Husseini with a salary and appointed him Head of the Hanzar SS Division. The Hanzar Division was made of Nazi Muslims and implemented the genocide of 250,000 Serbs, Gypsies and Jews during WWII.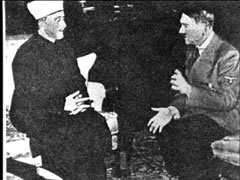 Our fundamental condition for cooperating with Germany was a free hand to eradicate every last Jew from Palestine and the Arab world. I asked Hitler for an explicit undertaking to allow us to solve the Jewish problem in a manner befitting our national and racial aspirations and according to the scientific methods innovated by Germany in the handling of its Jews. The answer I got was: "The Jews are yours."
Haj Amin al-Husseini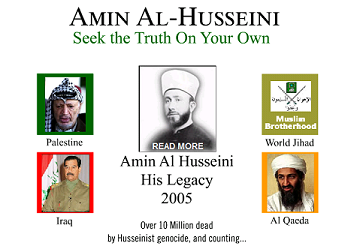 Hitler, The Mufti Of Jerusalem And Modern Islamo Nazism
This news report from Bayerischer Rundfunk explains in detail the cooperation between the Nazis and the Muslim Arab leaders during WW2.
It goes on to explain how high ranking heads of the SS fled to the Arab world and carried on their activities under the protection of leaders such as President Nasser and how modern Islam has adopted a Nazi style ideology of hate and conspiracy against the Jews.
Haj Amin al-Husseini was Yasser Arafat's uncle (whether by blood or convention) and both Yasser Arafat and Mahmoud Abbas were mentored by him. This is the man who created the PLO now known as the Palestinian Authority.
With Nazi Germany's support Husseini and the Muslim Brotherhood started a campaign in 1936 to violently impose their Arab Supremacist Ideology on the Arab world. During this campaign they killed around 7,000 Arabs and 3,000 Jews.
In 1936 the Muslim Brotherhood had only 800 members after the German Nazis funded them in 1936 they were able to attain publishing resources and start spreading their message. In three short years they had increased their membership to 200,000.
At the end Second World the National Socialists of Europe were disarmed but not only were the National Socialists of the Middle East not disarmed they were sent reinforcements such as Otto Skorzeny, Nazis recruited by the CIA and protected from prosecution for their War Crimes.
Here is documentation of his genocidal campaign against the Jews of the Middle East.