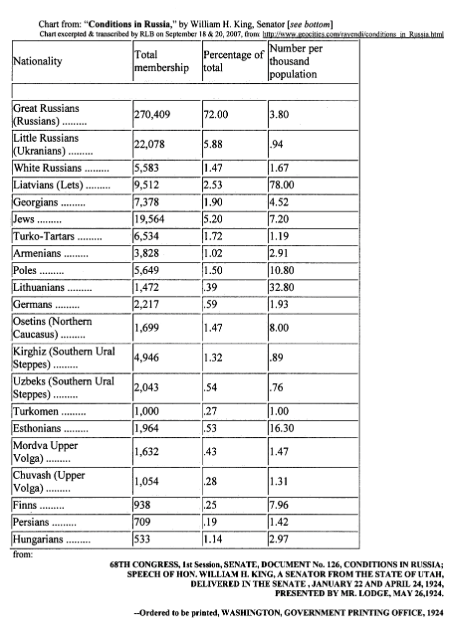 Now for the Russian Revolution and Jewish involvement in Bolshevism and a criticism of Talmudic Doctrines.
Jews were indeed over represented in all anti-Czarist political movements this stemmed from the facts of serious anti-jewish actions of the Czarist regime such as apartheid rules governing their daily lives and regular race riot/Lynch mob called pogroms and the anti-jewish ideology that dominated the pro-Czarist political movements.
So there was a selection bias for Jews to join the various Socialist, Anarchist, and even Conservative anti-Czarist political movements.
Many useful idiots made the Russian Revolution possible most of them were lined up and shot as soon as the Bolsheviks seized power the rest were destroyed soon after. First torture, then show trial the lucky ones were shot and the unlucky ones were sent to the concentration camps called
Gulags to be worked to death or if they were an attractive female to be taken as sex slaves for party bosses.
The Jews were and continue to be over-represented among useful idiots in the present many Jews support immigration of people who follow an ideology that is full of anti-jewish doctrine.
This comes from a culture of compassion (when taken to its extreme a terrible vice), and their own history of nasty apartheid enacted by the Catholic, Orthodox and Islamic Clerical-fascists. Thus they have preference for Universalist doctrines but what they certainly didn't have in the Bolsheviks was a strong grip on the reigns of power. Jews were purged from the Communist Party quickly and played no serious role in Politburo after a decade.
So much for a Jewish plot, twenty thousand Jews were in the communist party in 1922 compared to two hundred and seventy thousand Russians and if you want to talk over-representation how about Latviansians while only roughly ten thousand Latvians were Bolsheviks that made them 11 times more over-represented than Jews.
What could explain this heavy over-representation?
Well sheeple it's a good thing your reading this because I'm here to tell you about a sinister organization, it's LOG!!!
That's right! Latvionist Occupation Government!
The Latvians are going to take over the whole world in order to secure what is obviously Estonian land to make their Latvionist plans come true.
Now we come to the Clerical-fascist system and ideology that dominated the Shetls of Europe.
This video outlines many evil doctrines that exist in certain schools of Talmudic thought.
I disagree with his characterization of the entire rabbinic tradition as a divergence from the Torah.
He makes the common Christian mistake of conflating the Pharisees with the Sadducees. In the Bible Jesus castigates and condemns the Sadducees for their prostitution of their religious authority.
The Pharisees, considered the precursor of the rabbinic tradition, on the other hand came and questioned Jesus and had respectful conversations with him.
The reason I am posting this is to show that while my bias is pro-israel and for that matter and I feel the need to show the positive contribution of Jewish people to history and to the present I also acknowledge the evil that Jews are involved in.
Just like every other human being in the world sometimes they intentionally do wrong and some times they do wrong while intending to be virtuous.
"The line separating good and evil passes not through states, nor between classes, nor between political parties either -- but right through every human heart -- and through all human hearts. This line shifts. Inside us, it oscillates with the years. And even within hearts overwhelmed by evil, one small bridgehead of good is retained.
Alexander Solzhenitsyn"
For every jew that was a Bolshevik there was 10 Russians who were Bolsheviks of course if you compare Jews with non-jews for every jew who was a Bolshevik the were 18 non-jews who were Bolsheviks. So whose fault is Bolshevism?
Europeans that's who( mostly ze Germans) and for good and ill the Jews have been part of Europe since before it was known as Christendom
This is the source for the picture and infographic as well as a more thorough examination of Jewish involvement in Bolshevism.