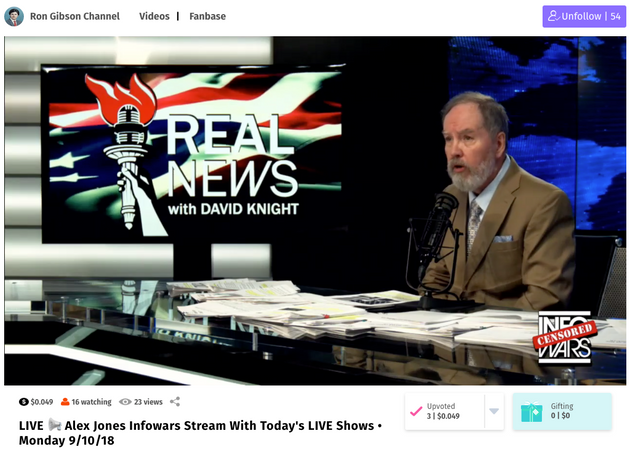 Infowars Now Live on @Dlive
For those of us who value alternative news, please know that Infowars via https://steemit.com/@rongibsonchannel is now broadcasting their programming LIVE on @dlive.
Currently on: REAL NEWS via the https://dlive.io/livestream/rongibsonchannel/0763ae19-b4f7-11e8-aada-0242ac110003
Their Freedom is My Freedom
Even though I may not agree with everything that is said on Infowars, Jones and his team provide an excellent alternative news source to tune in to.
It is an outrage that the mainstream social fascists have removed MY CHOICE to watch/listen to Infowars and others.
I credit Michael Savage and Alex Jones with waking me up big time in the early Nineties. Neither are my only source of news nowadays, but they do form part of my portfolio of information providers whom I trust more than mainstream alphabet soup 'News' crime syndicates.
Silencing a Human Being is the highest form of Tyranny.
How can that be?
Your voice doesn't matter. You are worthless in their eyes - a useless eater. You are wished dead!
Your choice doesn't matter. You are worthless in their view - a useless eater unless you conform and go against everything you stand for. You might as well be a slave or dead!
The development, expression, and exchange of our ideas and values project the ultimate animation of ourselves. Silencing persons equates to killing them, for only through the communication of our views are we adding value to ourselves and others. The product of our work, may it be art, news, books or output of manual labor brings us to life.
The enemies of life and liberty want us dead. Their demonic war on free speech points to the source of whom they serve. I shall not serve them or their master.
(1) http://www.stevequayle.com/ with focus on Transhumanism and Biblical contexts
(2) http://www.censored.news/
(3) https://www.whatfinger.com/ (an alternative to the https://drudgereport.com/)
In addition, I consider the mainstream propaganda talking points. They do provide a good indicator of their anti-Human tactical and strategic moves, and the multitude of crimes that are committed by the globalist/communist/occult based cabal.
May God have mercy on their souls.



Proud Supporter of PAL and the - The Minnow SupportProject
Christopher "The Hat" Hatfield @globocop

[Upvote] [Comment] [Resteem] [Follow]