[ENG/ESP] See the state of the center of the city by yourself, from the creators of PETRO // Ve el estado del centro de la ciudad por ti mismo, de los creadores del PETRO
[ENG]
Morning friends, a few days ago i came across a post made by @novacadian talking about his confusion about the situation in Venezuela, like many other people outside the country he seems to believe problems here are responsibility of US government, i admit i was a little pissed off by it because he also uploaded a video talking to a guy who's name i don't remember; This guy has been invited to the country three times now and he seems to have a very friendly relationship with the terrorist venezuelan government, i didn't saw the whole video to be honest, but as far as i what i heard this guy say many positive things about the narco-politicians, @novacadian may believe his friend has "boots in the ground" however i bet he doesnt get to see this parts of the city i'll show you now.
This happened last saturday, i went to an anime convention with my buddy Christopher which was taking place in a museum that is located at the center of the city "Museo de Arte Contemporánea", actually we got there too late and the museum was already closed so we decided to walk around downtown and just talk and hang out, this is some of the pleasant and unpleasant surprises we encountered.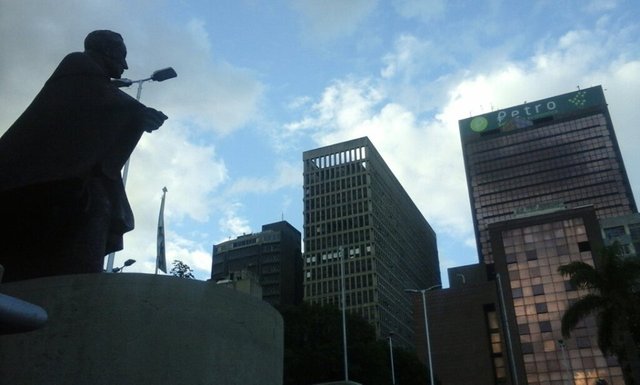 This place is located at the very center of the city, the name it's Plaza Caracas, there is a huge statue of Simon Bolivar and you can also see a big building with the logo of PETRO which is a centralised cryptocurrency made by the government and it is suspected that it was created for money laundry, so far everything seems very nice right? the palm trees, the clear sky and stuff but look at this next picture.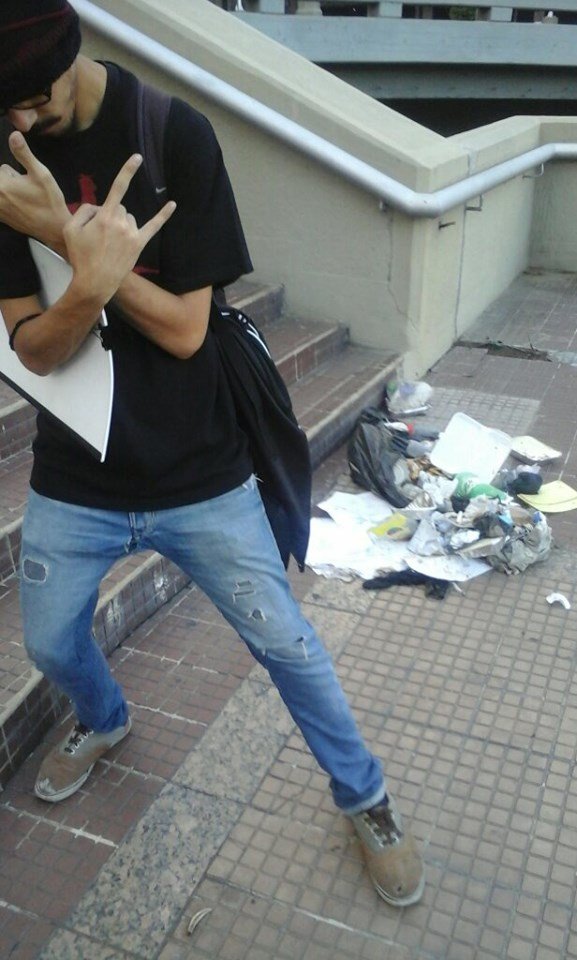 That is exactly the same place from where i took last picture, and as you can see there is a bunch of garbage and debris who knows how long has been there scattered on the floor, also Christopher is making an anime pose for the lolz, so i wonder, how is possible that a government who is socialist and "cares" about the people, permits that such an iconic place in the center of the city is at this conditions? you may think a bit of garbage is not that serious right? well, now look at this video for a better appreciation of the situation.
The video shows a bit more of the place, as you can see there's garbage everywhere, Christopher and i are talking in spanish and basically what we are discussing is weather is safe to use the cellphone or not in there because there are a lot of junkies and hobos who apparently live around that place, also is funny that on the walls of the Plaza Caracas there's a large banner with words that say No More Trump. The venezuelan government spent money on that but not on cleaning the streets from garbage and dangerous people, ¿what kind of socialist are this i wonder?.
As i said not everything is unpleasant, we also had the chance to encounter a peruvian celebration for Jesus of Nazareth that day, i'm not really a religious person and definitely not a christian but what Christopher and i enjoyed more about it was the music that they were using for the event.
So, as you can see, not everything is what it seems, just because somebody comes to an event sponsored by the government that has caused so many troubles that means you should believe everything they want you to believe, i don't know anything about US government, as any other government in the world i'm pretty sure they have their dark side and donde plenty of dirty stuff, and if they have interest and secret agents working in Venezuela i wouldn't know as well, but i can believe in what i see and experience, and that is what i'm sharing with you today
[ESP]
Buenos días amigos, hace unos días me encontré con una publicación hecha por @novacadian hablando de su confusión sobre la situación en Venezuela, Al igual que muchas otras personas fuera del país, parece creer que los problemas aquí son responsabilidad del gobierno de los EE. UU., Admito que estaba un poco molesto porque también subió un video hablando con un tipo cuyo nombre no recuerdo; Este tipo ha sido invitado al país tres veces y parece tener una relación muy amigable con el gobierno terrorista venezolano, no vi todo el video para ser honesto, pero de lo que escuché a este tipo parece decir muchas cosas positivas sobre los narcopolíticos, @novacadian puede creer que su amigo tiene "botas en el suelo" sin embargo, apuesto a que él no ha visto estas partes de la ciudad que les mostraré ahora.
Esto sucedió el sábado pasado, fui a una convención de anime con mi amigo Christopher que estaba teniendo lugar en un museo ubicado en el centro de la ciudad "Museo de Arte Contemporáneo", en realidad llegamos demasiado tarde y el museo estaba Ya cerrado, así que decidimos caminar por el centro, hablar y pasar el rato, estas son algunas de las sorpresas agradables y desagradables que encontramos.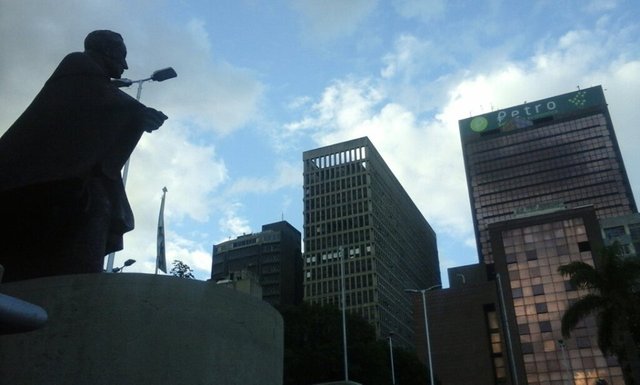 Este lugar está ubicado en el centro de la ciudad, el nombre es Plaza Caracas, hay una enorme estatua de Simón Bolívar y también se puede ver un gran edificio con el logotipo de PETRO, que es una criptomoneda centralizada hecha por el gobierno y se sospecha que fue creado para el lavado de dinero, hasta ahora todo parece muy bueno ¿verdad? las palmeras, el cielo despejado y demás, pero mira la siguiente imagen.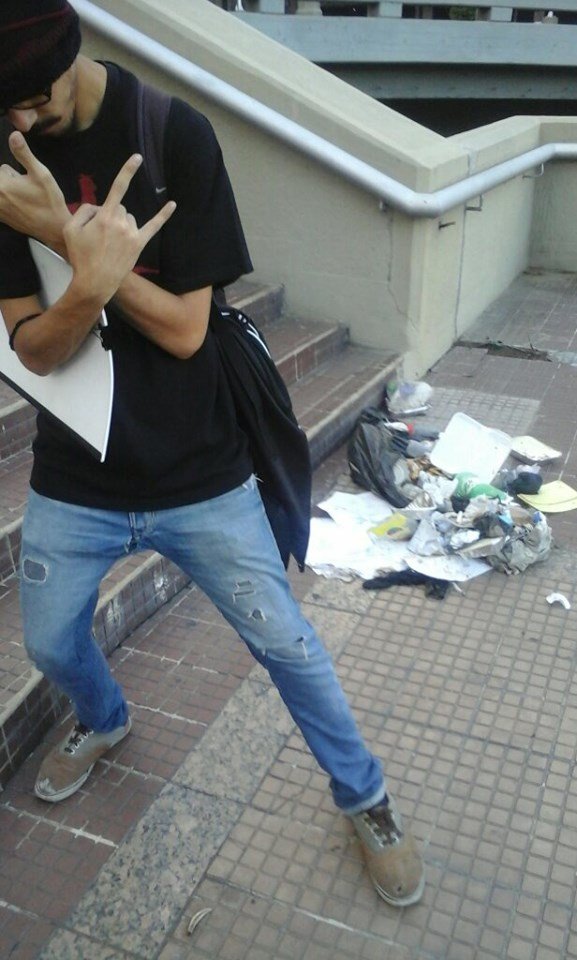 Ese es exactamente el mismo lugar desde donde tomé la última foto, y como pueden ver, hay un montón de basura y escombros que quién sabe cuánto tiempo ha estado esparcidos por el suelo, también Christopher está haciendo una pose de anime para los lolz, así que Me pregunto, ¿cómo es posible que un gobierno que es socialista y "se preocupa" por la gente, permita que un lugar tan icónico en el centro de la ciudad se encuentre en estas condiciones? quizá piensen que un poco de basura no es tan grave, ¿verdad? bueno, ahora mira este video para apreciar mejor la situación.
El video muestra un poco más del lugar, puedes ver que hay basura en todas partes, Christopher y yo estamos hablando en español y básicamente lo que estamos discutiendo es si es seguro usar el teléfono celular o no porque hay muchos adictos y vagabundos que aparentemente viven alrededor de ese lugar, también es curioso que en las paredes de la Plaza Caracas hay una gran pancarta con palabras que dicen No More Trump. El gobierno venezolano gastó dinero en eso, pero no en limpiar las calles de basura y personas peligrosas, ¿qué tipo de socialista son estos?
Como dije, no todo es desagradable, también tuvimos la oportunidad de encontrarnos con una celebración peruana para Jesús de Nazaret ese día, no soy realmente una persona religiosa y definitivamente no soy cristiano, pero lo que Christopher y yo disfrutamos más fue la música que estaban usando para el evento.
Entonces, como pueden ver, no todo es lo que parece, solo porque alguien viene a un evento patrocinado por el gobierno que ha causado tantos problemas significa que deba creer todo lo que quieran que crea, no sé nada sobre el gobierno estadounidense, estoy seguro de que como cualquier otro gobierno en el mundo, tienen su lado oscuro y muchas cosas sucias, y si tienen intereses y agentes secretos trabajando en Venezuela, tampoco lo sabría, pero si puedo creer en lo que veo y experimento, y eso es lo que estoy compartiendo con ustedes hoy.