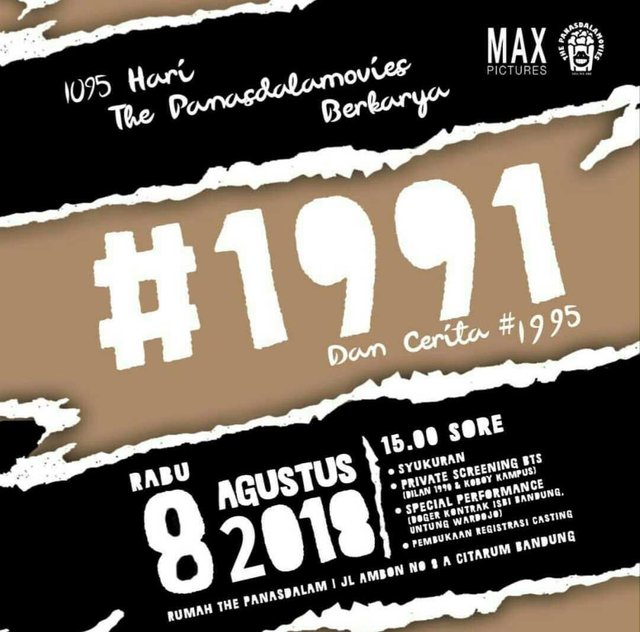 Bandung sore itu masih sibuk seperti biasa dan hari kian bungkuk menuju senja. Di Kantin Nasion, Rumah The Panasdalam beberapa lelaki tampak sedang mempersiapkan panggung. Malam itu rencananya akan digelar acara syukuran 1095 hari The Panasdalam Movies ada dan berkarya. Aku yang sudah tiba sejak pukul 15.00 memilih duduk disalah satu bangku tak jauh dari tempat Helmi bekerja meracik kopi. Dia itu sama denganku, manusia dan sama-sama berasal dari Aceh. Aroma kopi yang diseduh Helmi terhidu kuat. Aku lantas memesan segelas sanger dan langsung kuambil untuk kusesap nikmat sebelum itu gelas menyentuh meja.
Jelang pukul 16.00, acara pun dimulai dan dipandu oleh seorang perempuan yang didampingi lelaki berpakaian Hansip. Kenapa ada Hansip yang memandu acara? Kurasa itu untuk alasan keamanan dan ketertiban acara. Perkara ianya bukan Hansip betulan, itu bukan urusanku tentu saja. Urusanku ada di situ adalah untuk ngopi dan merasa senang karena banyak cewek cantik yang datang.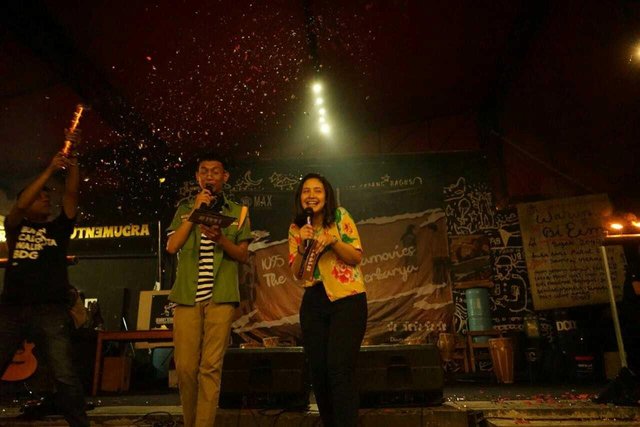 Setelah sepotong dua basa-basi untuk membuka acara, MC kemudian memanggil seseorang yang katanya Dilan yang asli. Kontan saja hal itu membuat banyak perempuan cantik histeris. Yang laki-laki juga ada, cantik dan sama histerisnya. Lalu seorang pria berpakaian SMA - persis seperti sosok Dilan didalam Film, masuk dengan mengendarai motor antik. Bedanya, jika pada lengan kanan jaket yang dikenakan Dilan itu ada bendera Amerika, si Dilan yang ini benderanya Brazil. Saya pendukung Brazil, begitu katanya ketika ditanya si pembawa acara.
Yang 'tertuduh' sebagai Dilan itu sebenarnya adalah Untung Wardojo. Ia adalah penulis buku kumpulan puisi bertajuk "Ujung Waktu". Pada kesempatan itu, Untung Wardojo membacakan sebait puisi karyanya sendiri. Tapi sebelumnya, ia terlebih dulu diminta untuk bernyanyi. Untung kemudian melantunkan lagu "Bintang Kehidupan"-nya Nike Ardila yang membuatku kemudian bersyukur. Bersyukur bahwa Untung Wardojo itu seorang penulis, bukan penyanyi. Kenapa begitu? Jangan paksa aku untuk cerita. Takut dosa.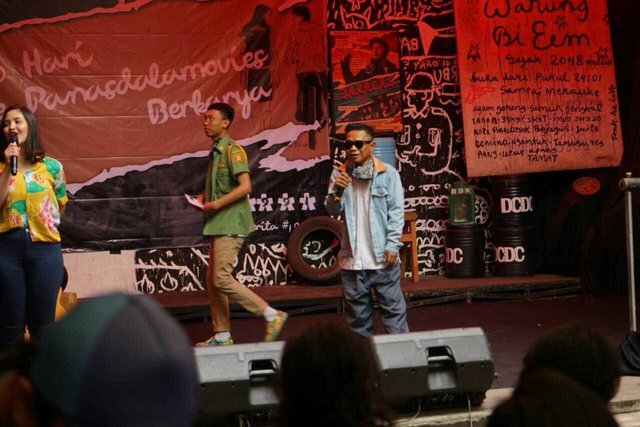 Pokoknya malam itu seru sekali. Ada banyak hadiah kaos yang dibagi-bagi. Juga ada teman-teman ISBI Bandung yang mau-maunya di suruh nari. Juga ada Gusti Rayhan – pemeran Akew dalam film Dilan yang ikutan nyanyi. Selain juga banyak konsumsi yang gratis untuk kamu pesan asal pulangnya bayar sendiri. Itu acara juga bertepatan dengan ulang tahun ayah Pidi. Ulang tahunnya yang keberapa, silahkan cari tahu saja sendiri.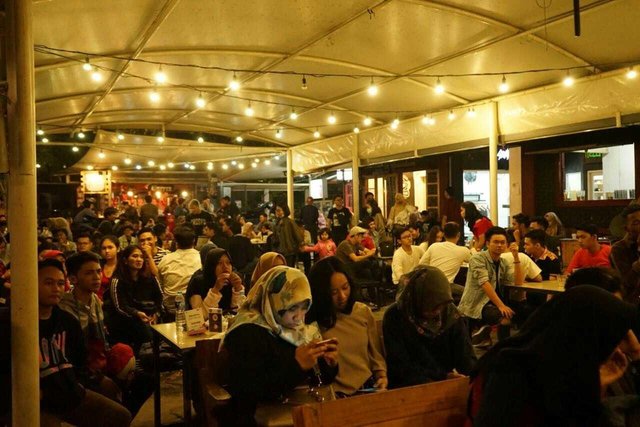 Steemians, selain beberapa hiburan di atas pada kesempatan itu juga digelar screening BTS Dilan 1990 dan film terbaru yang sedang digarap oleh The Panasdalam Movies. Itu adalah film "Koboy kampus" yang saat ini sudah selesai proses pengambilan gambar dan masuk ke tahapan paska produksi. Tinggal tunggu saja kabar peluncurannya untuk kemudian bisa kita saksikan bersama di bioskop-bioskop kesayangan pemiliknya. Film yang dibintangi oleh Ricky Harun, Jason Ranti, Bisma Kharisma, juga si cantik Vinny JKT48 itu akan menceritakan tentang perjalanan The Panasdalam sejak pertama berdiri tahun 1995 di kampus ITB. Doakan saja semua prosesnya mudah-mudahan lancar dan sukses, disertai dengan banyak uang. Amin.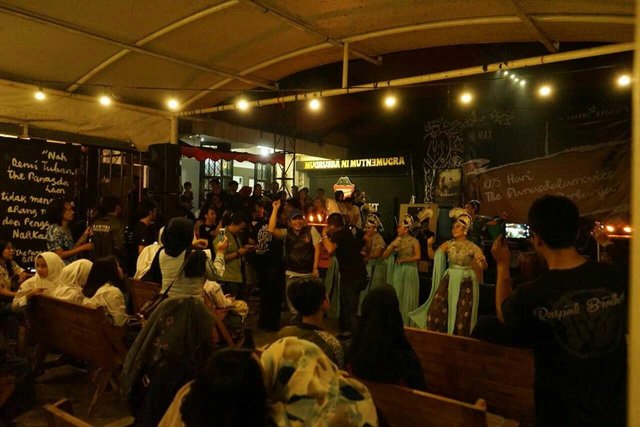 Oh iya, buat kamu yang merasa punya bakat akting dan ingin main di film "Dilan 1991" kamu bisa ikutan casting untuk beberapa peran tambahan. Karena secara resmi pendaftaran casting-nya sudah dibuka sejak tadi malam. Soal bagaimana mekanismenya, sampai kapan itu pendaftaran dibuka, juga kapan jadwal online casting- nya, akan aku jelaskan pada postingan selanjutnya. Atau kalau kamu tidak sabar, follow saja akun Instagram @thepanasdalamovie_official.
Udah ah, sekian dulu saja. Soalnya aku mau dengarin si ayah nyanyi dulu. Selamat malam steemian dan sampai berjumpa-litan!
Bandung, 9 Agustus 2018 Masehi
Salam Sayang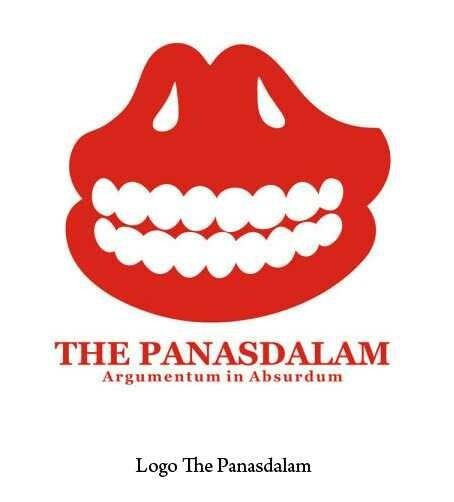 ---

Temukan kami juga di instagram!

@ thepanasdalam
@ thepanasdalamovie_official
@ thepanasdalam_publishing

Here's an album for you… Voor Dilan (Remastered 2018 [Bonus Version]) by The Panasdalam Bank
👇👇👇
https://open.spotify.com/album/6WZP31ATVq6PrBm6sYI6v1?si=jckyKcxORUGoawa5ps8pGg
author:
Senja Jingga