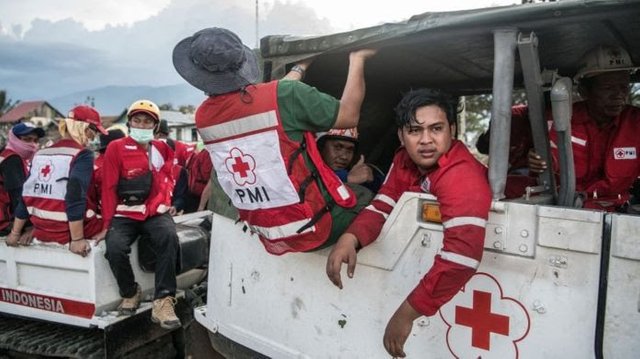 Disasters and natural disasters have given us many lessons. Who will not be aware of all the signs of power from God. Apart from understanding that natural disasters are only a natural phenomenon.
In spiritual understanding we realize that all natural disasters are evidence of God's power. As happened a few days ago on Sulawesi Island. Not yet over the emergency response period in Lombok, Indonesia was again hit by a disaster with the earthquake and tsunami in Palu and Donggala, Sulawesi Island.
The 7.7-magnitude earthquake has ravaged a number of buildings. Furthermore, after a few minutes a large wave or tsunami hit the land in the region. The earthquake and tsunami had destroyed all existing facilities, communication was cut off, shopping centers were dead, lighting was problematic, land was turned into an ocean.
The incident of the tsunami on the island of Sulawesi also reminds me of the 2004 tsunami that struck Aceh. Disasters come to know no time, do not know the place, and who will be the victim. There is no negotiation on how this disaster will confront human life.
With all the mighty power of natural disasters able to make everything on this earth change. Among these changes are the soil texture, leveling of buildings, and the existence of earth plate literature that changes place. Such events seem to be a form of fear for human inhabitants of this universe.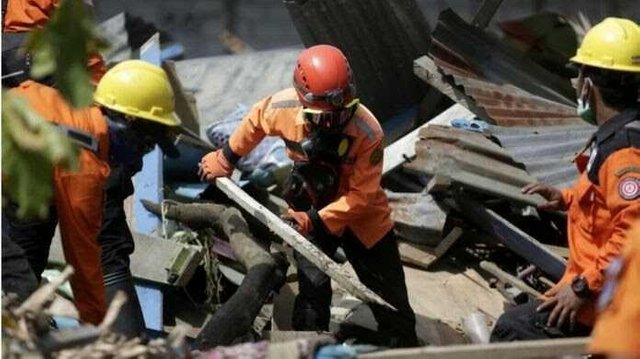 (Image Source | BBC News | Jumlah Korban Gempa dan Tsunami Palu)
Humans who have the role of caliph on earth have a great responsibility for the task of guarding the universe. In the humanitarian order various efforts continue to be made by people to cope with disasters. A number of communities, government agencies and volunteers participated in helping to overcome the impacts after natural disasters.
Almost all elements of the community have participated in fundraising actions to help victims who are carried out in various places in Indonesia. The volunteers who are moved by conscience have the ambition to devote all their strength so that they can help the victims affected by the disaster. As human beings who have a social soul it is natural for us to be concerned about the disaster that befell our brothers.
This is what became the hope of all disaster victims. In the aftermath of the disaster, the entire disaster-affected community is in nothing condition. Life activities become stopped, places to work die, to eat and drink requires a helping out of love from others.
As a human being who has a high social life, long distances are not a problem to be able to help disaster victims. Natural disasters such as earthquakes, fires, tsunamis, landslides, winds, floods, famine, drought and so on are some of the forms of events that require concern from all of us. All of these disasters need help, concern, and assistance from us.
Just imagine if the accident happened to us. Of course in the same position we will also shout for help from others. The nature of concern and social spirit has moved our conscience to care for each other.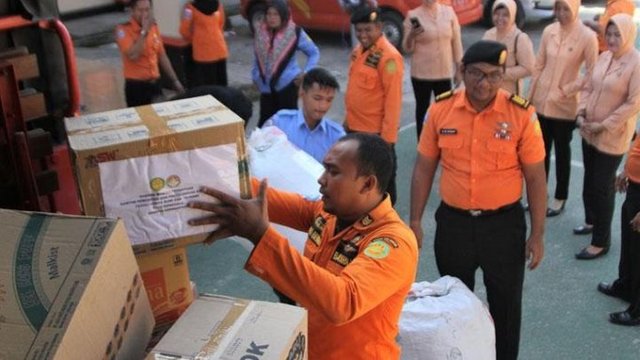 (Image Source | Tempo.co | KPK diminta Awasi Penyaluran Bantuan)
On the wrong road sometimes assistance is often used for the benefit of some parties. For example, for business, political, religious and other purposes. Apart from these benchmarks, as humans who realize we all have the same responsibility to be able to help each other.
There is no need to question the polemic of assistance with issues for the interests of a group. At present what we need to strive for is a conscious attitude to care for each other. All types of assistance will be very beneficial for victims. It does not have to be in a large quota, however, whatever needs they must be distributed as soon as possible.
After the disaster that befell our brothers, of course they really need help in the form of temporary relocation sites, basic needs, emergency equipment, physical repair of public facilities, guidance on spiritual and moral counseling, transportation, health, and capital costs to open their new business. Learning from natural disasters that have become part of our lives, we can take lessons that everything we have is only temporary. Luxury cars, big houses, lots of treasures will be lost in a moment when disaster strikes. This should provide awareness for us to improve our spiritual quality with the God.
~Tsunami Palu~
Video Source
¤Steem Charity | Steem For Humanity¤
If you want to contribute funds to get them out of the problem. You can go directly to some of their blogs:
---
---
[INDONESIA]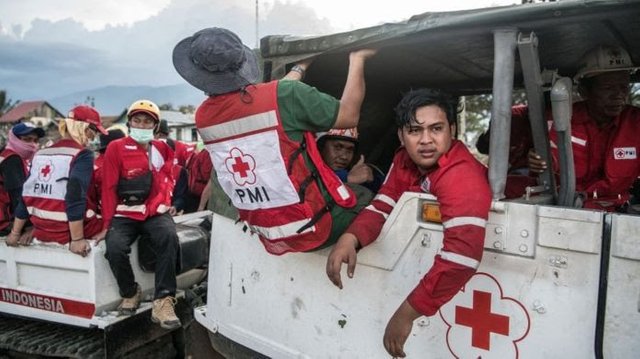 (Image Source | BBC News | Jumlah Korban Gempa dan Tsunami Palu)
Musibah dan bencana alam telah memberikan banyak pelajaran bagi kita. Siapa yang tidak akan sadar dengan segala tanda-tanda kekuasaan dari Tuhan. Terlepas dari pemahaman bahwa bencana alam hanya merupakan sebuah fenomena alam.
Dalam pemahaman spiritual kita menyadari bahwa segala bencana alam merupakan suatu bukti dari kekuasaan Tuhan. Seperti yang terjadi beberapa hari yang lalu di Pulau Sulawesi. Belum habis masa tanggap darurat di Lombok, Indonesia kembali di timpa musibah dengan terjadinya gempa dan tsunami di Palu dan Donggala, Pulau Sulawesi.
Gempa yang berkekuatan 7,7 SR tersebut telah memporak porandakan sejumlah bangunan. Selanjutnya berselang beberapa menit gelombang besar atau stunami ikut menerjang daratan di wilayah tersebut. Gempa dan stunami telah menghancurkan segala fasilitas yang ada, komunikasi terputus, pusat perbelanjaan mati, penerangan bermasalah, daratan berubah menjadi lautan.
Kejadian stunami di Pulau Sulawesi juga kembalin mengingatkan saya dengan tragedi stunami di tahun 2004 yang pernah menimpa Aceh. Bencana datang tidak mengenal waktu, tidak mengenal tempat, dan siapa yang akan menjadi korban. Tidak ada negosiasi bagaimana bencana ini akan menghadang kehidupan manusia.
Dengan seluruh kekuatan yang dahsyat bencana alam mampu membuat segala yang ada di bumi ini menjadi berubah. Di antara perubahan itu misalnya pegeseran tekstur tanah, meratakan bangunan, dan adanya literatur lempeng bumi yang berubah tempat. Kejadian seperti seakan menjadi bala ketakutan bagi manusia penghuni alam semesta.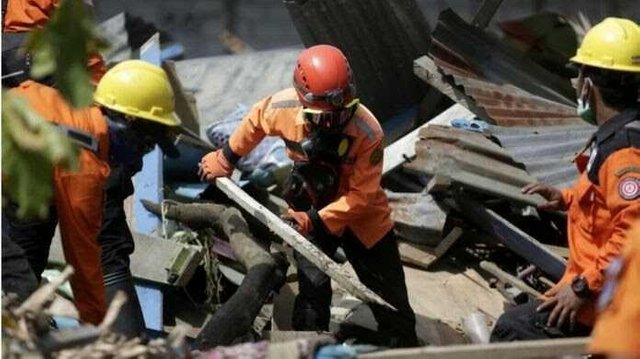 (Image Source | BBC News | Jumlah Korban Gempa dan Tsunami Palu)
Manusia yang memiliki peran sebagai khalifah di muka bumi memiliki tanggung jawab yang besar terhadap tugas untuk menjaga alam semesta ini. Dalam tatanan perikemanusiaan berbagai upaya terus dilakukan oleh orang-orang untuk menanggulangi bencana. Sejumlah komunitas, dinas pemerintahan dan relawan ikut serta dalam membantu menanggulangi dampak sesudah bencana alam.
Hampir seluruh elemen masyarakat telah ikut serta dalam aksi penggalangan dana untuk membantu korban yang di lakukan di berbagai tempat di Indonesia. Para relawan yang tergerak hati nurani telah memiliki ambisi untuk mencurahkan segala kekuatannya agar bisa membantu para korban yang ditimpa bencana. Sebagai manusia yang memiliki jiwa sosial sudah sewajarnya untuk kita prihatin terhadap bencana yang menimpa saudara kita.
Hal inilah yang kemudian menjadi harapan dari seluruh korban bencana. Paska bencana, seluruh masyarakat korban bencana dalam kondisi tidak ada apa-apa. Aktivitas hidup menjadi terhenti, tempat bekerja mati, untuk makan dan minum membutuhkan uluran kasih sayang dari orang lain.
Sejatinya sebagai manusia yang memiliki jiwa sosial yang tinggi, jarak yang jauh bukanlah menjadi masalah untuk dapat membantu korban bencana. Bencana alam seperti gempa, kebakaran, tsunami, longsor, angin, banjir, kelaparan, kekeringan dan lain sebagainya merupakan beberapa bentuk kejadian yang membutuhkan keprihatinan dari kita semua. Semua bencana tersebut membutuhkan uluran tangan, keprihatinan, dan bantuan dari kita.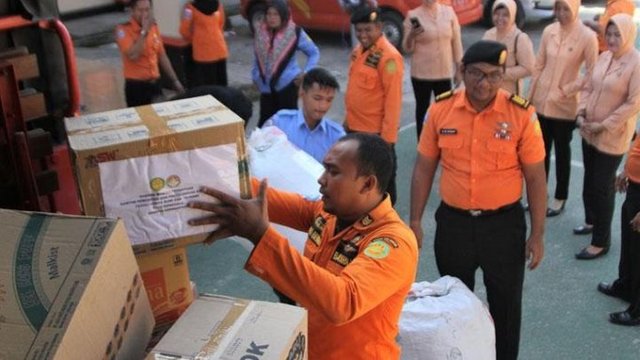 (Image Source | Tempo.co | KPK diminta Awasi Penyaluran Bantuan)
Coba bayangkan saja jika musibah tersebut tertimpa kepada diri kita. Tentu saja pada posisi yang sama kita juga akan berteriak untuk meminta pertolongan dari orang lain. Sifat keprihatinan dan jiwa sosial telah menggerakkan hati nurani kita untuk saling peduli sesama makhluk.
Pada jalan yang salah terkadang bantuan sering kali digunakan untuk kepentingan beberapa pihak. Misalnya saja untuk kepentingan bisnis, politik, agama dan lain sebagainya. Terlepas dari tolak ukur tersebut, sebagai manusia yang sadar kita semua memiliki tanggung jawab yang sama untuk dapat saling membantu.
Tidak perlu mempersoalkan polemik bantuan dengan isu-isu untuk kepentingan suatu golongan. Saat ini yang perlu kita upayakan adalah sikap sadar untuk saling peduli sesama manusia. Segala jenis bentuk bantuan akan sangat bermanfaat bagi korban. Tidak mesti dalam kuota yang banyak namun, apa saja yang menjadi kebutuhan mereka mesti segera disalurkan secepat mungkin.
Pasca bencana yang menimpa saudara-saudara kita, tentunya mereka sangat membutuhkan bantuan berupa tempat relokasi sementara, kebutuhan pokok, peralatan darurat, perbaikan fisik fasilitas umum, bimbingan konseling rohani dan moral, transportasi, kesehatan, dan biaya modal untuk membuka usaha baru mereka. Belajar dari bencana alam yang telah menjadi bagian dari kehidupan kita, maka dapat kita ambil hikmah bahwa semua yang kita miliki hanya bersifat sementara. Mobil mewah, rumah yang besar, harta yang banyak akan hilang sekejab waktu saat musibah menimpa. Hal ini seharusnya memberikan kesadaran bagi kita untuk meningkatkan kualitas spiritual kita dengan Sang Pencipta.
~Tsunami Palu~
Video Source
¤Steem Charity | Steem For Humanity¤
If you want to contribute funds to get them out of the problem. You can go directly to some of their blogs:
---
Posted from my blog with SteemPress : http://ponpase.com/2018/10/04/natural-disasters-and-humanitarian-movements/
---
**********
Thanks to : @rok-sivante
**********
The Youth Steem Indonesians Community : @pojan, @adilvakhri, @bangmimi
https://steemit.com/~witnesses
---
---
By : @ponpase | From Indonesia
For : Science, Life, Spirituality, Inspiration, Nature, Philosophy.
---
If you like sevenfingers in giving a curate you can also follow sevenfingers CURATION TRAIL Here
---
"Thank You"


---

---

---
---