Natural Sign
Human characters are diverse. there are those who like to mingle with friends so that most of the time is spent talking both the important ones and the things that are not useful. There is also the opposite who likes to close oneself where he doesn't like to talk much.
What about animals? Are they also imitating human nature or are they naturally classified into two types of characters. Well, one of them is a monkey. They are known to have no fear or avoid humans, but there are certain types who do not like going down to the population. They are classified as animals that like to hang out with other creatures.
Moreover, they are also used to dealing with tourists in places that many people visit because of their natural beauty. The monkeys sometimes come to residential areas.
Monkeys, including animals that show signs of nature to humans so that humans quickly take action to save themselves and their communities. For example the decline in the type of monkeys that do not like to hang out with humans indicates a mountain almost erupted. They are precisely animals that rarely interact directly with humans. Even avoid it. Although they do not directly like to interact with the human area but for monkeys who come down the mountain when the volcano is about to approach its lethargy point, it is advantageous for humans to immediately leave their location for a while. This is a strong sign of nature besides human technology anticipating the danger of volcanoes.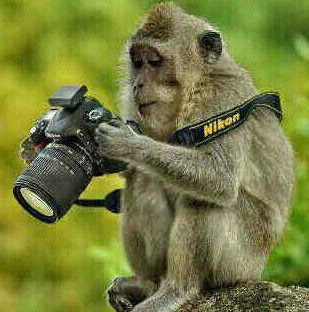 Sumber: http://anehdi-dunia.blogspot.com/2015/10/kumpulan-meme-gambar-monyet-lucu-unik.html
Karakter manusia itu beragam adanya. ada yang suka berbaur dengan teman sehingga kebanyakan waktu terpakai untuk berbicara baik yang penting sampai hal yang tiada mamfaat. Ada juga sebaliknya yang suka menutup diri dimana dia tak suka banyak bicara.
Bagaimana dengan hewan? Adakah mereka juga meniru sifat manusia atau memang secara kodrati mereka tergolong dalam dua jenis karakter. Nah, salah satunya adalah monyet. Mereka diketahui tidak memiliki rasa takut atau menghindar dari manusia namun ada jenis tertentu yang tidak suka turun ke kawasan penduduk. Mereka tergolong hewan yang suka bergaul dengan makhluk lainnya.
Apalagi mereka juga terbiasa berhadapan dengan wisatawan di di tempat-tempat yang banyak dikunjungi orang karena keindahan alamnya.kera-kera itu kadang-kadang datang ke permukiman warga.
Monyet termasuk hewan yang memperlihatkan tanda alam kepada manusia agar manusia cepat mengambil tindakan untuk penyelamatan diri maupun masyarakatnya. Misalnya turunnya jenis monyet yang tidak suka bergaul dengan manusia menandakan sebuah gunung hampir meletus. Mereka justru hewan-hewan yang jarang berinteraksi langsung dengan manusia. Bahkan malah menghindar. Walaupun mereka tidak secara langsung suka berinteraksi dengan kawasan manusia namun bagi monyet yang turun gunung saat gunung merapi hendak mendekati titik letusnya merupakan keuntungan kepada manusia untuk segera meninggalkan lokasi hidup mereka untuk sementara. Hal ini tanda alam yang kuat selain tekhnoligi manusia mengantisipasi bahaya gunung berapi.