Prospectors Banyuwangi Community (ENG || IND)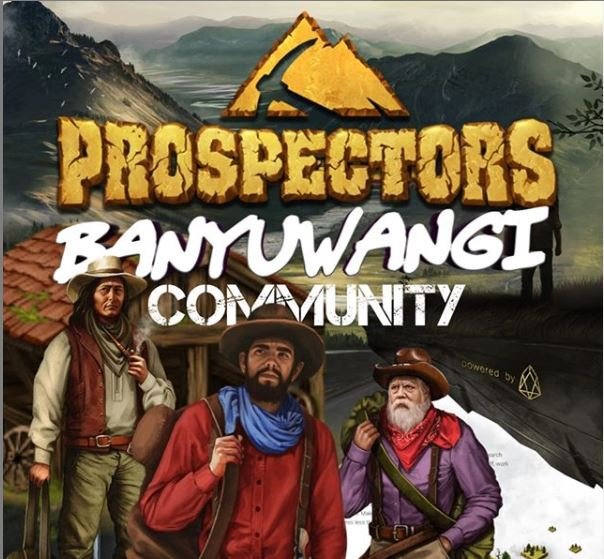 -ENG-
Bismillahirrohmanirrohim, alhamdulillah. After 2 years of being active in cryptocurrency, the blockchain community finally established in Banyuwangi.
Thanks to the release of the Prospectors game on the EOS mainnet blockchain a month ago. We crypto fans, social media, and games, can gather here to play, socialize as well as learn to grow a joint business in the world of Prospectors.
At present, we already have a land plot in the coordinate of 08/05 which is named "BANYUWANGI" and is held by a "tuantanahbos" account. We have rented land plots with shared contributions for 3 months usage.
The plan, we will build a "Tool Workshop" to create jobs for novice players and help them feel at home and comfortable playing in this Prospectors game.
Prospectors Banyuwangi Community has conducted our first gathering on Saturday night, July 27, 2019.
For our prospectors Indonesia friends, we are waiting for your participation and combination in the telegram group https://t.me/prospectors_bwi
So are the introductions of our new community. Salam Opit.
nb: this is a repeater post from https://www.instagram.com/p/B0kGIQ6nHkB/
---
-IND-
Bismillahirrohmanirrohim, alhamdulillah. Setelah 2 tahun aktif di cryptocurrency, akhirnya berdiri juga komunitas blockchain di banyuwangi.
Berkat rilisnya game Prospectors di mainnet blockchain EOS sebulan yang lalu. Kita para penggemar crypto, sosial media dan game, bisa berkumpul disini untuk bermain, bersosialisasi juga belajar menumbuhkan bisnis bersama di dunia Prospectors.
Saat ini, kita telah memiliki plot tanah dikoordinat 08/05 yang diberi nama "BANYUWANGI" dan dipegang oleh akun "tuantanahbos". Plot tanah telah kita sewa dengan iuran bersama untuk pemakaian 3 bulan.
Rencananya, kita akan membangun "Bengkel Alat" untuk menciptakan lapangan kerja bagi para pemain pemula dan membantu mereka agar betah dan nyaman bermain di game Prospectors ini.
Komunitas Prospectors Banyuwangi telah melakukan gathering pertama kami pada malam minggu kemarin, tanggal 27 juli 2019.
Bagi teman-teman prospectors indonesia, kami menunggu partisipasi dan gabungan kalian di grup telegram https://t.me/prospectors_bwi
Sekian perkenalan komunitas baru kami. Salam opit.
nb: ini adalah posting pengulang dari https://www.instagram.com/p/B0kGIQ6nHkB/