It seems like we couldn't have picked a more ideal time to come to California. Just as we crossed Grayback Mountain and rolled down into the Golden State, we left behind the Autumn colors in Oregon, enjoying the last week of Summer in the California sunshine. At the same time we arrived just after wildfire season, which tends to decimate large areas in this region every year. So we were appropriately surprised to see plumes of smoke rising up from the mountainside, and confused by the signs on the road indicating "Good Fire Ahead".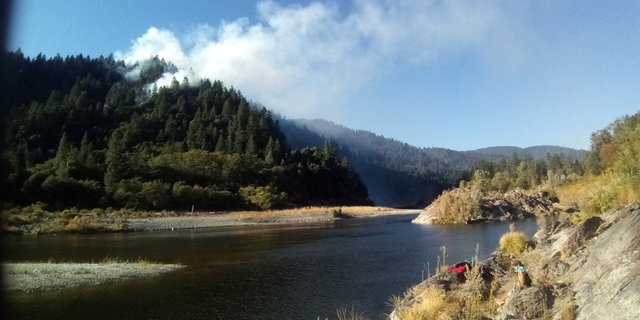 Prescribed Burning, Just Like in the Old Days 
For the last century, the Forest Service's approach to fires was simply fire suppression. Any fires, period. This way of dealing with fires had been kept up for decades, despite the fact that it didn't provide the desired results, while costing millions of dollars. Meanwhile, native cultures were not allowed to continue taking care of the forest in the way generations of experience has taught them. As a result, the easily burnable underbrush accumulated year after year, and when it did catch on fire, it ignited the whole forest with it. Fortunately, today traditional forest management practices are given attention, at least a bit more than before, so firefighters and local volunteers join efforts in preventive burns, following native traditions. 
The Causes of Wildfires 
A major factor why Northern California has become a tinder box is the vegetation. The Douglas Firs that cover most of the landscape tend to be very thirsty trees, which is great around the Salish Sea, where there is plenty of rain. But in California they only exacerbate droughts, sucking up and evaporating ground water. Unlike massive oak trees, these tall coniferous trees don't form a big water column, but due to its resins they are notorious for burning at extremely high temperatures, sterilizing the soil and leaving behind only desert. On top of all this, the fir trees form a very dense growth, which not only restricts space for other plants, animals, humans, and even sunlight, but passes flames extremely quickly through the woods, until the whole forest is ablaze. I was therefor not much surprised to hear that these monotonous fir woods have not always dominated the landscape. 
A Different Type of Woodland 
At a closer look it becomes obvious that the fir forests in this region are mostly made up of trees of similar ages, planted about a century ago, after the original woods have been cut down. Previously the landscape used to be made up of oaks, madrones, maples, and a number of other species, in a typical forest environment with trees of varying ages and species. The forest in those days was not "completely natural" either, as it had been managed by its human inhabitants. They knew which tree was grown for what purpose (food, feed, structures, firewood, etc.), when it needed to come down, and what was to be planted in its place. In such a diverse environment fires were much less prone to destroy large tracts of land, but additionally the people here used to burn the dry underbrush. This got rid of the unwanted fuel, and at the same time fertilized the soil without killing everything in it. Encouraged by more space and sunlight, seeds would germinate into shoots and attract grazing animals, which could be hunted. Ultimately the entire forest would also become less dense, further discouraging devastating fires, while adding to the abundance of food, such as acorns. They were made into food, as it is still practiced today, but also provide food for various wild creatures, multiplying the abundance.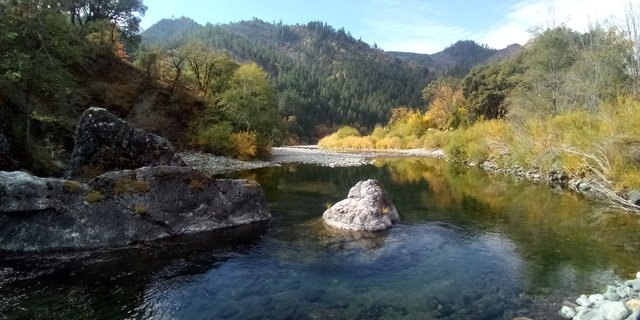 The Age of Bad Practice 
What happened then is pretty much the same story as in many other regions: The land was overrun by prospectors and miners, than ranchers and loggers, and finally by the federal government who organized the land for the remaining members and descendants of these first categories. In a series of events turning from bad to worse, the local population was deemed to be squatters on the land of those who claimed mineral rights. Then, in a decision to turn the Salmon River and its surrounding area into a National Park, the Forest Service burned (!) the homes of the people, leaving the entire valley close to devoid of population. Towns, such as Forks of Salmon, or Cecilville are mere shadows of their former selves, even though some people still remain. Without local inhabitants it would be much more difficult to maintain the practice of prescribed burning, let alone effectively manage the forest. However, a National Park would still have room for logging companies to disrupt the ecosystem by clear-cutting patches in the forest, as we've seen in numerous examples cycling down through Washington and Oregon. Not surprisingly, there is a strong support among the residents on the Rivers for prescribed burns, just as much as for un-damming the Klamath. Some folks, such as my friend's partner, make documentaries on a regular basis on prescribed burns, to spread the knowledge of this beneficial practice. Check out her YouTube channel KlamathMedia!
A Turn for the Better 
Today, as conventional fire suppression methods are failing to prevent the massive wildfires every year, the Forest Service is also changing its approach to fires. Prescribed fires, which had been the traditional practice, are making its way into official policy. Apart from clearing the undergrowth, it offers firefighters regular practice in controlling and managing fires. And although there is still a long way to go before these common-sense ideas of land stewardship become common practice, it is amazing to see how far we've come.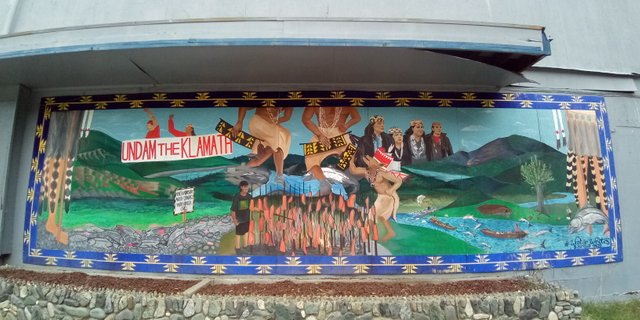 If you'd like to read my bike trip in its entirety, check out the rest of my posts in the Cascadia to Aztlan series:
Please check out these great communities I'm contributing to: 

#ecotrain | What is EcoTrain | Discord Community

#cyclefeed | Introducing CycleFeed | Discord Community