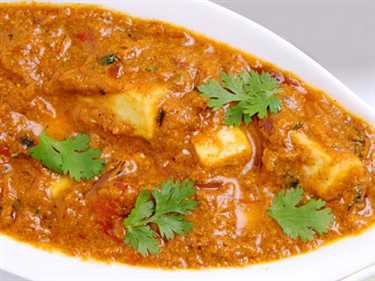 For how many people: 2
material :
Mawa - 50 grams, paneer -150 grams, onion-3 greased, chopped green chillies, coriander leaves, chopped garlic teaspoons, white chillies - one pinch, cardamom powder- one pinch, cashew-200 grams and salt according to taste.
Method :
Cut a large slice of paneer and keep it in hot water for two minutes to make it soft.
Now grate the mawa and add chopped green chilies and coriander leaves. Now fill this mixture with paneer slices and roll it down. Then simmer cashews and onions together and grind them into grinder and make paste.
Now heat the oil in a pan and chop the cumin. Put this paste in the pan and cook for 2 minutes on low flame. Then add pinch of cardamom powder in it. The gravy will be ready in 4-5 minutes. Put the roll of paneer in this gravy, cover it on low flame and cook for two minutes. Serve hot with chapati or rice by taking it off the flame.