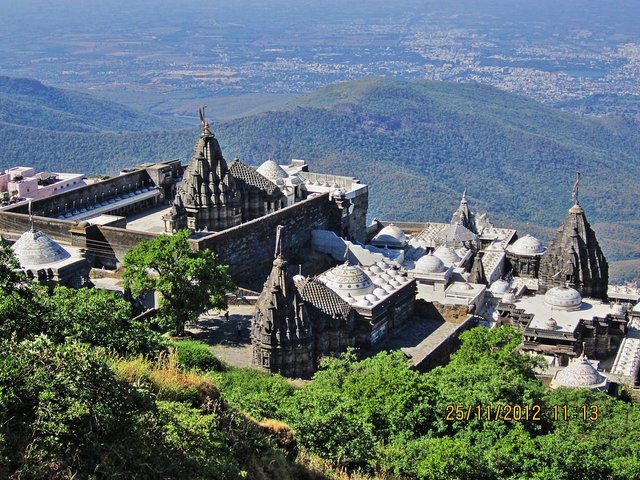 About two weeks back something strange happened in the hills of Girnar in Junagad district of Gujarat.
Mountains of Girnar are famous as a pilgrimage place in Hindus, Jains and even among Buddhists. It is one of the five major pilgrimage spot for Jain followers.
A large group of Jain saints was visiting this place with their Guru Acharya Sunil Sagar on the morning of 23rd January, 2019. But one of the saint named Mudit Sagar didn't return back after the parikrama / vandana. of this holy place.
Everyone was shocked of his mysterious disappearance. All Jain followers of the area assembled. A police case was registered and search began.
Did he become a victim of some violent beast in that forest? Or was it a mischief of some anti-social element? People get very suspicious.
Drones were engaged to comb all the forest area and nearby mountains but no trace of the saint was found for a whole week.
Jain community got angry. It was natural as Digamber Jain saint eat only one meal a day and don't even drink or eat anything after that. And the meal also needs to be served them in purest form adhering to Jain rituals from Jain followers in their palms while they are standing. Otherwise they don't even eat. So Jain community was worried how the muni will survive without eating anything if his whereabouts are unknown.
Soon the news spread throughout the nation among the Jain community and demonstrations, rallies, protests etc. started to take place in several cities. Requests to Prime Minister were sent to interfere on a personal level to escalate the search operation.
When there were no results for 10 days, Jain community announced a Bharat Bandh on 5th February.
On hearing the news my mother too was concerned that saint must be hungry if alive. She said that in Digamber tradition, they can't eat if there is no Jain follower to serve them pure meals and that too in their own posture. I told her not to worry unnecessarily, who knows, if that saint has willingly left his sainthood and became a householder again. So he may be hiding himself. On this, my mother commented, "No, no; this can't be the case. He must be a good saint." I just laughed at that statement.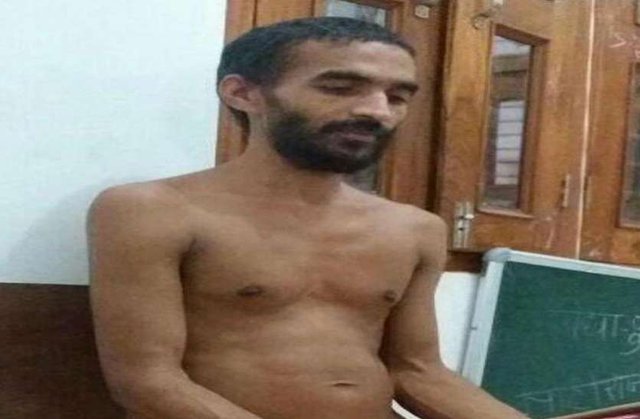 Jain Saint Mudit Sagar (Image courtesy: Patrika)
And today, the news broke out. The Jain community is in a state of utter shock. Saint Mudit Sagar relinquished the spiritual path to become a householder again. Today, he reached his family at Raipur in Chhatisgarh.
He had renounced the worldly life in 2007. For last 11-12 years, he was with his Guru Acharya Sunil Sagar. I have met Acharya Sunil Sagar a few times in past to spread the message of veganism. He is very knowledgeable person. A couple of years back, his own father renounced the world and joined him as his student.
But Mudit Sagar said that he was feeling like an imprisoner and wasn't feeling any better. So he decided to leave this path. He says if his family accepts him back, he will live with them and if not, he will go elsewhere but won't return to his Guru again.
I don't find anything wrong in it. The renunciation is not a one-way road. If you don't find what you are looking for, you can always come back to the world. But this is difficult to digest for Jain community. And community is very angry. Their stance is that when he renounced the world, it was a public function. So if he wants to return, it should also be with the permission of Guru and in front of the public.
Well, even if it wasn't in public, I too feel that he should have guts to inform about his decision after a day or two, if not before. 11 days is a long silence. And this gave an unnecessary stress to the administration and Jain community. This could have been easily avoided. We should at the least expect this information to be conveyed by a 35 year old intellectual.
Anyway, I want to take this opportunity to convey my best wishes to Mudit Sagar for his future life. May he can do more good as a householder!
Community needs to understand and open up to accept that renounciation isn't necessarily a one-way road. Not everyone may find it best for them. So the process of leaving that path should be made easier and stress-free.