Do you know what's Ghee?
Speaking of diet, India has the largest vegetarian population in the world. But when it comes to veganism, Indian obsession for dairy products is a huge obstacle to it.
Ghee (clarified butter) plays a major role in Indian religious traditions. Almost all festival sweets are made using ghee. Even earthen lamps used to worship idols in temples and in homes use ghee as the purest fuel.
Ghee is also an essential ingredient of many staple recipes like chapati, rice, pulao etc.
Coconut Ghee
So a few years back, a vegan friend re-discovered a traditional recipe using coconut oil, tender guava leaves and curry leaves that could easily replace the ghee. Many vegans across India use her recipe for preparing a ghee substitute. But tender guava leaves are not accessible to everyone in every region and season.
Emkay Ghee
Sometime back an Ahmedabad based entrepreneur Mr. Mukund Parmar came up with his Emkay brand of vegan alternative to ghee :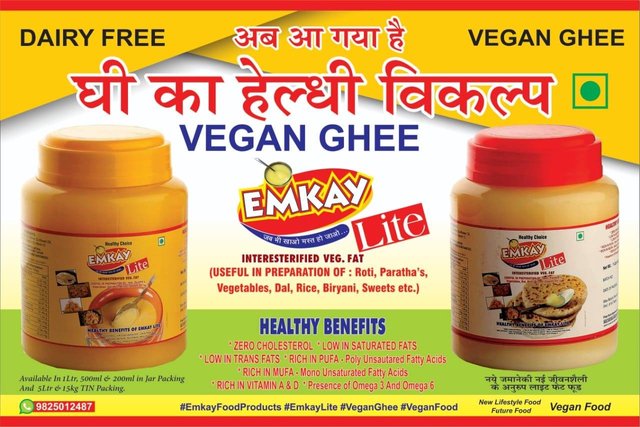 However this is an interesterified vegetable fat but it's better than hydrogenated version. The owner told me that he is trying to come up with coconut oil based version soon.
A couple of weeks back, my friend @chetanpadliya ordered a small sample of this ghee to taste it. According to him, it's quite good and is exactly similar to dairy ghee. He and his family enjoyed sweets made from it.
But this one is a modern commercial recipe.
Isn't there a more traditional alternative?
Uppage Ghee - directly from the forests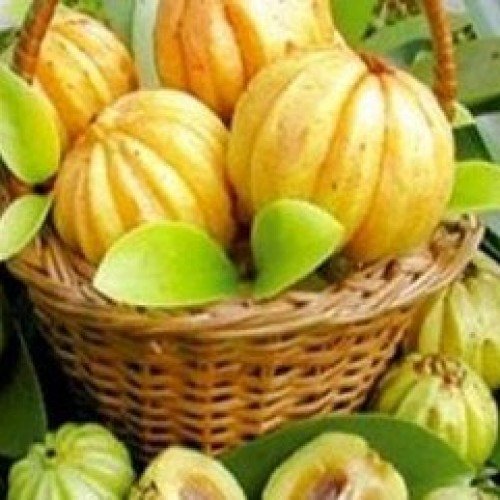 Image sourced from creative farmer
In the forests of Western Ghats, there are several evergreen trees called as Uppage (pronounced 'oopahjey') in Kannada language of Karnataka. This trees are actually Garcinia gummi-gutta or Garcinia cambogia, popularly known as Malabar tamarinds. The yellow fruits of these trees are collected by village women, dried and processed to make ghee.
From a long long time, women from a particular Brahmin caste is collecting these fruits in monsoon season and their families are consuming its ghee in many districts of Karnataka.
With a flourishing growth, this industry is taking a commercial form in the state of Kerala, these days. There are several other uses of Uppage too.
Here is a link to the United Nations official website for a study regarding Uppage collection.
This will provide ample evidence that a cruelty-free, dairy-free traditional alternative to ghee exist in India.
Although it has a slightly unusual flavour and smell and despite it's slightly expensive than dairy ghee (by a rupee or two), it is being consumed as ghee.
I wasn't aware about this traditional ghee.
Do you know about any other ghee alternative? If so, do share.
Thanks!