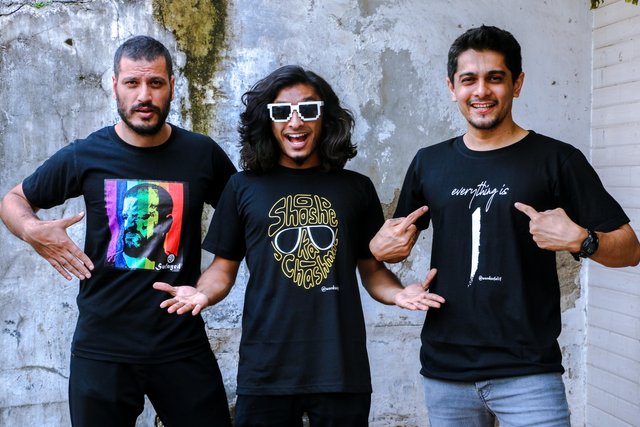 A couple of weeks ago I posted a few designs for my band's merch that my brother created.
Well, we finally chose 2 out of those to get them printed. The number 3 (Shoshe ka Chashma) and the number 10 (everything is alif).
The third one is a tee with the band's album art of the debut album Sufayed.
Go check it out here on musicoin. Go check it out here on Choon.
We printed out 80 of these (30 for Shoshe ka Chashma and 50 for Everything is Alif) and took 30 of them with us on our mini tour (2 shows) in Bengaluru (Banglore Poetry Festival) and Bhopal (GIFLIF - The Great Indian Film and Literature Festival).
Vlog coming soon 😁
We setup a nice little store on a desk they provided. I also made facilities to accept payments online through India's most popular digital payment platform - Paytm. (I would have loved to receive payments in crypto, but we are not there yet in India. But now that I think of it, I am going to try it at the next gig!)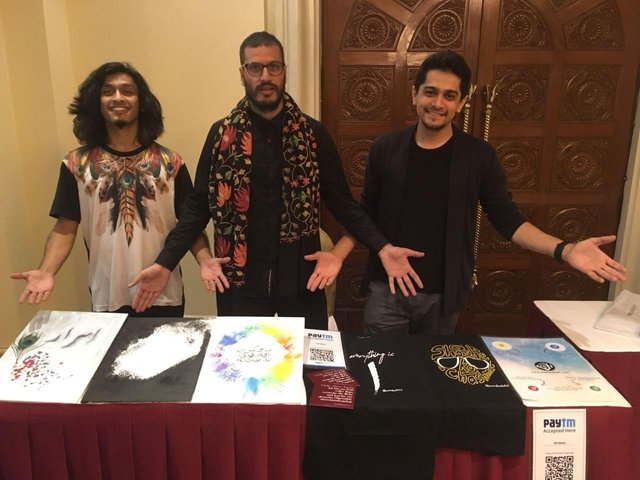 We sold 23 of them at Bengaluru!! We took S, M, L and XL sizes and all we were left with were some S and M.
People rushed to buy these after both the shows and we had to disappoint them coz we didn't have the right sizes!
That is when we decided to put these up online. Now the process is still on, but I think by today, I should get a reply from redwolf.in - they have already agreed to put out merch online and just confirming the designs and tecnical stuff from their end.
Redwolf is a great website in India to sell your own artwork or merchandise and a lot of Indian bands have done it. They run Make My Merch and you can get your stuff to them through this website.
Super pumped for this!! 😎
I had heard a lot about bands making money through merchandise and I always dismissed it thinking it wouldn't be that much or just too much of a hastle.
But now it seems like a solid business plan! Infact, we could potentially make more money on merch at a show than what we get paid to do the show!
Can't tell you how excited I am to create new designs and see how these sell on Redwolf.
PS: Do we have a merch store on Steem? If yes, please be awesome and guide me to it :)
I will send you 2 SBD to do that. Incentive enough? 🤓
I have taken a lot of footage for a vlog. Haven't checked out the footage yet though. Today is the day I edit the vlog and hopefully will be able to put it out on Dtube tomorrow.
Until then....
♨️ STEEM ON ♨️
---
If you like my work, please UpVote, ReSteem and Follow me @hardikv
---

---

---