National Payment Corporation of India (NPCI) serves as an umbrella organisation for operating retail payments and settlement systems in India. It is a consortium of major banks in India and promoted by the central bank-RBI. It has extended a global invitation for EOI (Expression of Interest) for blockchain solutions.
The EOI listed here had some interesting details.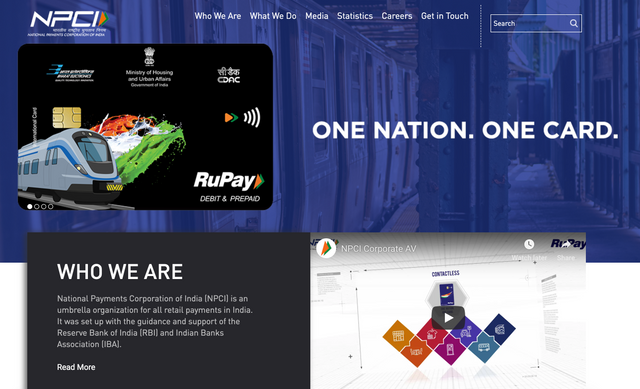 The Eligibility Criteria is as follows:
Bidder can be a System Integrator with expertise in Blockchain Implementations or
Blockchain OEM Company/Foundation or Blockchain start-up registered with Start-up India
scheme of Department of Industrial Policy and Promotion (DIPP).
Bidder should be a legal registered entity.
Bidder should not have been currently blacklisted by any Bank / institution in India or
abroad.
Bidder should provide reference of at least 2 Blockchain implementations (global or
domestic) which are currently in production and have live transactions taking place.
The Bidder must have at least 25 certified Blockchain professionals along with an
implementation experience in Blockchain.
The bidder also has to pay Rs. 11,800 to purchase the bid and an Earnest Money Deposit of 5 Lakh rupees.
The development here is interesting because NPCI has done tremendous work and has a great portfolio such BHIM, RuPay and UPI (my favourite) which you can find here.
They are considering blockchain based solutions now although it is unclear at this stage what exactly they are trying to achieve. I'm sure this will be revealed in the near future.
Interestingly NITI Aayog which is a government think tank, has been developing 'India Chain'- home grown blockchain solution. But NPCI seems to be on the lookout for a solution based on some open source technology.
India is yet to release its policy on blockchain and cryptocurrencies but government organisations as well as enterprise players in India are jumping on the blockchain technology bandwagon and trying to find blockchain enabled solution to existing problems.
Startups engaged in this domain with deployed implementations of blockchain can be part of this bidding process. It would be great to know eventually what NPCI is upto with their blockchain implementation as this might be huge especially considering NPCI built UPI.
---
If you like my work kindly resteem it to your friends. You may also continue reading my recent posts which might interest you:
---