Indian Govt Backed Free Blockchain & Crpyto Course On Swayam Learning Platform + Certification!
Swayam is a learning platform from the government of India's Ministry of Human Resource Development. It's offering a free computer science course for anyone interested in learning about Bitcoin, Cryptocurrencies and Blockchain technology. It's fairly simply and not too complicated.
It's a 12 week undergrad course titled "Blockchain Architecture Design and Use Cases" and is scheduled to run from July 29, 2019 to Oct 18, 2019. However if you want to obtain your certificate then there is an exam you can attend by paying a nominal fee of Rs. 1000. It's also a AICTE) approved FDP course.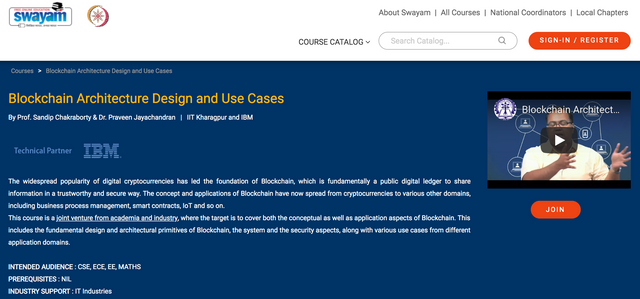 This course is a joint venture from academia and industry (IIT and IBM) where the target is to cover both the conceptual as well as application aspects of Blockchain. This includes the fundamental design and architectural primitives of Blockchain, the system and the security aspects, along with various use cases from different application domains.
Exams will be conducted in various cities across the country in all major cities. So you won't have trouble finding a centre for writing your exams if you are keen on getting a certificate.
The course is spread over 12 weeks and offers a good insight into the world of blockchain technology. But since this is a venture with IBM you are likely to delve into the world of Hyperledger over other blockchain technologies.
If you are keen for building on Hyperledger for enterprise level end application then maybe you will find it worthwhile. Nevertheless, there's no real cost attached other than time at the moment. You can sign up for the course and learn it for free.
If you are keen on enrolling for this course then you will find all the relevant information on the official website here.
This is nevertheless a great place to start your blockchain tech journey with a certification in India at the lowest cost possible.
---
If you like my work kindly resteem it to your friends. You may also continue reading my recent posts which might interest you:
---