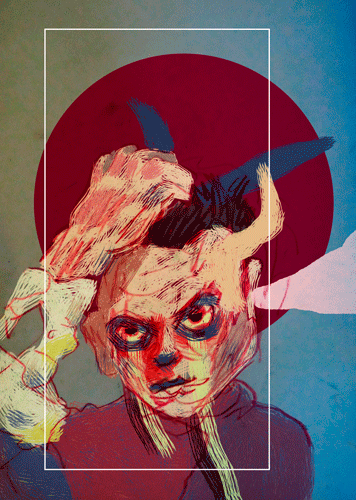 Buenos días nuevamente, antes de que acabe la mañana quiero dejarles este tercer retrato de los que les comentaba sacaría en mis anteriores publicaciones. Tal como los dos primeros dibujé frente al espejo, lo más rápido que pude y aprovechando cualquier desperfecto a ver que encontraba. Éste ademas tiene un agregado, verse desde diferentes ángulos puede lograr que veas diferentes facciones de tu mismo ser, acá yo me encuentro con una parte oscura de mi ser y la aprovecho para crear a "La bestia" pensé en la película "split" cuando se me ocurrió, por eso el titulo.
Good morning again, before the morning is over I want to leave you with this third portrait of the ones I told you about in my previous publications. As the first two drew in front of the mirror, as fast as I could and taking advantage of any damage to see what I found. This also has an aggregate, seeing from different angles can make you see different features of your self, here I find a dark part of my being and I take it to create "The beast" I thought of the movie "split" when It occurred to me, that's why the title.
Proceso:
Process:
Primero realizo el boceto con lápiz de color rojo, descubrí en mi anteriores ilustraciones que podía aprovechar las sombras que producía la cámara al llevarlo a photoshop
First I make the sketch with a red pencil, I discovered in my previous illustrations that I could take advantage of the shadows that the camera produced when taking it to photoshop
(I)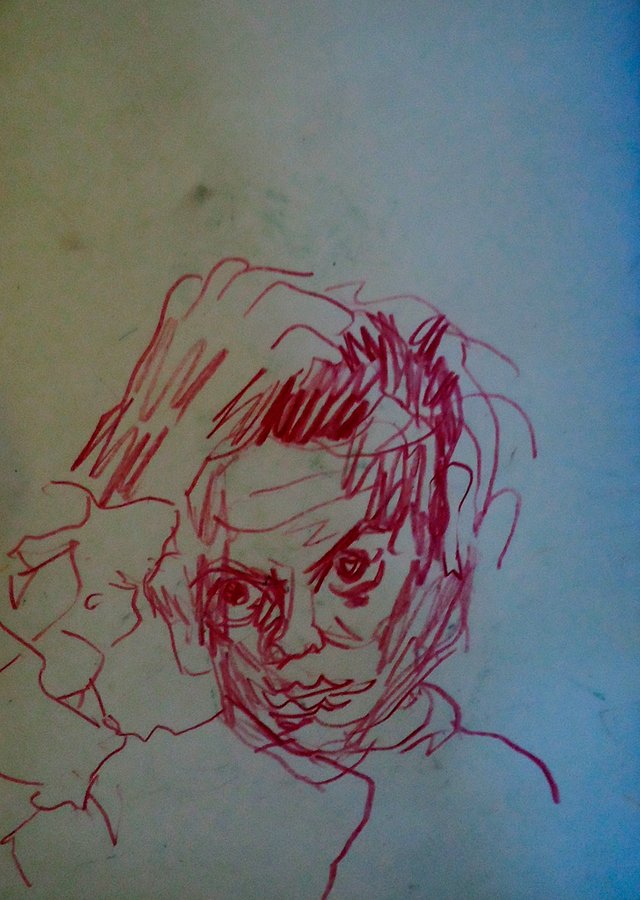 Luego vamos a photoshop, pintamos la piel, empiezo por la base, después sombras, por ultimo arreglo la mano y agrego un poco más de sombras
Then we go to photoshop, paint the skin, start at the base, then shadows, finally fix the hand and add a little more shadows
(I)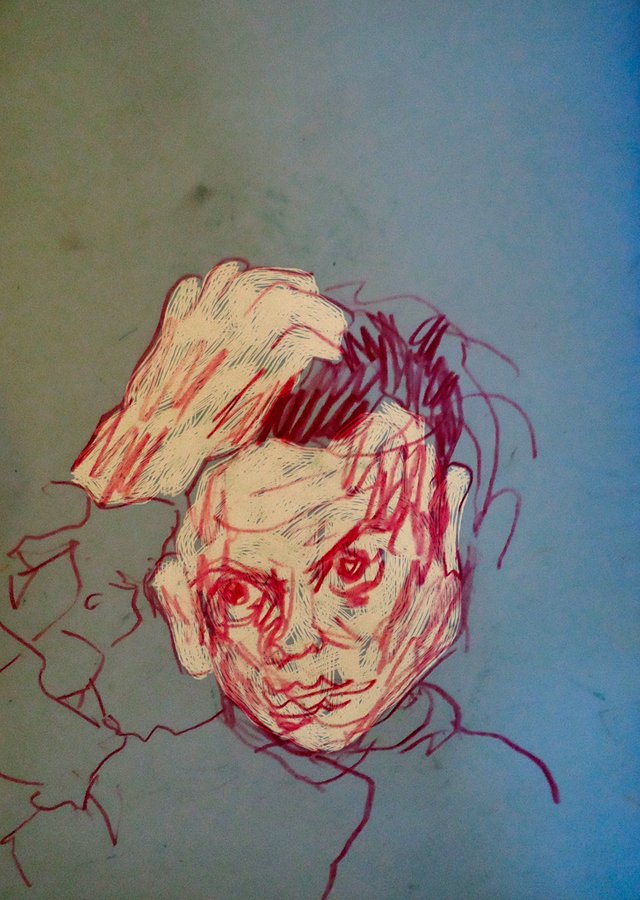 (II)
(III)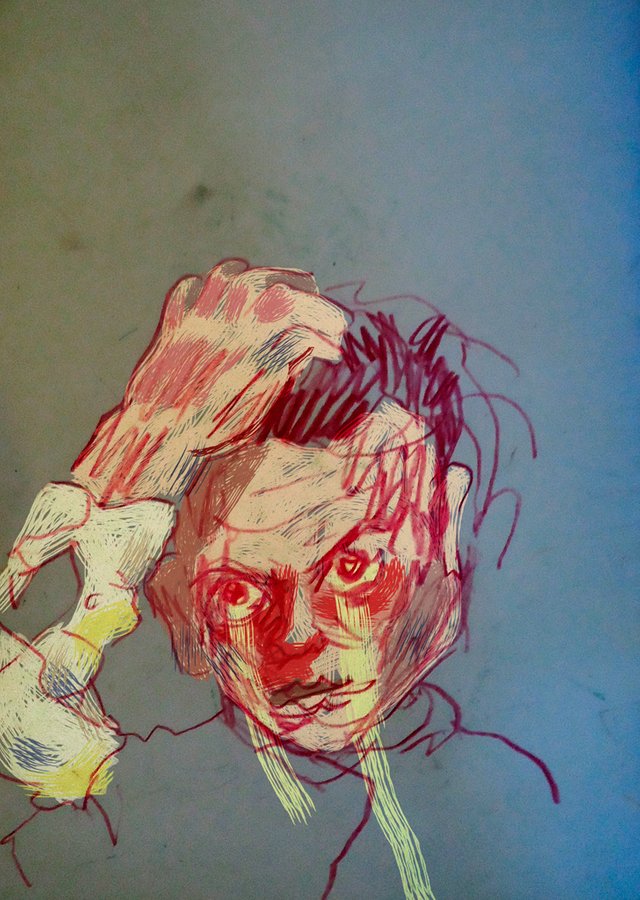 Está vez jugué un poco más con la chaqueta, aunque siempre igual se me hace fácil resolverla con las lineas que ya trae el dibujo
this time I played a little more with the jacket, although always the same it is easy for me to solve it with the lines that the drawing already brings
(I)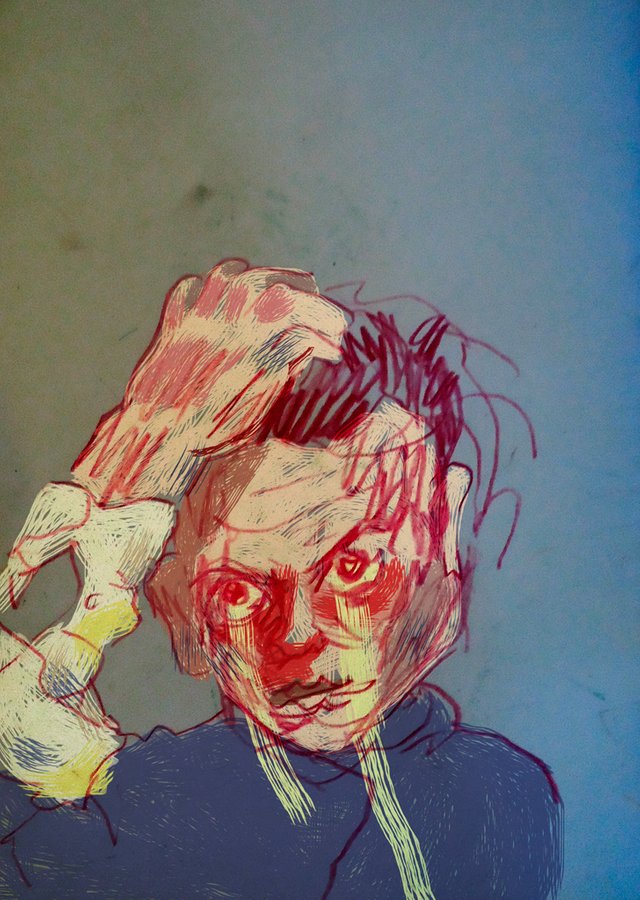 (II)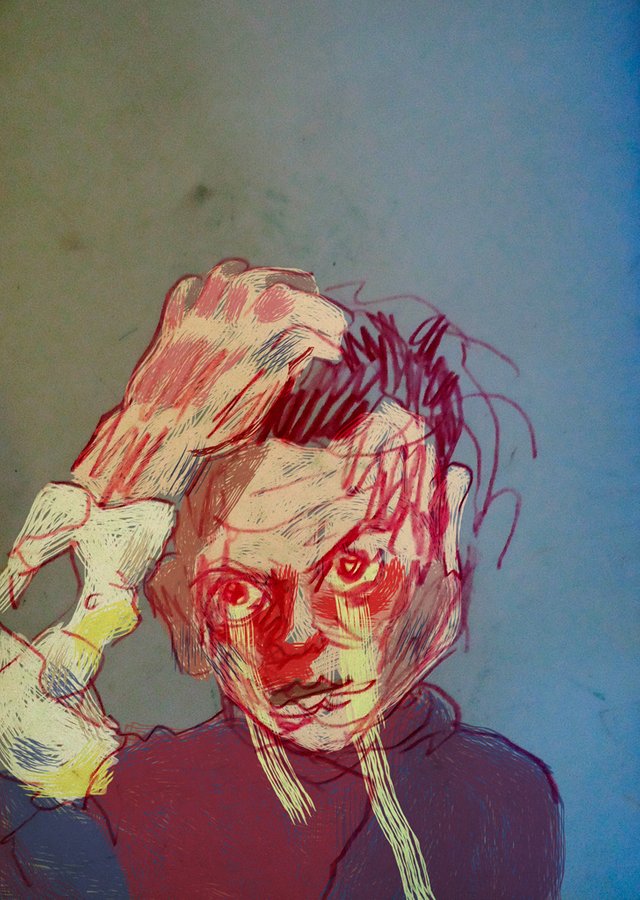 Todo proceso es diferente por ejemplo en esta ilustración me dio por poner primero la luna para ver que contraste me daba con la chaqueta, despues agregue unas especies orejas que se asemejan tambien a una cruz, más adelante arriesgo más y decido ponerle un cuerno y hasta una nube
All process is different for example in this illustration I decided to put the moon first to see what contrast I had with the jacket, then add some species that resemble a cross, later I risk more and decide to put a horn and even a cloud
(I)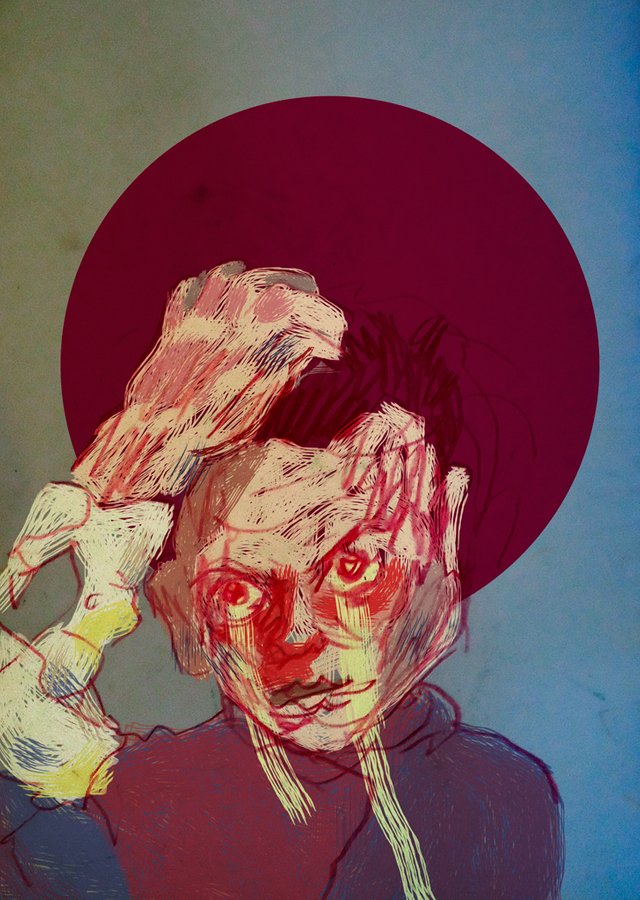 (II)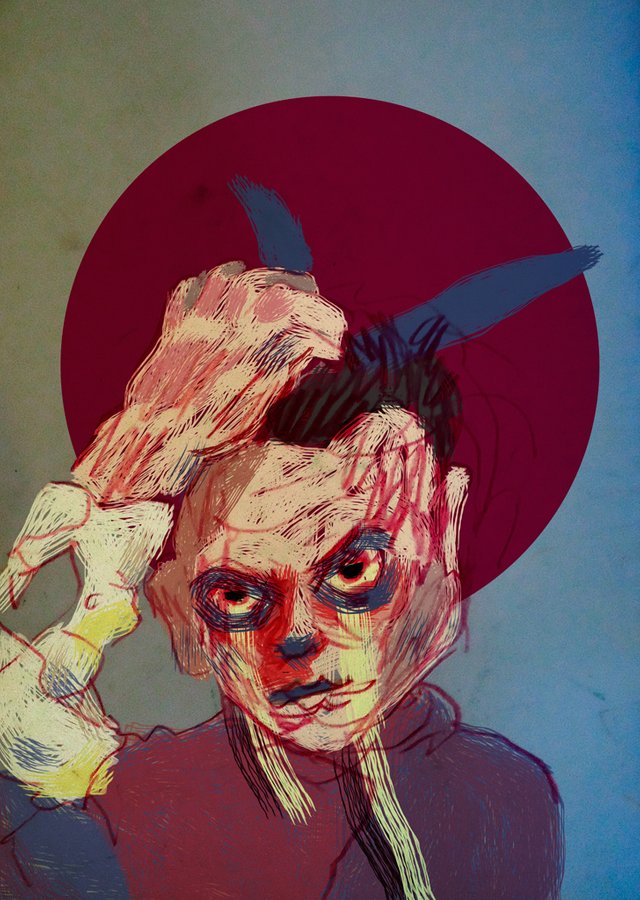 (III)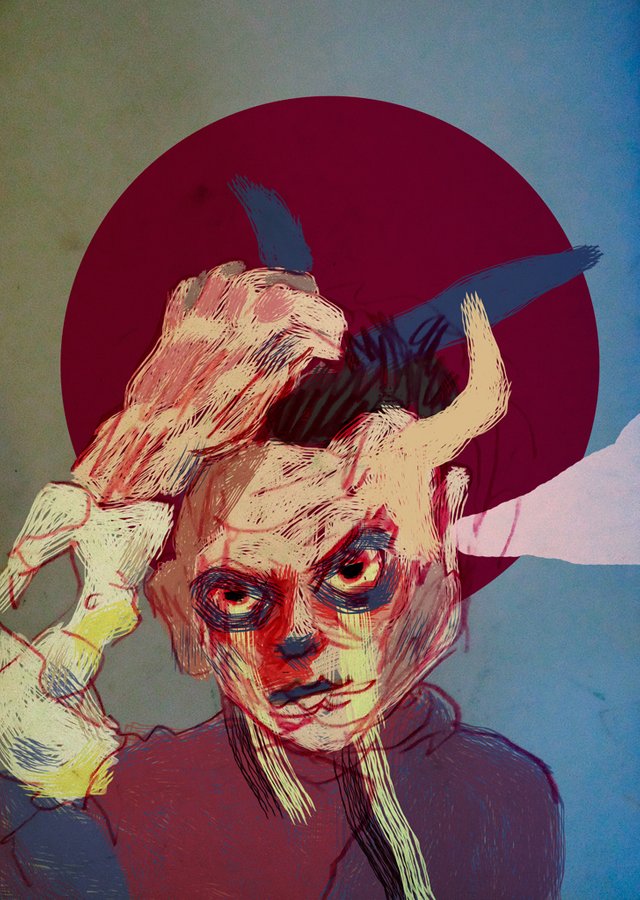 Por ultimo un marco de los que amo usar para crear profundidad y algo nuevo, usando los colores edite varias capas y termine creando un gif bastante entretenido
Finally a frame that I love to use to create depth and something new, using the colors I edited several layers and end up creating a pretty entertaining gif
(I)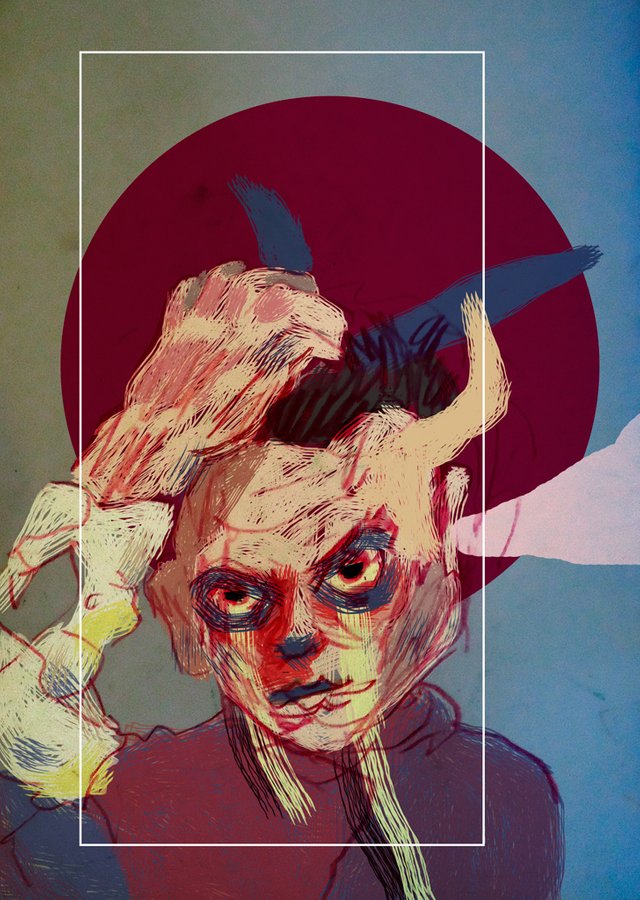 (Gif)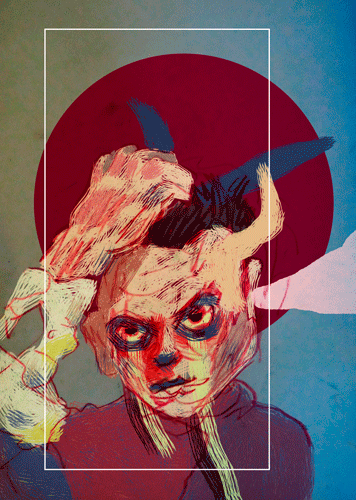 ---
---
Más de mi trabajo
Sí les gusta este trabajo o otro no teman en comentar, estoy abierto a criticas y sera un placer contestar sus comentarios, pasen una bella mañana.
If you like this work or another do not be afraid to comment, I am open to criticism and it will be a pleasure to answer your comments, have a beautiful morning.
✎✎✎