Things have been busy at Sparkster since we won the Amsterdam Crypto World Tour ICO Pitch event earlier this month. Here's what's been happening:
We've seen massive growth, with our telegram channel reach hitting over 50,000 participants

Ian Balina, became a strategic investor and placed us on the top spot of his hall of fame: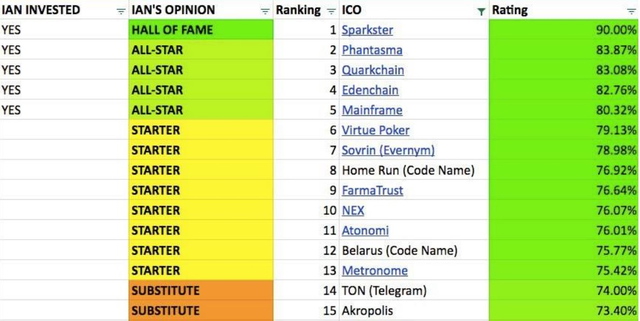 We've been deeply moved and motivated by the boom in the size of our community and the ringing endorsements and support that we have received from experts in technology. It helps us to continue to move forwards with confident strides, whilst reminding us that it takes a whole community to make a business succeed and commit to our vision of enabling the dreamers amongst us.
We want the emotional investment that we see placed in Sparkster every day to be part of the equation for our Crowd Sale. The demand for our presale was unprecedented, and as we continue to grow, we felt this was the time to do something different.
So, what is it?
Sparkster Crowdsale will consist of:
Proof of love system - 75%
Lottery - 25%
Put simply, you will need to take part in our Rewards Program in order to secure allocation for Proof of love. You'll be rewarded for helping us to spread our message and deepen the strength of our community. Activities eligible for reward are varied and include things such as blogging and reviews for the writers amongst you. If you're more into broadcasting, talk about Sparkster through your YouTube channel.
We believe the proof of love system give us an opportunity to fairly split allocation to those that are most committed and help us to reach the general crypto community outside the ICO space.
We want to celebrate the diverse talents of those who engage with Sparkster, so a wide range of activities are encouraged, from inviting others to chat on telegram through to translating our whitepaper.
Proof of love - 75%
Top performers using our Rewards system will secure Crowd Sale allocation.
The proof of love system was discussed during our most recent AMA on Telegram. The community responded positively. We've created a guide to help you get started with our rewards program.
75% of our crowdsale will be for Proof of love:

These ETH allocations are based on the price of ETH being $700. The actual ETH allocations will be based on the actual ETH price on the day of the crowdsale.
ETH allocations will be proportional to those determined at $700.
Lottery - 25%
25% will be put towards a lottery. The allocation for lottery is 0.4 eth, in order to participate you will need to join our whitelist. The lottery whitelist will close at Midnight GMT on Sunday 17th June.
End date for lottery submissions - June 17th Midnight GMT.
Many of you are already actively contributing to the growth in awareness of Sparkster that we wanted to reward this loyalty and ensure that you get something back from us. Our intention is to work this into the very core of our company ethos and we believe that a proof of love system is a great start.
We are excited to welcome you aboard team Sparkster!