We're thrilled to announce the official launch of the Sparkster Rewards program ahead of our crowd sale in June. Our aim is to attract a range of participants and to continue to grow the Sparkster community, accelerating its future development and adoption of Decentralized Software.
Sparkster Rewards is a point-based system which allows you to move up through tiers, gaining more points. Our no-spreadsheet approach allows you to easily keep track of the points you've earned, and there are five tiers: bronze, silver, gold, diamond and elite. Invite your friends and rise through the ranks by using your tailored links to spread the word about Sparkster.
With 2,000,000 SPARK tokens being allocated through a point system to platform contributors, we hope to draw in a range of talent to help promote and further develop Sparkster's decentralized cloud. We are committed to building a strong and active community where members are rewarded for their involvement.
How to participate
Create an account by signing up here: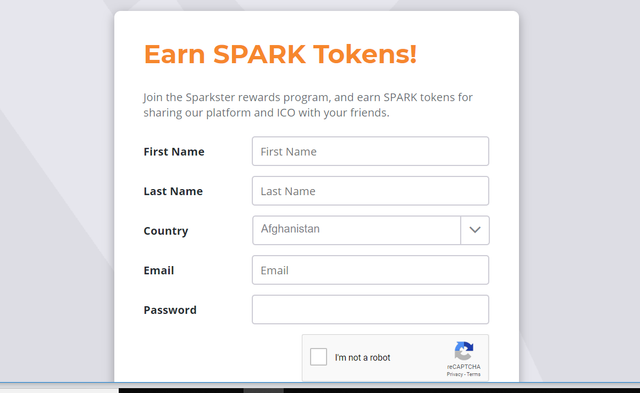 Once you have signed up and are logged in, you should be able to view your personal dashboard: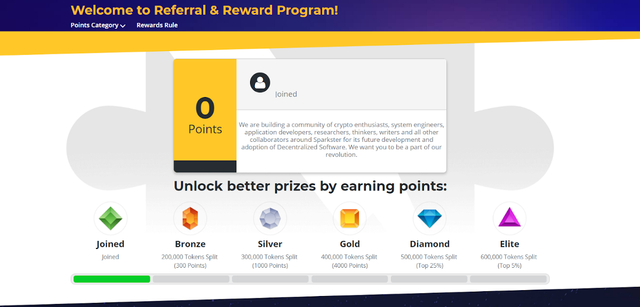 Now you are ready to begin completing tasks!
Completing tasks is achieved by clicking on an individual task box:

Once you click on a box a list of instructions will appear to explain how to complete that particular task.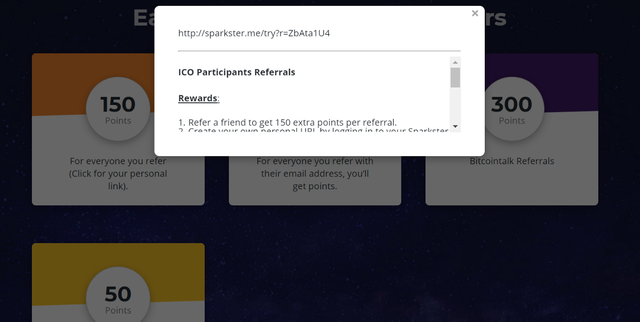 Sparkster rewards system also allows you to paste links of your shared posts: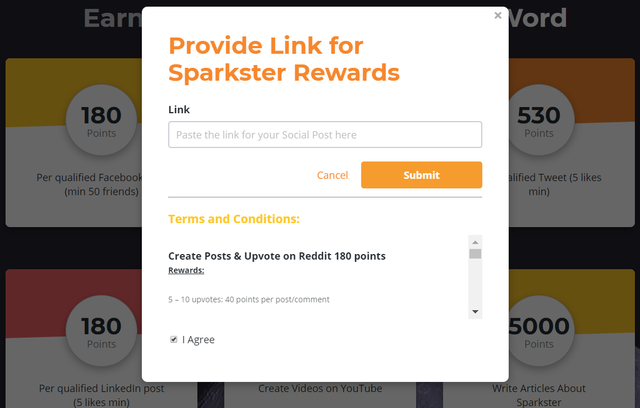 Once tasks are approved by us, the total number of points earnt will be updated.
Campaign Types
Signature campaign and referral program
Content (blogs and media publications)
Sparkster website banner campaign
Earn points by finding bugs
Host a meetup to earn additional points!
Spreading Positivity
Referral Campaign
Twitter
Reddit
Translation campaign
Sparkster Public Network Test
Completing Sparkster Platform Walk through
Facebook
LinkedIn
Telegram Moderation Bounty
Sparkster point based tiers
Earn more tokens by moving up towards 5 different tiers: Bronze, Silver, Gold, Diamond and elite.
By qualifying for our Diamond and Elite tier, you'll earn bonus tokens. This gives you an opportunity to earn a larger amount of Sparkster tokens.
The overall Reward program highlights:
Sparkster rewards program runs on a point base system. This will be divided in to the following groups:
Bronze: — 200,000 tokens — 300 points required to qualify
Silver: — 300,000 tokens — 1,000 points required to qualify
Gold: — 400,000 tokens — 4.000 points required to qualify
Diamond — 500,000 Tokens Split (Top 25%)
500,000 Bonus Tokens in addition to Gold, distributed to the top 25% of participants
Elite — 600,000 Tokens Split (Top 5%)
600,000 tokens Bonus Tokens in addition to Gold, distributed to the top 5% of participants
Sparkster rewards program does not use a spreadsheet system. Our system lets you manage tasks, keep track of the points you earn and refer your friends!
Please note all the tasks are manually approved, so it may take a day or so for your points to appear.
We want to thank each and every one of you for being a part of our community and journey. We appreciate your support and help in getting our message out to the world!