How and why to get whitelisted for the token generation sale?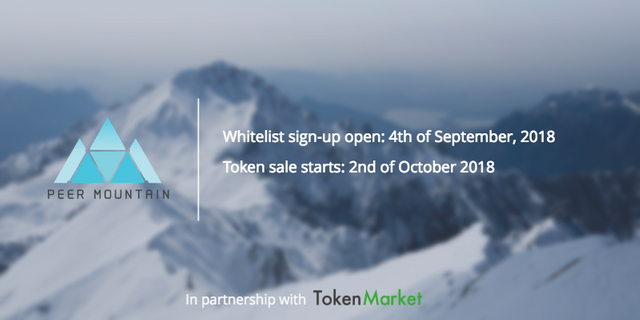 Information about the Whitelist sign-up process:
Why to get whitelisted?
Whitelisted users will secure a place in the token sale. You will be guaranteed to participate in the first round of the public sale. It means that you can secure the highest public sale bonus.

When you get whitelisted, you will be able to participate in the token sale on a day one of the sale. Non-whitelisted users will have to go through the full KYC process (which can take up to 10 days).
When does the whitelist sign-up begin?
The whitelist sign-up process will begin on 4th September 2018
Where do I register?
Click the "JOIN WHITELIST" button on the Peer Mountain website at https://peermountain.com . You will be redirected to the TokenMarket.net website to complete the sign-up.

You can choose many signup forms: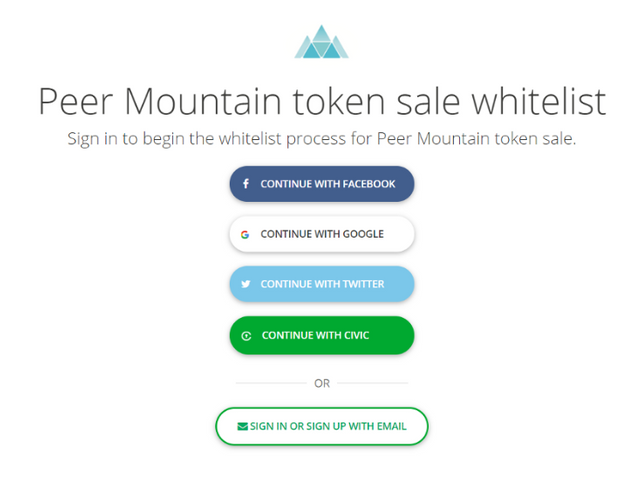 Please follow the instructions provided on the TokenMarket.net website for registration details: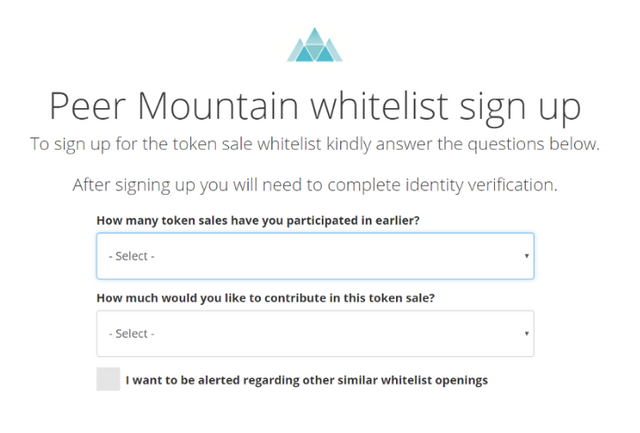 How long will the whitelist sign-up process last?
Being cleared through the KYC process may be immediate or it may take a few days that is why we encourage everybody to sign up as soon as possible.

A limited number of people can be processed through the KYC process each day. You will receive an email from TokenMarket.net with a secure link to continue with the KYC process.
What happens if I already started the Whitelist process?
If you were able to get into the whitelist form at launch, completed the necessary information and received a confirmation email back from TokenMarket confirming your email address and received a secure link to continue the process and an email confirming you have been accepted into the whitelist you don't need to resubmit anything else.
When will the public token sale begin?
The public token sale will begin on 2nd October 2018.
Who will not be allowed to sign-up?
People who do not pass the background check process will not be allowed to sign-up.

This token sale is not available in the following countries: United States, Afghanistan, Belarus, Burundi, British Virgin Islands, Bosnia and Herzegovina, Central African Republic, Congo, The Democratic Republic of Ethiopia, Democratic People's Republic of Korea, Guinea-Bissau, Guinea, Iran, Iraq, Libya, Lebanon, China, Serbia,Somalia, South Sudan, Sudan, Sri Lanka, Syrian Arab Republic, Thailand, Trinidad and Tobago, Tunisia, Uganda, Ukraine, Vanuatu, Venezuela, Yemen, Zimbabwe.

People who are a citizen or resident of a geographical area in which purchase, holding or use of PMTN token is subject to applicable sanctions or embargoes, or prohibited by applicable law, decree, regulation, treaty or administrative act.

People who are identified on applicable sanctions lists, or employed by or associated with an entity that is identified on applicable sanctions lists.
Join the whitelist here:
https://tokenmarket.net/preregistration/peer-mountain
Join us:

Twitter: https://twitter.com/PeerMountain
Medium: https://medium.com/peermountain
Reddit: https://www.reddit.com/r/PeerMountain/
Facebook: https://www.facebook.com/peermountaindotcom/
LinkedIn: https://www.linkedin.com/company/peer-mountain/