HiBTC trading platform
Crypto trading has since been the avenue to benefit from crypto assets which one possesses yet exchanges where the trading is carried out are a long way from being without their flaws. Both centralized and decentralized exchange have their own shortcomings. Majority of crypto exchanges are a single point of failure with loads of issues that traders encounter.
The first cryptocurrency exchange is MT.gox and since then, other exchanges emerge.
HiBTC is a revolution to the crypto world where exchanging is concerned and it unravels a large portion of the present issues looked on the crypto exchanges. This platform will be a solution to several inefficiencies of current exchanges such as:
high exchange listing fee, low efficiencies, high transaction fees and withdrawal expense, liquidity issue, absence of trust, inconsistency, instability, vulnerability to hackers, counterfeiting of transaction data that prevents the onward growth of cryptocurrency market and loss of funds to investors.
ABOUT HiBTC
HiBTC is an exchange platform that upholds the principle of openness, transparency and self-governing of community and is committed to sharing benefits with all global blockchain community members. HiBTC is the hope that on the HiBTC platform, every new friend can say "Hi" to the block chain world and embrace her. At the same time, it also remind each participant including the team members to be faithful to the original aspiration and continue marching forward.
HiBTC promises to regularly allocate the platform revenues to all token (HIBT) holders, and 50% of the HIBT issued is rewarded to users through transaction processing fee mining. The HiBTC token is now trading.
DISTINCT FEATURES OF HiBTC EXCHANGE
TRANSACTION MINING : HiBTC reward users up to 50% of HiBTC generated through transaction processing fee mining. The reward is given according "transaction + token holding" mining model. This is calculated by market price of the transaction processing fee generated on the transaction, the amount of HiBTC the user possess and HiBTC market price. This reward is released once per hour.

RIGHT SHARING: HiBTC does not operate on firm structure of management as with traditional model but a co-governed structure where there is no board of directors. Every token holder has the right to participate in any platform decision by the use of HIBT to vote. They can also elect community representatives, thus information will circulate and members will get what they vote for.

SECURITY: With HiBTC trading platform, all digital assets are secured. This gives users the ability to keep their assets on the public blockchain without fear of being compromised, hence community members can safely go about their trading investments.

DIVIDEND BONUS PROGRAM: Aside the basic divided for all token holders, users will enjoy dividend bonus in all categories when they join this program with their HIBT. The HIBT will be locked and the longer the lock up period, the higher the proportion of excess bonus given.
All in all, participants will enjoy mining generated HIBT, basic dividends and dividend bonus in addition to whatever profit they make on transactions carried out on the platform in a transparent manner.

THE INNOVATIVE "1+1" CURRENCY LISTING DUAL-CHANNEL MODE: HiBTC exchange is the first to established this model of currency listing. This include a platform selection channel and a HIBT holder recommendation channel. In the choice of the former one, the applicant with hold and lock a portion of HIBT as "investor protection fund" during currency listing period. This fund will be paid to the investor in case of fraud during the listing period. The later one requires HIBT holders to make listing recommendation. The recommended currency must be able to fulfill the platform's requirement after which an invitation will be issued.
THE TOKEN
HiBTC Token (HIBT) which is the name of the token issued by the HiBTC platform, not only as a digital asset, but also representing all rights and interests of the HiBTC platform.
Below is HiBTC token specification:
Token Ticker: HIBT
Platform: Ethereum
Decimal: 18
Maximum Supply: 10 Billion HIBT
ROADMAP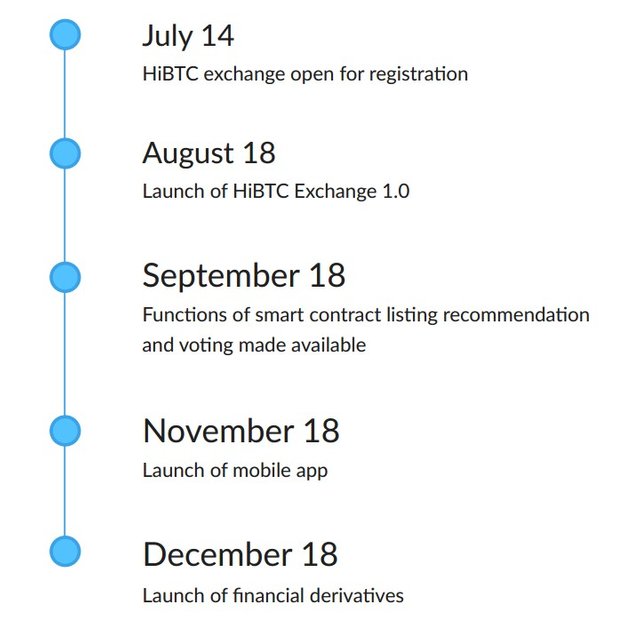 HiBTC will be focused on the extraordinary innovative model of HIBT and to bring more premium exchange experiences as well as more plentiful ROI on digital investments. One of the ways is by FomoHIBT bonus pool Plan that is about to be launched in order to bring increasing benefits for all the community members.
To find out more about this project, here are some related links:
Website Whitepaper Telegram Bitcointalk ANN thread
Writer's bitcointalk username: lala28
Writer's bitcointalk profile link: http://bitcointalk.org/index.php?action=profile;u=1221603
Ethereum wallet address: 0x1493257D77F0f795fAF967cB59b85B5ce2f631A4