Hello steemit!
We had bad start of this year , but seems crypto market now is more stable and have chance to grow again, so i started to invest more into new icos and buying more and more new tokens with fiat.
I will post once in a week some report of my portfolio and i will not include my etherium,bitcoin and tokens in exchanges into it, and only will share my tokens from new icos and what are in my etherium wallet.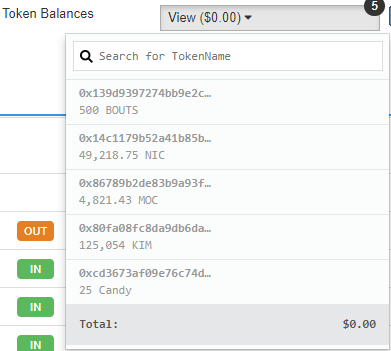 So far i got 5 tokens:
500 BOUTS ( tokens from bouts.pro karate ico, value is super low like 0.006 etherium)
49218 NIC - (ICONIC in preico with bonus about 1 ETH, only problem that will be again in may ico, so im nore sure when to the moon and at least to the exchanges)
4821 MOC ( around 0.7 ETH, will wait to the moon i love this kind of tokens)
125000 KIM ( joke coin like doge, but with great design and team just check it https://spacekim.io/ i bought around 10k tokens and received x12.5 for free, from all unsold tokens i think, so price in exchange for first month will be super low, because of this)
25 candy - ( this one received for free from unicorn game , not sure how to destroy it)
So far im around 2.7 ETH in investments, but because no exchanges im 0$ in showing, hope in next 3-5 months all will change, i will try to post this kind of post once in 2-4 weeks.
Thnx for reading, see you again in few weeks with more coins;)