HOW TO Enigma's Catalyst ICO Crowdsale Whitelist

Yesterday (07.08.2017), there was big announcement on the Enigma's slack. They posted information about doing a whitelist for thier Catalyst Intial Coin Offering. They claim that getting accepted for it will give you possibility to obtain as many tokens as you indicated (IN DOLLARS) in the form for one hour after their crowdsale begins.
Original post:

HOW TO apply?
Make your own telegram or slack profile (I would suggest doing both).
Slack: https://slack.enigma.co/ (e-mail adress needed)
Telegram: https://t.me/EnigmaCatalyst (also phone numer needed)

You need to open the form:
https://docs.google.com/forms/d/e/1FAIpQLScO26_Wlgu8pbcr6TpBH95vSPEAkXDRw9Yqwi0cuADE8q_7Yw/viewform?usp=sf_link
It should look like this:


Fill the form.
I'd still suggest putting both telegram and slack profiles and rethinking amount you want to contribute.

Click send button.

If everything went right you should get message like this one:

THE END. Now you just have to wait for personalized link that will give you possibility to buy tokens for amount in dollars you claimed in the form.
UPDATE 09.08.2017
Why haven't I received my confirmation email?
Don't worry. You shouldn't have. They are looking into setting up mailchamp for that.
Original post:


UPDATE2 09.08.2017
I received my confirmation email. It looks like this: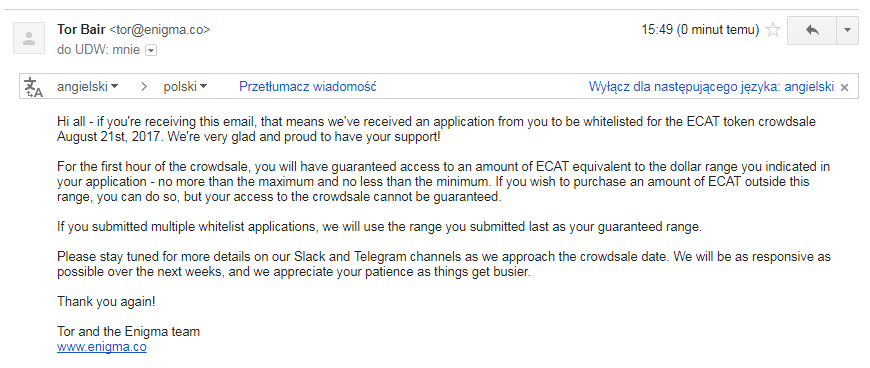 Follow me on steemit and twitter:
https://twitter.com/SimonFeycon