So there is a lot of hype over Electroneum (ETN) right now. The Ico sold at 1 cent a coin, and it is now at 10 cents. Huge difference.



12-4-17 8:45 PST
And the Chart at the same time: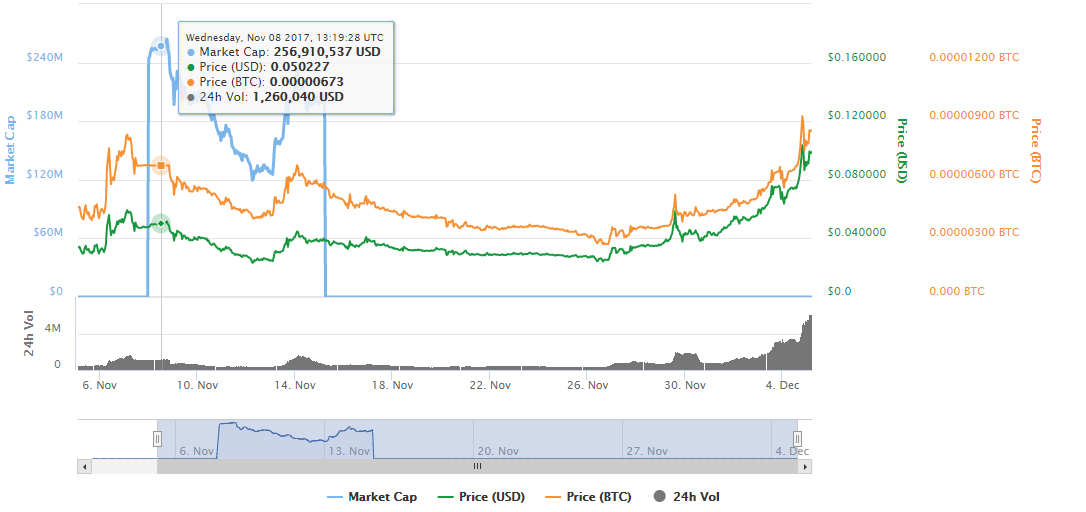 But what is going on? Why is it so high? Arent there still problems? How am I going to capitalize on this?
So in my previous ETN posts I spoke about mining like a madman using nicehash mining power. I made up to 50k coins, and unfortunately lost a bunch down to 22k coins. But I was still solid in profit at this point.
So my plan is simple, I am going to sell at the peak here for a couple grand profit, and buy after the ICO wallets release and crash the market.
But the market is going to the moon? You are going to miss your lambo! Market trends, blah blah blah.
Look, I am long on Electroneum. I feel it will go to the moon in a few years time. 1 dollar is the moon for me. I plan on trading the volatility from the wallet release in the coming weeks, and have over 100k coins sitting in my wallet.
This current market trend is from a couple of things. Miners are holding in order to do exactly what I plan on doing here. There was an error at cryptopia (the exchange) where nothing could be deposited. So there was not enough ETN to fill orders, and there was more markets within cryptopia opened which has allowed expanded trading.
Currently, about 375 million coins are in circulation. It really is not much. When the ICO wallets release soon that number is going to skyrocket to 6.5 BILLION with a "B" will be released onto the market. All these funds bought at 1 cent per share, and with a 50% bonus. It will dump the demand is not there.
I plan on buying that valley, and riding it to the moon.
I suggest you set up your trading account now so everything is good to go on cryptopia, and buy at the valley as well if you haven't got in yet. This one is going to hit, and hit hard...
So when this hits a dollar I will easily have over 100k USD in my opinion. And with that I am going to pay off my house. Again dont get in now, its too high, but drop 1 grand USD when it drops and you will be happy you did.
My Cryptopia referal code https://www.cryptopia.co.nz/Register?referrer=danile666
And a non referal link: https://www.cryptopia.co.nz
Also check out these systems custom built for mining ETN:
https://allthehashes.com/collections/all
My nicehash has mined a ton

Turn it and burn it, and ride this to the moon.