INTRO ICO Overview | Ecosystem for Real Estate Market Players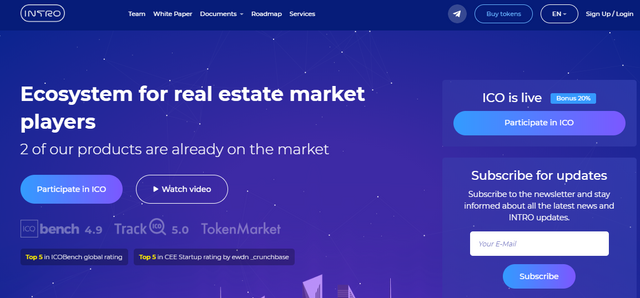 ---
---
Hey folks, @cryptokraze here with another overview about the upcoming ICO (INTRO). This will include what this ICO is about, what it will bring to crypto world and why it is worthy for me to invest in it.
---
---
ICO SUMMARY
---
| SYMBOL | ITR |
| --- | --- |
| START DATE | 1ST JUNE, 2018 |
| END DATE | 31ST JULY, 2018 |
| TOKEN TYPE | ERC20 |
| PLATFORM | ETHEREUM |
| TOKEN PRICE | 1 ITR = 0.4 USD |
| TOTAL TOKEN AVAILABLE | 160,000,000 ITR |
| TOTAL SUPPLY | 200,000,000 ITR |
| HARD CAP | 5,000 ETH |
| SOFT CAP | 3,000,000 USD |
| ACCEPTING | BTC, ETH, LTC, DSH, AND BCH |
| BONUS | UP TO 20% BONUS |
---
---
ABOUT THE PROJECT
To utilize the modern technology – blockchain to create a modernistic platform for business intelligence system, monitoring and management of plan development of new construction
A powerful platform leveraging on functioning of smart contract technology for share ownership
INTRO – Ecosystem for real estate market

---
---
WHAT WILL IT BRING TO CRYPTO WORLD
To merge the existing market capitalization of cryptocurrency world with the massive global market capitalization of real estate
It adoption will bring influx of people to the crypto world
ITR token holders will have access to property market analytics as well as global online platform for real estate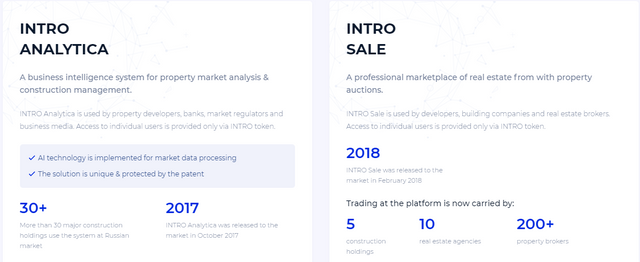 ---
---
WHAT ARE THEIR FUTURE PLANS
INTRO – to create a platform for social networking for investors and property brokers
To provide a platform where real estate investors will have the flexibility to compare offers and invest in the most profit projects
To facilitate a platform where property developers will be able to plan sales with demand forecast
To create a platform that will store real estate property data on blockchain distributive ledger
INTRO – a platform that will offer users full marketplace transparency as well as user-friendly platform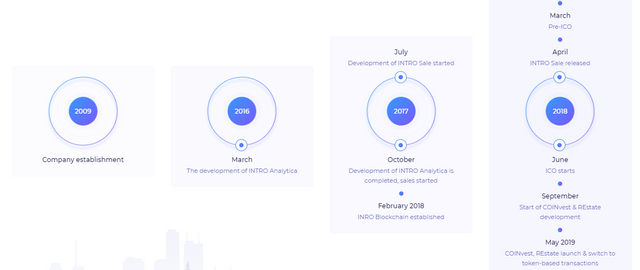 ---
---
WHY IT IS WORTHY TO INVEST
Users like – banks and building societies will have the means to analyze, check builder's record and locate the appropriate and reliable contractors
Users will be able to buy various apartments as well as other real estate property with 10-30% discount
It will also allow customer to purchase real estate properties from developers by installment with zero percent interest rate
It has a smart contract that help users access timeshared investment
It offers disintermediation and also minimal commission

---
---
I have read INTRO ICO white paper and assembled this information. For further details, you can visit their official website.
---
---
Have a look on my other Posts
Eligma ICO Overview | Artificial Intelligence Driven and BlockChain Based Commerce Platform
eCoinomic ICO Overview | Collateral Loans for Crypto Owners
VINchain ICO Overview | 100% Trustworthy Vehicle History on Blockchain
---
---
Disclaimer
This ICO information is just for the interest of Crypto Lovers and should not be considered as investment advice. If you want to take this opportunity, then invest only what you can afford.
---
Images Sources: www.introa.io