World without any taxi - Cryder ICO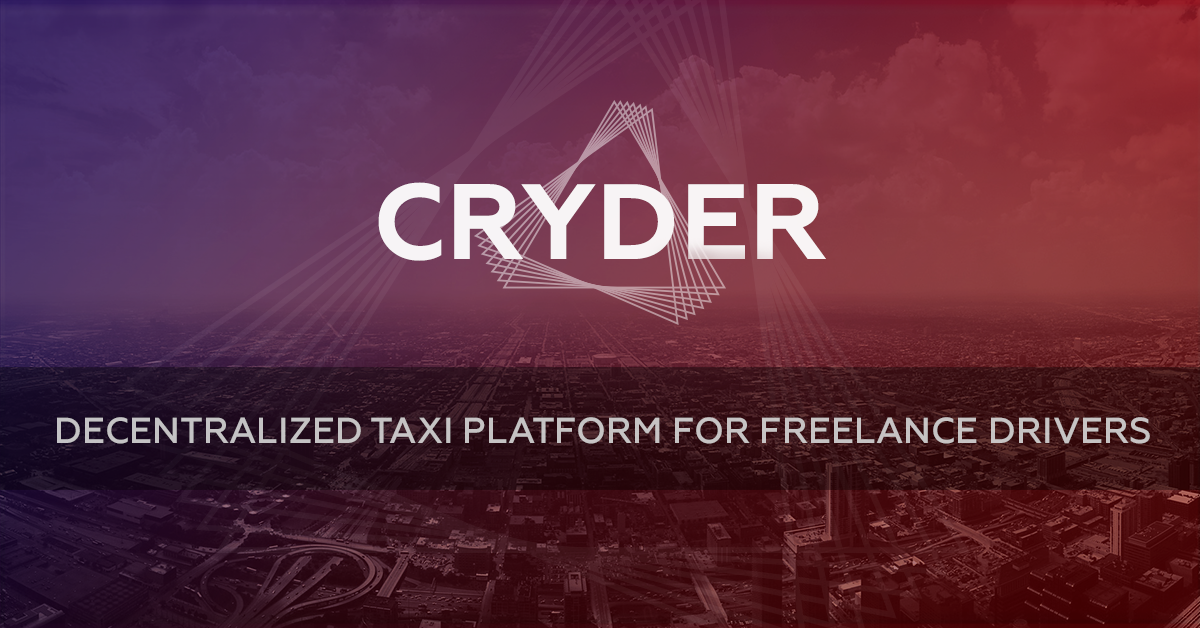 Small developers from Europe, has decided to change the way we perceive a Taxi sphere as a whole and set a goal to become the future of a taxi industry. The Cryder project is connecting drivers and riders, while at the same time, completely decentralizing them and destroying any possibility of regulatory or governmental pressure thanks to blockchain technology.
Such innovations are only possible due to the blockchain technology. Every day this technology is developed and used by hundreds of companies worldwide, implementing it in new projects and reaching tremendous results.
In other words, blockchain is as a big server, but not as the one you are used to, it is more secure and more powerful. Blockchain, from technological side is more complex and much easier at the same time, in simple words, it is the gigantic network, that connects millions of PC's around the world into one big computer. Each of the smaller parts, hold only part of the information, thus it makes such network invulnerable from any individual, company, government or organization.
Currently all taxi and other transportation services, have numerous restrictions, that do not allow any willing car owner use his private car and to earn some extra cash. Release of Cryder into blockchain, will grant anyone possibility to get 100% of the fees that he will charge his clients, without any useless requirements, such as license, new car and logos on the car. All of the regulations currently introduced are not business driven and even harden the doing of business and raising running costs, but still as we all know governments just love to overregulate certain industries. In the Cryder case, no one can influence it in any way or introduce new rule. Cryder is fully autonomous, and is functioning based on the rules, that were implemented into it by the development team and that can't be changed. On top of that Cryder as a company is a non-profit organization, has no legal entity and can't monitor or influence the process even if there is governmental restriction.
From the financial side, all operation between driver and rider are conducted through the blockchain technology in Cryder tokens "CDT", that can work only with Cryder. Anyone can buy Cryder tokens in the application itself – all transactions of token purchase and sale, will be done through major crypto exchanges at the best rate possible, with no additional efforts from the riders or drivers side. All drivers, can exchange their Cryder tokens into fiat currency via exchange or are able to speculate on its value change to gain extra profits.
All o the rides will be completely decentralized, Cryder is not logging your activities and locations, before, during or after the trip as some other services do. Thanks to blockchain and Cryder, we are introducing the most private transportation service available in the market.
Cryder is like a living creature, that has only few goals, to make the rides cheaper, increase drivers profits and leave it all as a secret.
---
CRYDER TOKEN PRESALE OVERVIEW:
Start date: 20 October 2017 (17:00 UTC+0)
End date: 3 November 2017 (17:00 UTC+0)
Cryder tokens distribution cap: 50,000,000 CDT
Currency accepted: ETH
https://www.cryder.io/ - Detailed information on the website
https://bit.ly/cryder_io_tg_en - English chat for any questions
https://bit.ly/btc_bounty - Bounty campaign