Greetings, my readers! It's no secret that many people have learned to earn online, and income options are increasing. Not so long ago, one of the most profitable ways to create it was the Forex market, but the volatility of the currencies and assets represented there has significantly decreased in recent years and the era of digital money(cryptocurrencies) has come to the aid of investors, which show a huge percentage of profits both for long periods of time and for short periods.
I have already used signals from one club several times, which are short-and medium-term, and managed to make a profit of 10 to 100% in less than one week. I also use the buy and hold strategy, which allowed me to increase the capital from $ 351 to $ 50100.
As soon as I receive a notification that I need to buy some cryptocurrency, then I have the following problems:
- I have to open several different exchanges, which takes a lot of time;
- some sites of exchanges are poorly adapted or not adapted to mobile screens, which causes inconvenience when I'm not near a laptop;
- constantly requires confirmation of my login, sometimes I have to use a VPN application and it also takes enough time to rate already increased;
- if suddenly the token will be on the exchange on which I am not registered, I just do not have time to get into the framework of the proposed purchase price.
The number of cryptocurrency exchanges and real digital coins backed up by activities is growing every day, but the functionality remains low, and it is very important for the trader and investor to respond quickly in the early stages. But I see an excellent solution to these shortcomings in the form of a developing project called CRYPTOROBOTICS.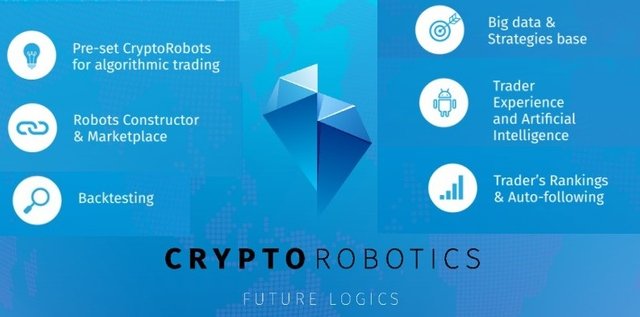 It creates a decentralized interactive platform that includes enough functions to carry out standard actions to the trader in the cryptocurrency market. The platform is very convenient and adapted with the help of API for one-click transition to many exchanges. The team has already presented its terminal at many international forums and conferences, including the Consensus in new York, Blockchain Expo in London and will integrate popular exchanges (also use them often), which can be seen in this picture below:



Trading robots are built on the platform, which will track the autonomous indicators and will be able to replace the traders themselves, pre-test them. The user can easily change the strategy without programming, rather simple and intuitive interface.
Another important point is the presence of a rating of traders, which will allow many to choose a suitable strategy and follow it, also implemented the function of auto - investigation-this is when users can copy the successful steps of traders and increase the earning potential.
Advisors and representatives of the project are actively promoting it, many investors from South Korea are interested, and the possibility of placing futures on the world's largest exchange CME Group is being considered. Unlike existing exchanges, this platform plans to connect about 30 crypto-currency exchanges, provide free use of the terminal (many others have a subscription fee), use artificial intelligence and machine learning. Payment for products will be paid with ROBO tokens.
The token sale ends on June 20, 2018, the project already has a demo version of the product, which you can download at this link https://cryptorobotics.io/terminal/. Road map is painted until December 2020, which once again proves the seriousness of the project and the intention to take a good part of the market and help traders and ordinary people to earn in the world of crypto-currencies more easily.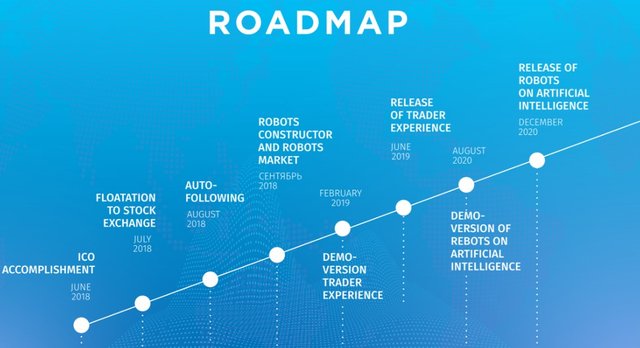 More information you can find on these links: