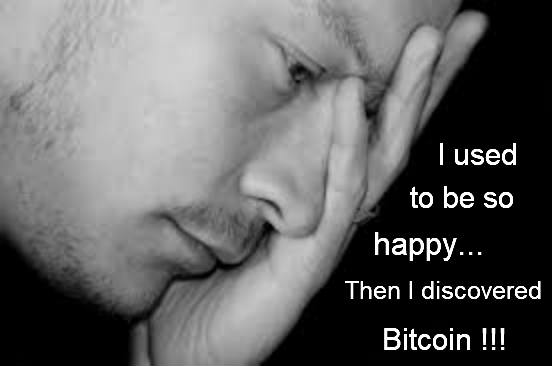 I almost regret learning about Bitcoin.
I was a happy and carefree old man...
Now, for a measley few thousand in funny munny, I am a slave of my computer.
I wake up, and I run to see what did Bitcoin do last night ?
If Bitcoin went UP, my whole portfolio of funny munny is UP... my mood is happy...
I was a happy man, in December 2017.
But then came January, 2018 !!! Oh, no ! Crash !!!
Now, I'm a nervous wreck !
Oh, shit ! Bitcoin crashed ! (The rest of my holding in crypto went down too !)
Wait ! Bitcoin is UP ! (The rest of my holding is UP too! My day is made!)
Has this happened to anybody else ? What's it called? Bitcoin fever?
But I hardly own any Bitcoin at all ! I own a whole .04 Bitcoin!!!
I own Ethereum, and EOS... and Stellar... and Auger...
Oh, no !!! I can't believe it. Auger went DOWN this morning, so I cashed out on all my Auger !
And now, Auger is UP !
I can't sleep anymore...
I blame myself when I am wrong, and it seems like I am wrong all the time.
I used to be so happy... Then I discovered Bitcoin !!!
Is this Bitcoin Fever ?