"Organizing is what you do before you do something, so that when you do it, it is not all mixed up."
-A. A. Milne
I agree, sometimes I feel that clutter will be the death of me. Ugh, if you are anything like me, you cannot work AT ALL in a cluttered space. You cannot think straight nor can you ever feel motivated if your room and desk look like crap. Most of all, to me my desk is everything (I have been neglecting it big-time lately) and I am sure for many of you, your desk is a very very important part of your daily lives. So let's declutter and organize it shall we? Never forget that the ambition should always be to do these things for as less money as is possible.
First things first, Color Palette
No matter what you do in name of home decor you have got to keep a color palette in mind. Why? Because if there isn't a consistency in the color of your space then it will look like a mess, well, a colorful mess. For some reason your space will look messy no matter how hard you try. So, keep the palette consistent. Below are a few examples of desk color palettes that you can choose from your get motivated by:
Above we saw some marble, white. rosegold color palette, or black white. You can go for a bohemian, metallic, pastels or just simple wooden and white vibe. Go with whatever you like but keep it clean and consistent!
Buy storage boxes
Perhaps it sounds like I am asking you to buy those giant boxes but, no! I mean they could be ranging from very small to sizes that can fit your books etc. The thing is when each and everything you have on your desk has a spot appoited to itself, that will automatically declutter your desk. Another benefit is the ease with which you can find and access everything then. Instead of buying these boxes, you can also buy those divider things which you can place in your drawer and you get different sections for different stuff.
In this desk you can see a lot of different and really cute storing boxes to store pins, paper clips, pens. sticky notes, books, markers and pretty much everything you need. It makes your place look really neat and actually quite alluring. It actually makes one want to actually go sit on the desk to work.
Have a vision/reminder/affirmation board
It is always a good idea to have a sort of a vision board. It can actually serve many purposes. You can stick things to it which are urgent and need to be done. You can add some cute pictures to it, or things that you want to achieve in near future. Add to it some quotes that you love and that seem to motivate you. Other than that what really has helped me are affirmations. You tell yourself something long enough you will actually start believing it, so why not make these things positive?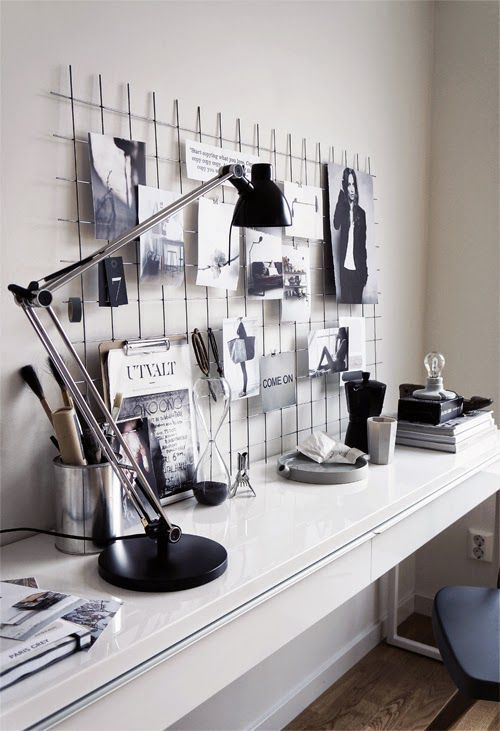 Source

So, there you have a few things you can do in order to make your desk look organized and for your mind to feel at ease finally.

Declutter thy desk, declutter thy mind and soul!
---
Written by @things, 2018. All rights reserved.
---