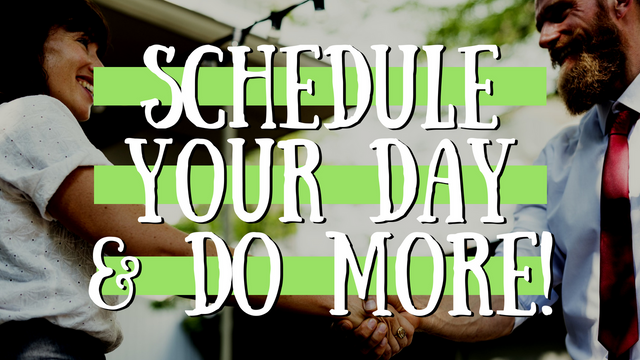 ---
After watching a video where a guy talked about scheduling out your day I chose to give it a try. I must say, I am pleasantly surprised by how well this strategy works. Not only am I getting the tasks done that I need to get done for the day but am also able to do things I want to do as well.
It's almost as if I have more hours in the day now that I am not wasting minutes here and there throughout the day.
Thanks For Watching!
If you have any topics that you would like me to cover please feel free to comment them below and I'll add them all to my list!
All images came from royalty and attribution free sources unless specified.
---
Looking to take your Steem based creations to the next level?
Join us over at the Creators' Guild Discord group! We are here to encourage, support and increase the creation of quality content.
---
If you have any questions about the future of Steem
or my witness please feel free to message jrswab#3134 on Discord.

Click here to vote with SteemConnect!
Or go to https://steemit.com/~witnesses
You can see all active witnesses on @drakos' steemian.info
---
Click here to join the mailing list and get exclusive SDB/STEEM giveaways!
Looking to support my content creation efforts outside of the Steem Blockchain?
Check out jrswab.com/support
---
Mastodon | Keybase | Twitter | Gitlab | Hacker Culture Podcast