I love yurts: they're elegantly beautiful constructions which have very warm, homely feel about them and they're just the perfect balance between permanency and mobility.
The combination of aesthetics (it's mainly this), practicality and affordability make the yurt my go-to option for when (if) I (ever) transition to a proper low-impact lifestyle. A 14ft Yurt would be sufficient for me to live in, which I could pick up for around £4K, although I'd rather a 16ft, which would cost me about £5K
The problem is, I'm struggling to find examples of anyone who is currently living in one, at least outside of the eco-communities I'm aware of.
Struggling to find examples of U.K. Yurt Dwellers…
A google search return for 'yurt+living+UK' reveals very few specific examples of anyone actually living in a yurt in this country. Now this is either because very few people are doing so and/ or anyone who is doing REALLY want to keep themselves under the radar, which in turn suggests it's a very difficult thing to do legally.
The first few search returns take you to general info sites about yurt living, the fifth return (despite including the phrase 'UK') takes you to an example from New Zealand and the sixth is to Daily Mail article about how a family were prevented from living a yurt by a local council, all of which doesn't bode well. This search return really dampened my prospects of ever living in a yurt because I've seen the picture below before, which is of the couple's yurt and long thought this was one of the rare SUCCESSFUL examples of a couple living in a yurt in the country…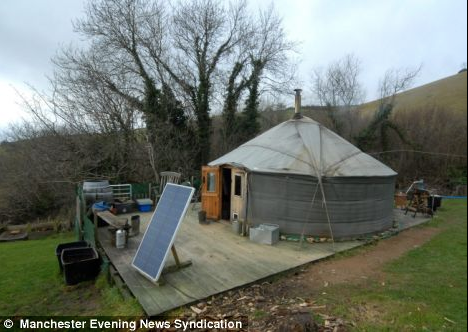 The only other example I could find was of a couple who run an 'eco-business' on a 12 acre Woodland in Devon (they own the land)…they seem to have a very nice set up, but then again, 12 acres of land, in Devon, you're not gonna get much change out of £100K for that!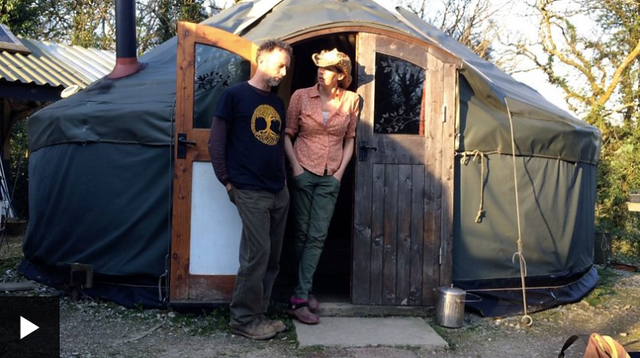 The lack of specific case studies leads me to conclude that either people don't want to live in Yurts, or that it's all but impossible for someone to live in one of these beautiful constructions in the U.K.

Possible reasons for the apparent lack of Yurt based living
Obviously as with all things eco-development the antiquated the English planning system is the first barrier to sustainable development, it simply doesn't allow for the building of low impact housing.
Or the reason could be simpler - the U.K. is very damp, so maybe The Yurt isn't suited to our climate. It is, after all, mostly associated with Mongolia where it's a lot drier. Maybe alternative living types just choose to live in plastic caravans instead.
Possibly it's the expense: £5K for a new yurt is a lot of money, when you can get a reasonably reliable DIY camper van for that amount of cash, and the later's a whole lot easier to move.
They are one of the more conspicuous forms of alternative eco-dwelling, and especially when you've added in a floor, which is really required to make one long-term liveable, it's quite difficult to move.
Or, maybe lots of people do live in them, but in an effort to keep themselves hidden, they've gone for camo-yurts, which aren't anywhere near as aesthetically pleasing as the traditional white colour (not that you'd be sticking pictures up anywhere if yer in stealth mode anyway!)
Yurts: fine for glamping, NOT for living?
What II have managed to find, however, is many, many examples of Yurts for rent for what seems to be a small-fortune (for what's basically a tent), Yurts which basically have the same impact as if they were lived in all year round. For example:
Add in many, many examples.
I mean I could go on, there are so many of them there are whole sites devoted to listing them!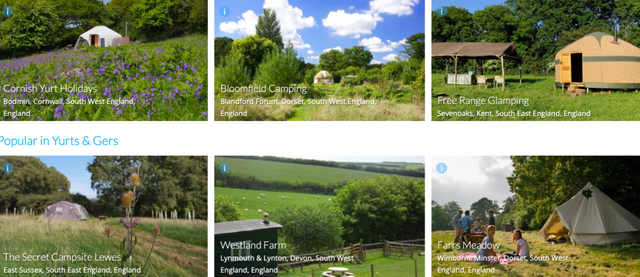 So the planning system forbids people the right to buy land and live in a yurt as part of a low impact, low cost lifestyle, but it's more than happy to allow planning permission for holiday-yurts which you can then rent out to people for £100 a night.
That really is twisted!?! I mean surely the environmental impact of having a hundred different visits in a season is going to be greater than having just one family living in a yurt permanently all year round?
Just goes to show that it's not the Yurts that the planning system is against, it's just against poor people saving money by living in them!