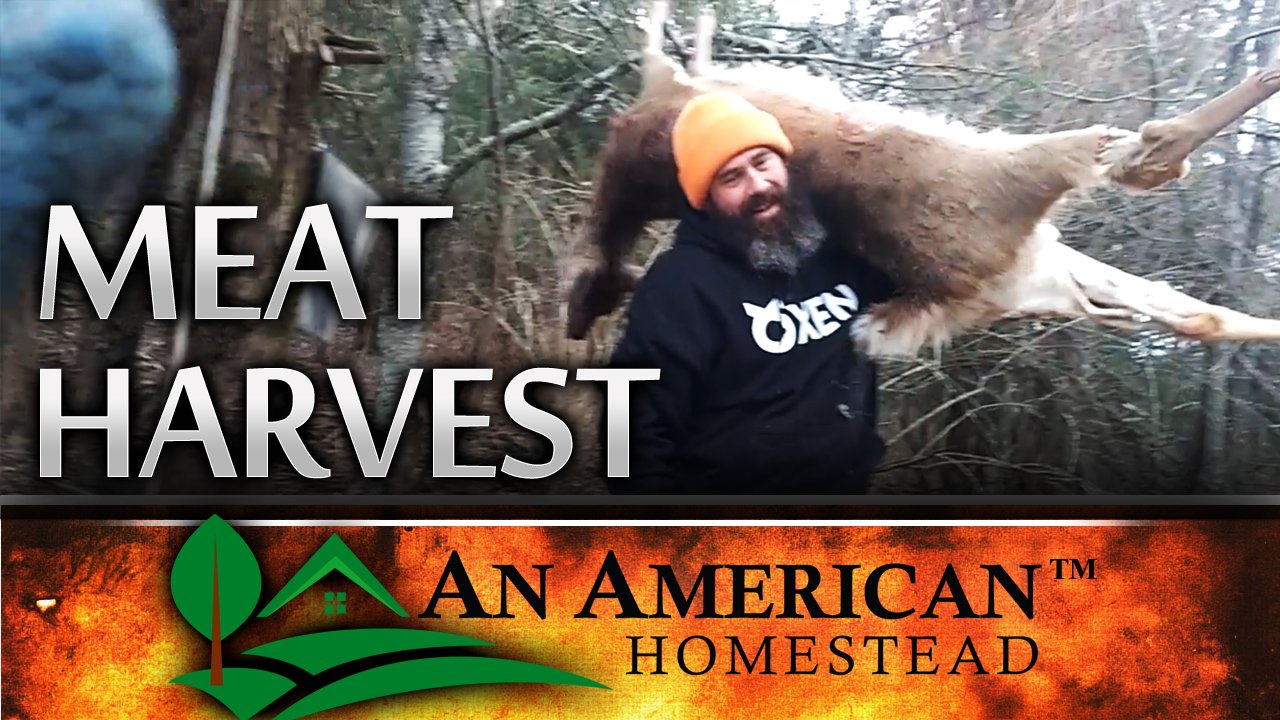 Deer season was coming to a close and I still had not gotten a deer this year. Usually I've had some succcessful hunts by now and I was getting nervous that I it just wasn't going to happen this year. It had been an unusual year with acorns and persimmons dropping during the rut which provided plenty of food for the deer. With so much food on the ground, the deer were not coming into the feeder for me to harvest.
Winter is the time historically that farmers, pioneers and homesteaders would harvest and butcher deer. There are very few bugs and the dropping temps allow meat to keep without spoilage longer. Also many preservation techniques can be used during this time of the year to keep your meat usable all year round.
But, I still didn't have any deer and now the season was almost over.
With one day to go, I decided to hunt at the top of our mountain where I had a good view at a long distance through the forest trees. I took my Savage .308 with me with its ability to reach out and touch my target. Just about when it was dark, I saw movement at the far edge of the property and 2 shots later, I had 2 deer to bring home to momma.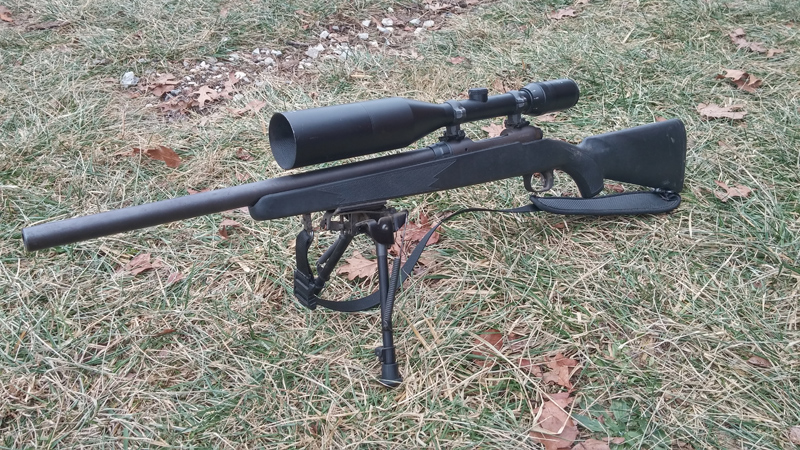 I butchered and quartered one of the deer that night and decided to let the other one hang in the cold temps. That was a mistake. Many times, hunters will hang their harvests overnight. They do this to enhance the meat and flavor the same way prime cuts of beef are aged. Temps of 30 to 40 degrees (F) are best for this. However, this night was going to see temp drops into the teens here in the mountains were we live.
When I went outside in the morning to get started on butchering the deer. It was an ice cube and and every cut on the hide of the deer, dulled my blade and had no effect. Now what. After some contemplation, my lovely wife made the call to bring the whole deer in the house! That way, it could thaw by the fire and I could finish skinning and quartering it inside.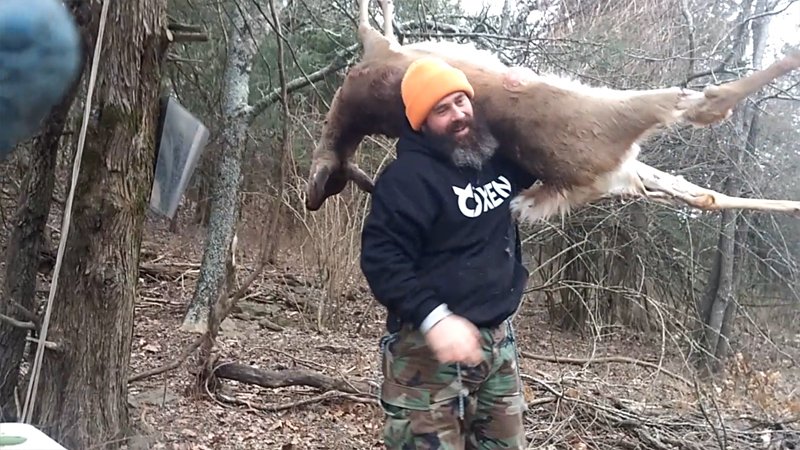 It was like carrying a statue and quite comical bringing it into the house.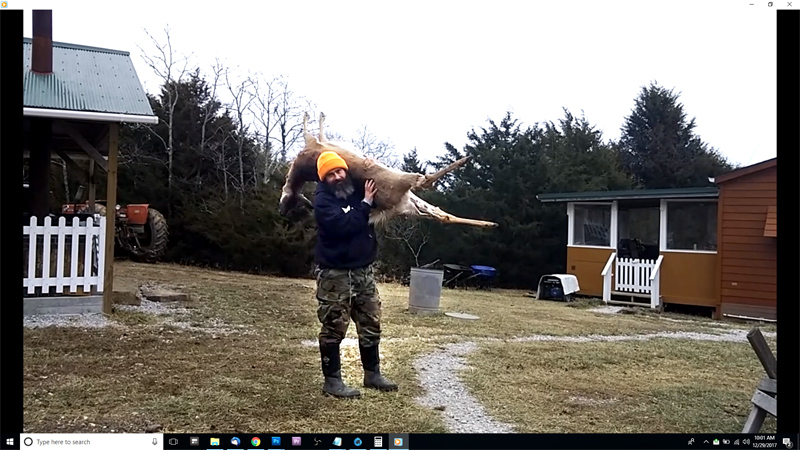 Once inside, it didn't take long for the deer to thaw and for use to finish processing the meat. Jaimie worked all day getting the two deer canned and put into jars for the pantry. About 14 pounds of meat were ground and put into our now solar powered freezer. This has been the first year we have had a working freezer on the homestead.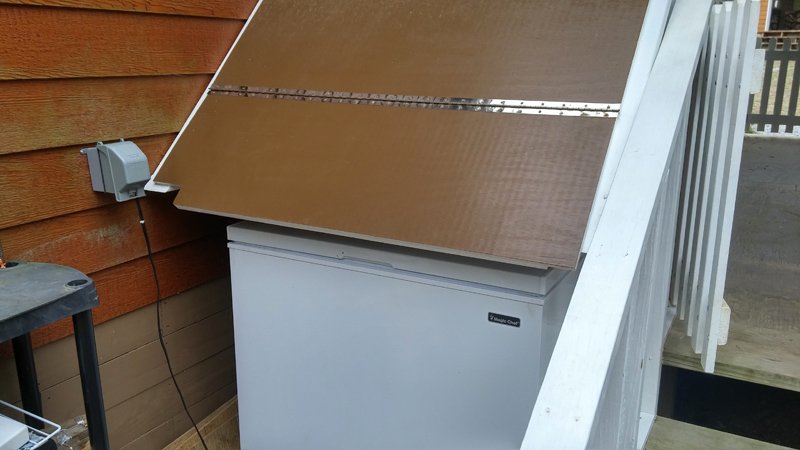 It's a small freezer but it works well and all powered by solar. We use 3 large solar panels on the roof of my Father in law's house (@hansjurgen).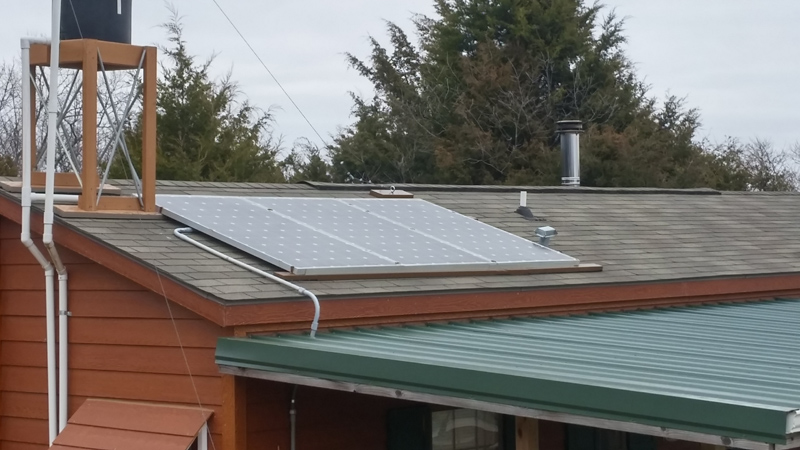 We've done plenty of articles on raw pack canning before on Steemit and our website, AnAmericanHomestead.com. This method is quick and simple for pressure canning raw meat to be used later. A simple search for "AnAmericanHomestead raw pack" on google will bring up a bunch of our articles.
So into the pressure canner it goes. 75 minutes for pint jars at our current mountain elevation. Your times may vary based on your elevation. Many times we use our outdoor kitchen and super large All American brand canner for canning meat, but because of the cold outside temperatures, the canner would take forever to come up to pressure. Also, because we turned a lot of the meat into burger, we didn't need our larger All American brand canner in this instance.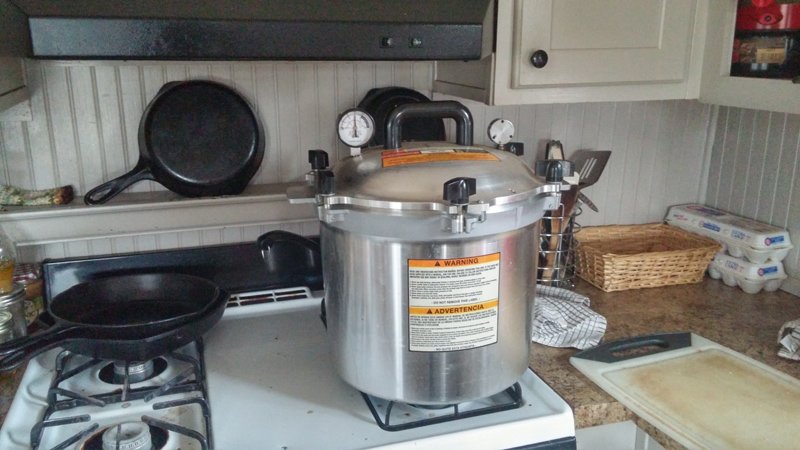 After 75 minutes, the pint jars of pure goodness are finished and we are ready to stock the pantry. The meat in the jars are turned into very tender chunks of meat that we use for tacos, chillis and bunch of other meals Jaimie will prepare throughout the year.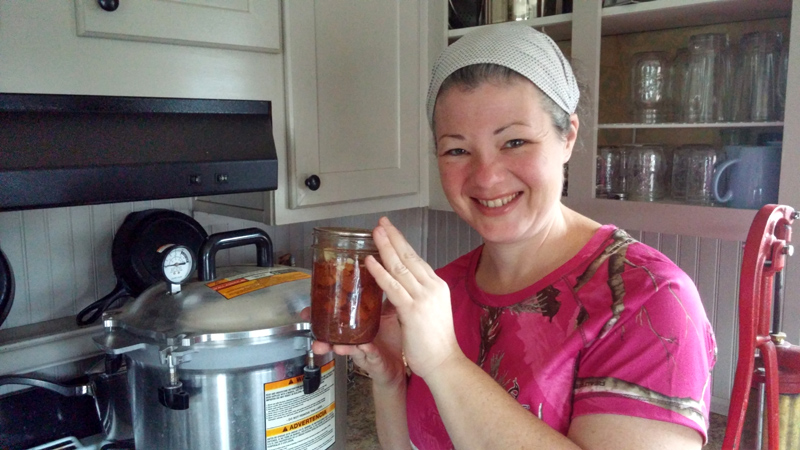 There is a chance that we could harvest another deer with a youth season coming up on Jan. 6-7. My oldest may get a deer and we could use that to make our hard salami this year. Harvesting meat is part of living sustainable. Although we have modern methods incorporated into our harvests, the fall and winter season were when our ancestors would eat and harvest the majority of their meat. The same way we are doing it today.
---


Visit Us Online: http://AnAmericanHomestead.com
---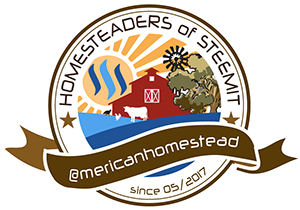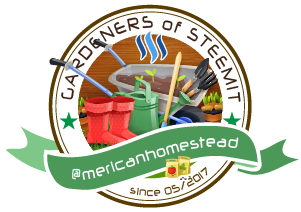 EVERYTHING IN THIS POST POWERED BY SOLAR !