The First Seed Starting of 2020 – March 4, 2020 @goldenoakfarm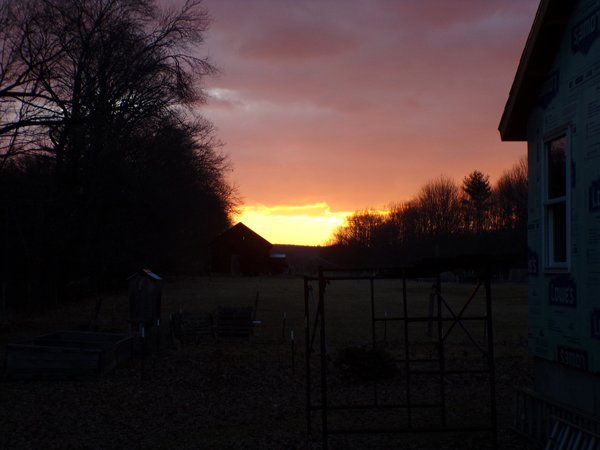 The sunrise as I left for the gym Wednesday morning
Wednesday was going to be a busy day, starting with my first day back at the gym. I saw the glow of morning through the plastic on the window in the addition, and realized I would probably miss the Spring Equinox coming through the house for the first time in over 35 years. But that's ok, because I got an extra last autumn when the Fall Equinox came through the window for the first time in 25 years.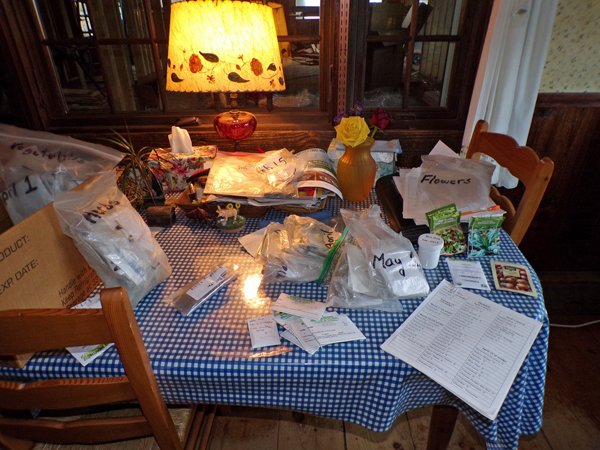 Tuesday night I had located all my information on this starting. Wednesday morning I got out my box of seeds from the fridge and set about inoculating the new seed with mycorrhizal and bacterial organisms. These help establish a colony in each pot. Then I sorted the seeds by type (vegetable, herb, flower) and then again into their bags for each starting date (1st and 15th of each month, February through May).
I hadn't finished when my intern arrived but we went upstairs to finish the light support set-up started last Thursday. We had to use one of my old T12 4-bulb units as one of the T5 units had failed. So it took us a lot longer to finish this job than planned. But in the end, after too many trips up and down 2 flights of stairs, the mats were in place, the bases leveled, and the lights at the right height.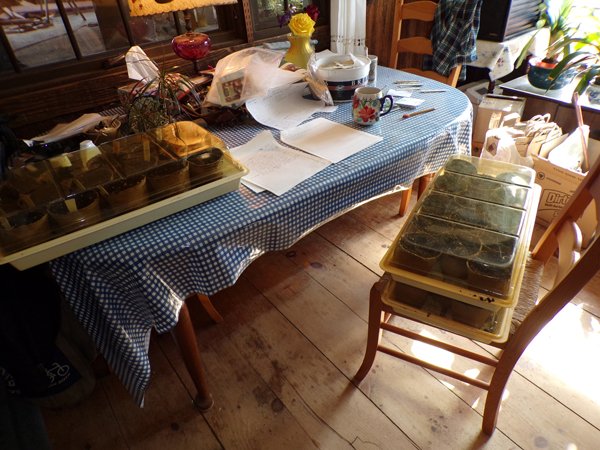 The first 3 onion trays ready to go upstairs under lights
We sat down for a cup of tea and wrote out markers for the trays. I was starting:
• Onions
Cortland Storage (336)
Dakota Tears (21)
• Kale
Lacinato (12)
Vates (12)
• Mesclun (7)
• Heliotrope (6)
• White rose (6)
Totals: 400 seedlings, 36 3" peat pots, 126 4" peat pots and 11 trays and covers
Before I make more changes to what I'm starting, this is the rest of the plant list:
• Walla Walla Sweet onions (550)
• Phacelia (9)
• Costmary/Bible plant (6)
• Lady's Mantle (6)
• Parsley (9)
• Canterbury Bells (9)
• Yarrow (12)
• Broccoli (6)
• Mesclun, 2nd start (6)
• Artichokes (6)
• Mignonette
• Love in a Mist
• Basil (9)
• Calendula (15)
• Chamomile (18)
• Thyme (24)
• Feverfew (6)
• Pennyroyal (3)
• Plantain (9)
• Baptista (6)
• Snapdragons (9)
• Balsam (6)
• Ashwagandha (9)
• Hyssop, Root Beer (3)
• Yellow Toothache plant (6)
• Melons (3)
• Mesclun, 3rd start (6)
• Peppers (3)
• Tomatoes:
Eating (3)
Sauce (6)
Cherry (3)
• Marigolds (18)
• Borage (9)
• Canary creeper
• Alyssum
• Lobelia
• Pickling cukes (6)
• Summer squash (3)
• Zucchini (3)
• Kabocha squash (3)
Totals: 1208 seedlings, 336 4" pots, 268 3" pots, 40 trays, and 10+ 40 lb bags of seed starting medium
I always start several extra of each plant, just in case. These I will sell or give away once I've planted and the plants are established. There are far fewer seedlings this year because I simply don't have space due to construction.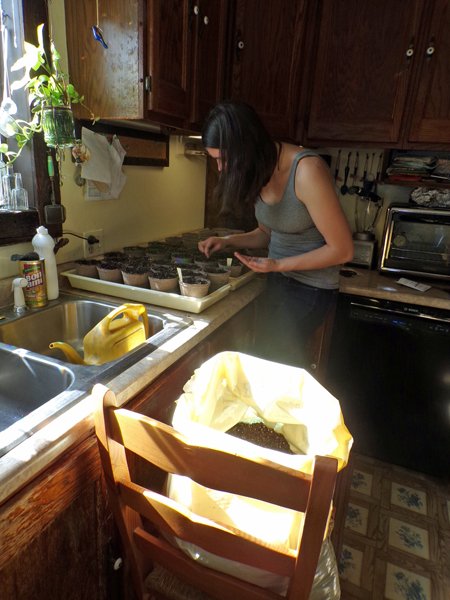 My intern planting onions
We got the onions finished just after noon and had lunch. We had the 2 trays of kale, heliotrope, and roses to do once we finished eating.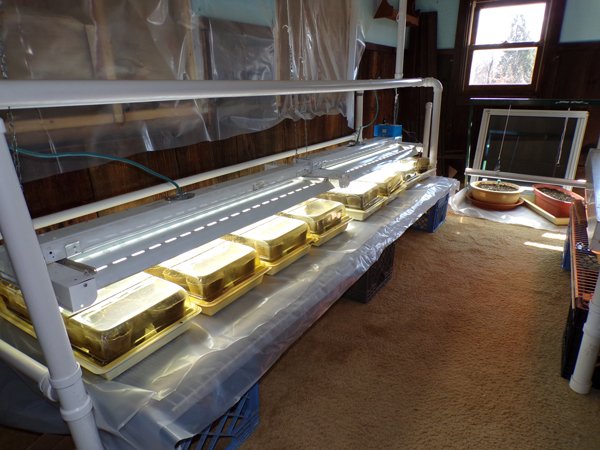 These are all the storage onions. They are on the new temperature controlled mats and have the 2 working T5 lights.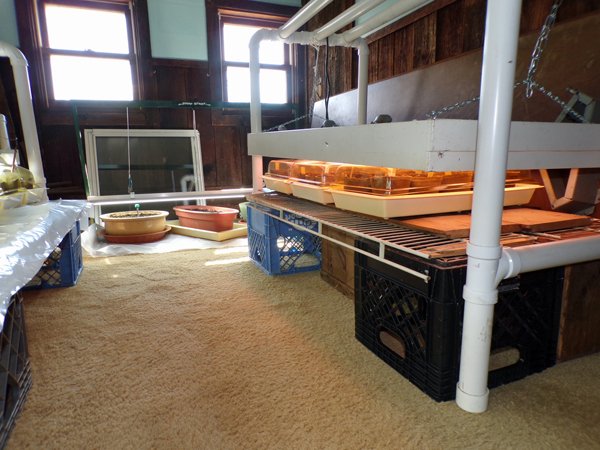 The Dakota Tears onions, mesclun and 2 kale trays were here. Their mats were not temperature controlled and are shut off at night. They got the old T12 light unit. In the back ground are the pots of ginger on their temp controlled mat and with a T5 light.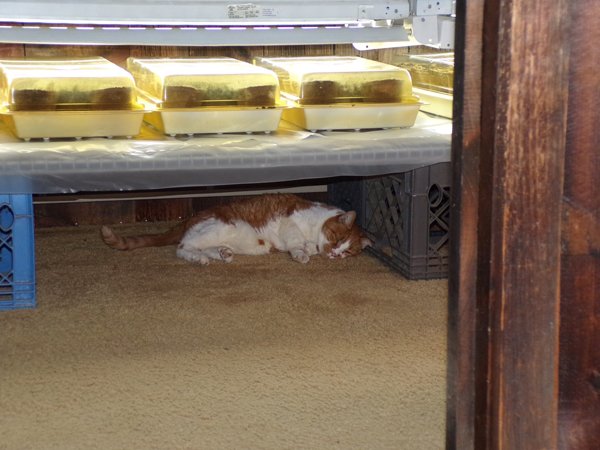 My QC inspector checking mat temperatures….
It was a long hard day as I went to PT in the afternoon and came home sore. A stint on the couch with the heat mat helped some before bed.
Thursday I hope to finish the estimating and my helper friend will be out in the Big garden, doing more clearing.