One thing that we have in our neighborhood in Volcan, Panama is citrus. Lots and lots of lemons, limes and oranges. Free for the taking, watered by rain! What could be better?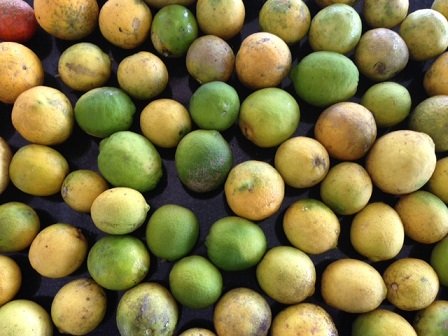 I recently picked these lemons and limes from our trees as I was mowing the lawn. I wasn't even able to reach or carry all of the ones I could find. One tree still had a lot of limes on them, but I knew I already had more than enough! I'm going to have to start creating recipes to use these in other than making lemonade every day!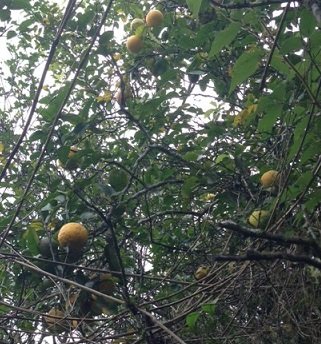 A lemon tree with a handful of tasty lemons!
We take the lemons that we find and squeeze them into a bowl with our handy lemon squeezer. This thing is heavy and industrial strength. It does a great job! I then will run the juice through a strainer as I measure it in a large measuring cup.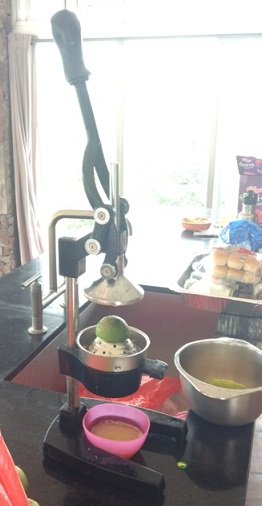 .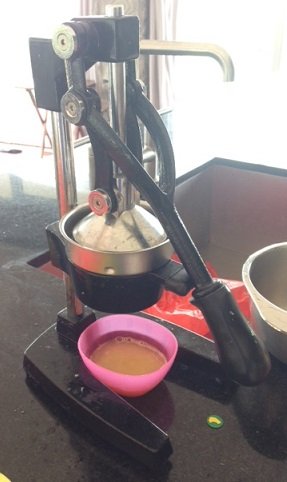 This last time I was able to get about 3 cups from about 15 lemons and limes that we found. That's a lot of juice! After I strain it, I will pour it into a one cup bowl and put it in the freezer. Then I'll let it freeze and pop it out to go into a Ziploc for freezer storage until I need it later. I add the one cup of juice to 3/4 cup or so of sugar and a gallon of water. It makes a tasty lemonade!! I currently have 7 frozen cups of juice in my freezer as well as citrus on the trees and a BIG bag in my fridge waiting to be juiced!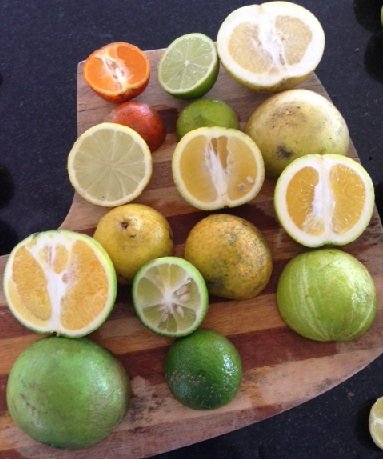 Above you can see some of the citrus fruits cup up that we found in the trees the other day. There is a grapefruit (that usually get thrown out because of worms), super sour orange, green seedless lime, yellow lemon, navel orange (very unripe), a few not super sour oranges (but not sweet really), and a lime with seeds. There is also usually a fruit that looks like a lime on the outside but it orange (and sour) on the inside and Mandarin oranges as well (but they are so high, I can rarely pick them - and they have lots of seeds and little fruit).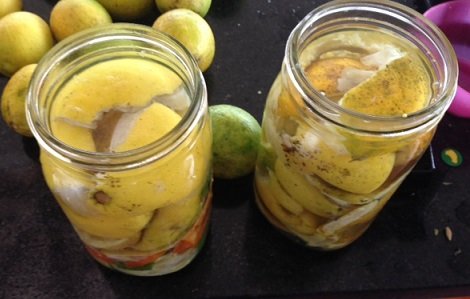 We have a ton of peels left over after we juice all this fruit. I used to throw it in the yard and run over it with the mower every other week until I read this post from @buckaroo where she mentioned in the comments using the peels to make a cleaning solution, so I tried that this time. I stuffed a bunch of peels in a jar and then filled it with vinegar and left it to sit for a few weeks. I look forward to seeing how it turns out!
What would you do with A LOT of lemons and limes?
---
Are you interested in visiting Panama to learn more about moving here? Check out Panama Relocation Tours if so. This tour will take you to many cities in the area where expats have settled and introduce you to many helpful people. Each tour is 5 nights and 6 days across the entire country (and you get to meet me)!
!steemitworldmap 9.059013 lat -79.471001 long David District D3SCR
Check this out on the steemit World Map