Early Summer Around Our Place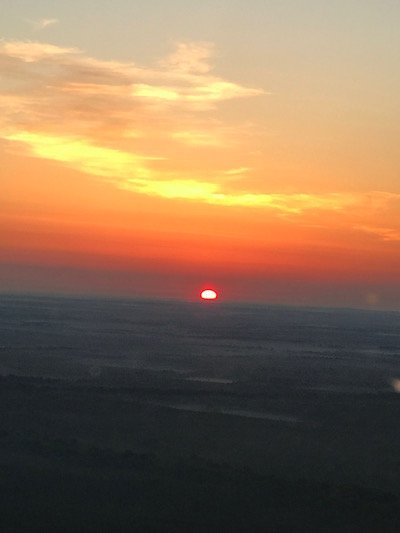 Sunrise Over Central Louisiana
---
The other day I had to fly from my home in central Louisiana to pick up some coworkers in Hammond, about an hour to the east by air. This flight took me over Baton Rouge just after daylight, and the picture above is the sun rising over the tree line when I took off.
The beauty of the dawn and the early morning scenery of vast agricultural fields spread out below me had me thinking of the bounty of our great state.
I'm lucky to be living here where life is peaceful, and conflict is rare. If you want to read about a quiet homesteading life turned upside down by political strife follow @cecicastor whose serene world has been shattered by the conflict in Nicaragua.
---
When the Missus and I built our house in 1995, on land we purchased from a family member, I decided to convert most of our 27 acres of pasture land into a pine forest. The rest I turned into a small vineyard and orchard and reserved a little plot for vegetable gardening.
We established domesticated fruits and berries here and there, and now, 23 years later, these shrubs, trees, and vines produce various kinds of edibles for our enjoyment.
I kept the wild berries where I could, and now we have several large huckleberry bushes and wild blackberry and dewberry patches.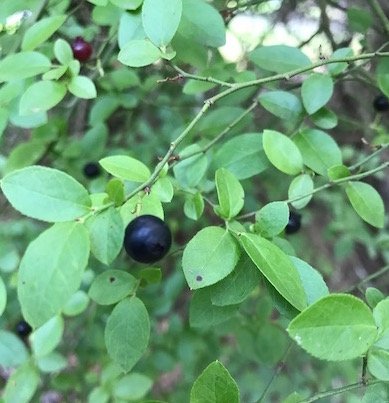 Wild Huckleberry
---
We planted a fig tree that my Uncle Tat rooted from a tree on my maternal grandfather's old place. Since then I have taken cuttings from the one he gave me and propagated several more.
I think he told me that Grandfather's original tree was at least sixty years old when he took the cutting from it.
I think about that old tree sometimes. It grew just outside grandmother's chicken yard. I used to watch the guinea fowl roost there when I was a child.
Life goes on, and things change. Sometimes I wonder how far back the history of that original fig tree goes.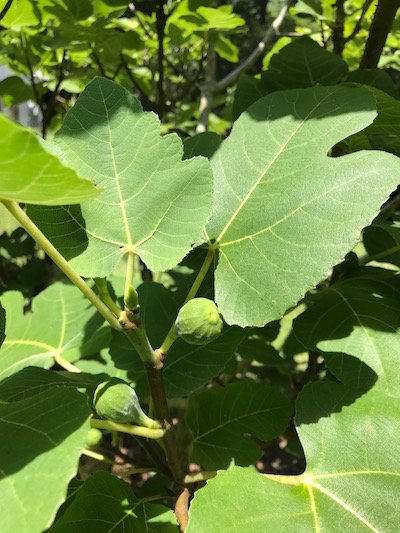 Young Figs on Our Grandfather Tree
---
Concord grapes aren't the ideal species to grow in the hot summers of central Louisiana, but I had a shady spot at the edge of my vineyard where I planted a few vines that seem to do well there.
I grow several varieties of native grapes called Muscadines and a type of small wine grape developed for production in the Texas hill country. Those vines are called Spanish Black.
I also grow a white grape, Blanc Dubois, but it is prone to leaf mold in this wet climate and requires a lot of treatment. I'm thinking of replacing the Blanc Dubois vines with another variety of Muscadine or Scuppernong.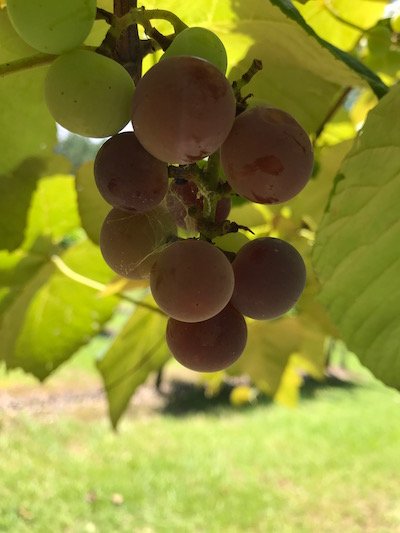 A small Cluster of Concord Grapes beginning to Ripen
---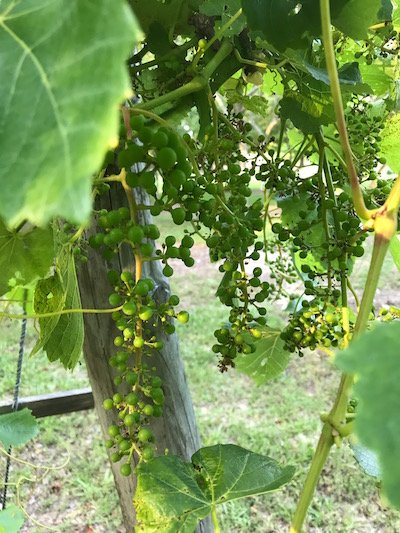 Early Blanc Dubois Clusters
---
My favorite bush in the yard is the blueberry. By mid-June, great clumps of juicy plump berries develop daily, and the few handfuls gathered when the berries begin to ripen soon become buckets of bountiful goodness.
I'm often found at the bush shortly after supper browsing on these fleshy delicacies.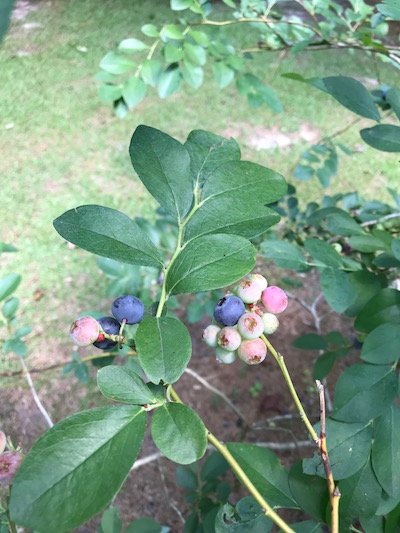 Blueberries
There is usually something to supplement our diet every month except for a period of dearth in late winter and very early spring.
We have a couple of varieties of citrus fruit that ripen in late November and continue well into the new year.
The satsumas are sweet and juicy and usually more than my family can consume so we supply the neighbors with an early winter gift of the small orange fruit.
We have two kumquat bushes along the south side of our house that produce a bounty of these delicious delicacies.
If you've never eaten them, you should seek out a few and try them. Kumquats are a small oval citrus fruit with skin similar to an orange. They are unique because you eat the peeling too and it's delicious!
The raccoons and opossums particularly enjoy the mulberries in early spring, and our persimmons get their attention in the Autumn!
Persimmons are large orange fruit that tastes similar to alum and are unedible until christened by the first frost in mid to late November. After the first freeze, the yield is sweet and has a unique flavor that only a persimmon has!
​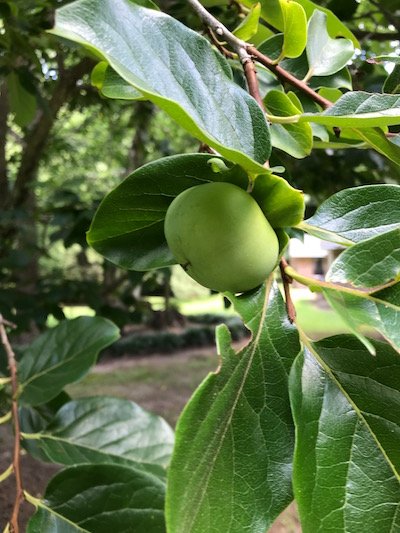 Developing Persimmon
We have a small apiary too, ​and we plant clover and wildflowers for our bees to enjoy. As you can see from the pictures below other insects as well as the hummingbirds,​ appreciate​ them too!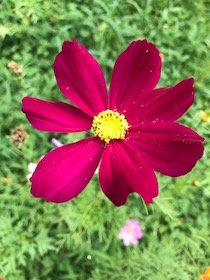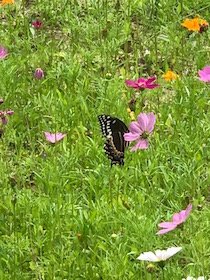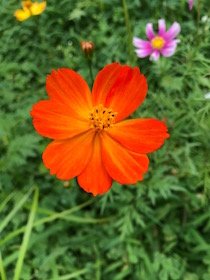 Butterfly and Wildflowers
---
I overheard the Missus talking to her mother on the phone the other day. The conversation went something like this:
"...oh, I don't know where he is, he's probably out in the yard grazing!"
I had to smile!
Thanks for reading and as always,​

CARRY ON!