Food Forest Update - pictures around the garden - Sept. 26, 2019
We had a few days of nice fall weather but then it went back to summer heat. Today, in particular, the humidity is a bit higher than it has been and it's 92F making it pretty miserable. I feel anxious for the cooler days so I can spend my time in the garden. During the few cooler days we did have, I managed to get a lot cleaned up, seeds sown, and did some prepping for our winter garden. During these hot days, I have been getting out early in the morning and later in the evening to harvest but haven't been doing too much out there mid-day. I've been feeling quite exhausted anyhow....lots of homeschooling, house chores, prepping for events, visitors, and running around to do. I guess this week of heat is a good time to just rest.
I did manage to get out there just a few minutes ago to enjoy the beauty. I couldn't help but snap some pictures. Honestly, our food forest is what keeps me sane. It's my little retreat. My breath of fresh air.
My little slice of heaven on this big Earth. Even when I say I am not going to do any garden work, I can't help but to still go stroll around in the food forest. I just can't resist the urge. It seriously is like my natural medicine to the crazy chaos of life. It keeps me grounded and connected....in tuned and in touch with nature. I feel sad for those that don't get to enjoy this. I just want to share it with everyone. I feel so compelled to teach people how to garden so they too can build this sanctuary. It's why I often share pictures and posts about what's going on. It's also why we offer low-cost workshops and volunteer days. Yes, it benefits us....but it also allows for those that don't have access to such beauty to come out and enjoy this peaceful place. Kindred spirits coming together to enjoy the energy and beauty this space has to offer. It allows others to learn too! It's a win-win for all involved.
As of today, the things that are doing well all look wonderful but there are still quite a few naked spots that need planting, older spring/early summer plants that need cleaning, and chores to be done. It shouldn't be much longer before it cools enough to spend a good long hard day out in the garden.
Take a look at what's going on this time of year for us here at Kindred Acres!! We are located in the USA, in Clayton (near Raleigh) NC at the border of grow zones 7b/8a.
Sunchokes (Jerusalem Artichokes) are flowering. This means the tubers underground are growing. It's best to wait until a frost to harvest because it makes them sweeter. In the meantime, we are enjoying their beautiful flowers, as are the pollinators. :) They look like mini sunflowers. :)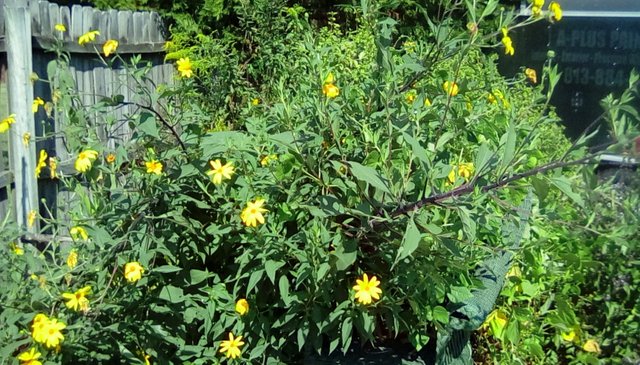 Speaking of sunflowers....our late summer sunflowers are blooming. We still have quite a few that haven't opened yet. This one has become refuge to a little friend. Can you spot it??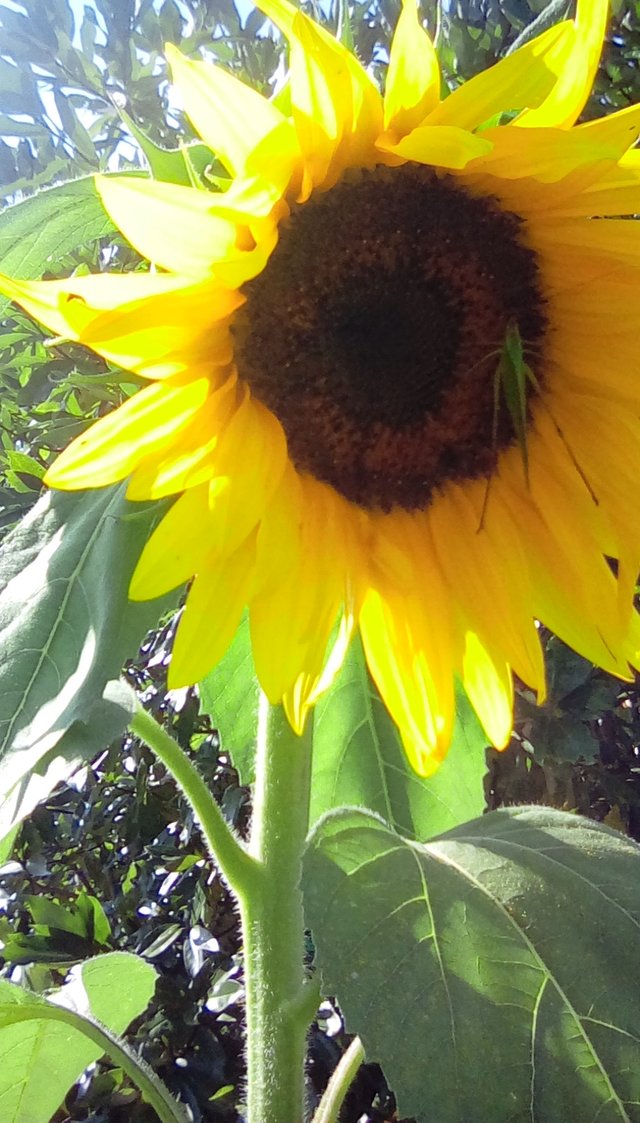 And while we are on the topic of flowers....I just love the passionflower. It's just stunning. Seriously a work of natural art.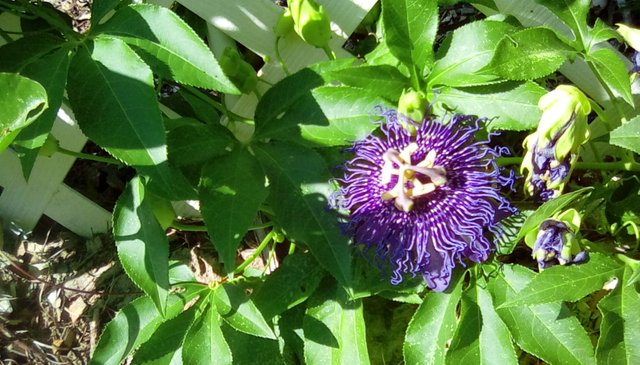 The pineapple sage is in bloom as well. I love the pinkish-red blooms that don the tips of the branches.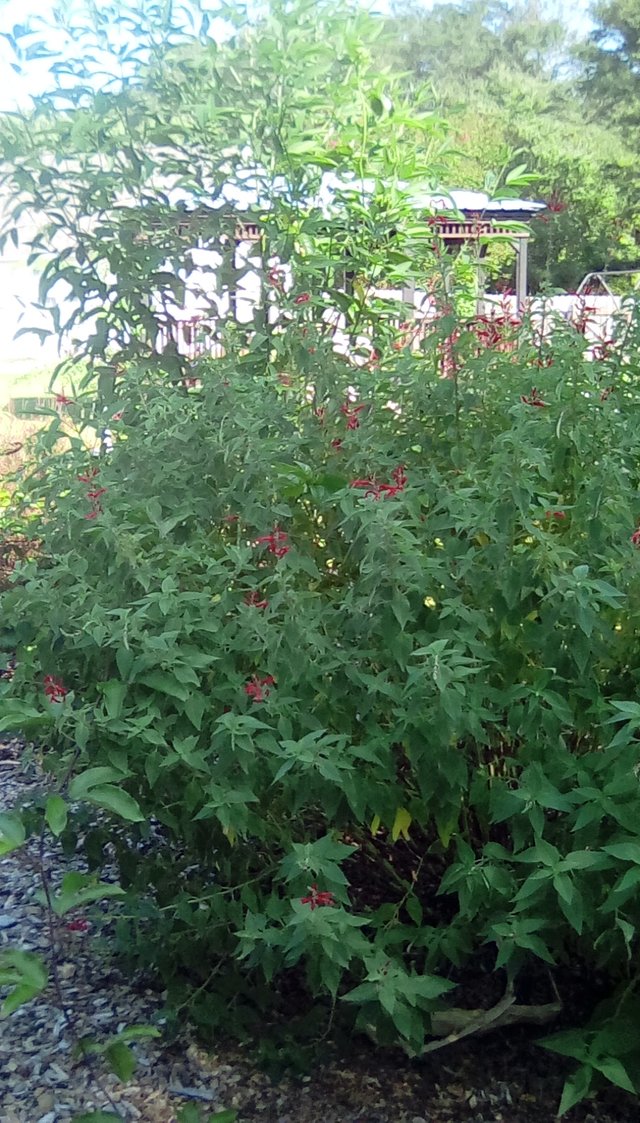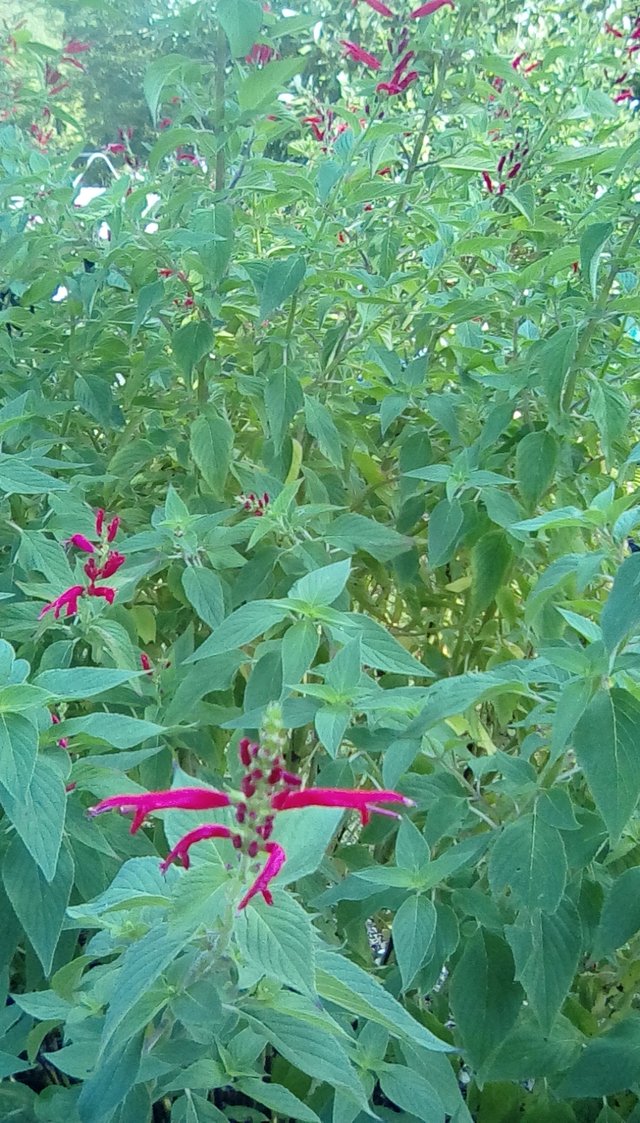 Despite the heat, the lettuce is hanging in there. It does get filtered sun and some shade from the larger plants around it which helps a lot. The heavy layer of compost and woodchips insulating their roots also help.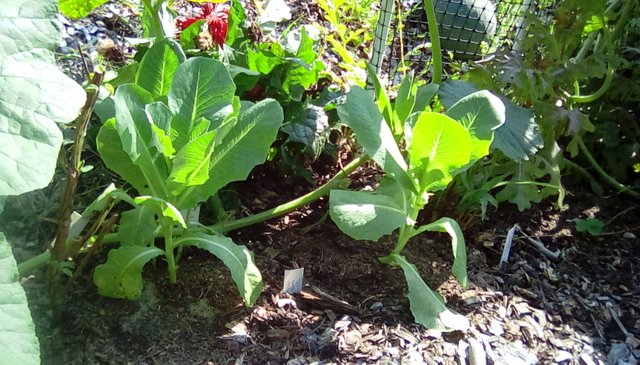 These beautiful eggplants are almost ready to harvest. These are Antigua Eggplant variety.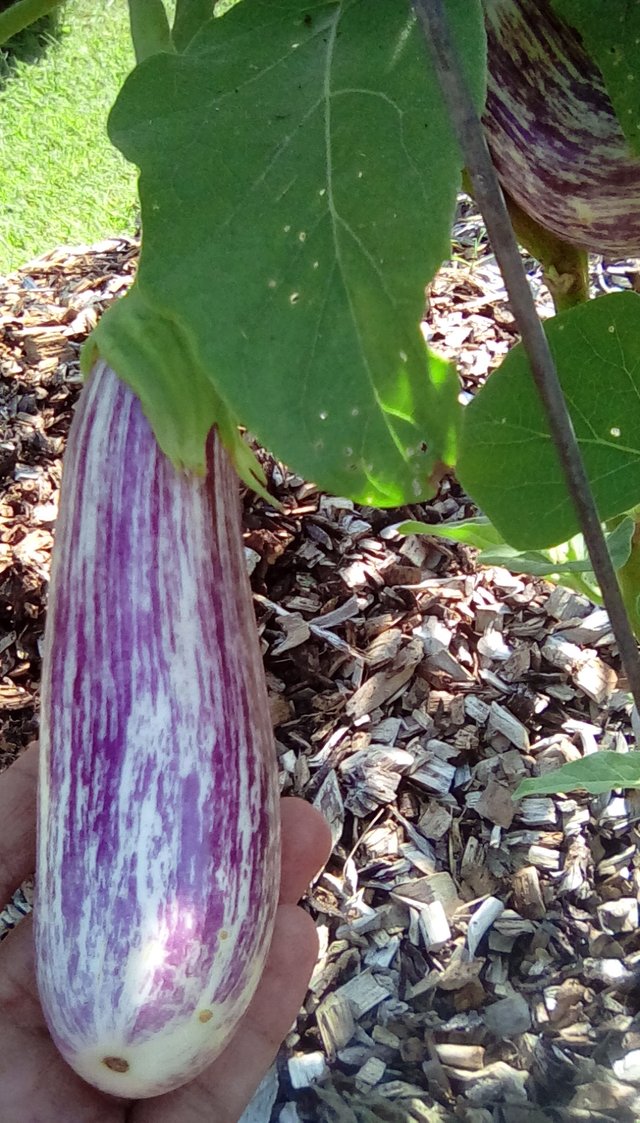 The strawberry patch has gotten crazy. Runners have taken root. Part of me is like eh oh well, we'll have lots of strawberries next year, but the other part of me is like, Bren....you should have clipped some off to root for the other areas. They need to get spread out. This spot is getting a bit to overcrowded and intruding on the walkway. Simple fix though. I can uproot some to move. Just waiting for the cooler days.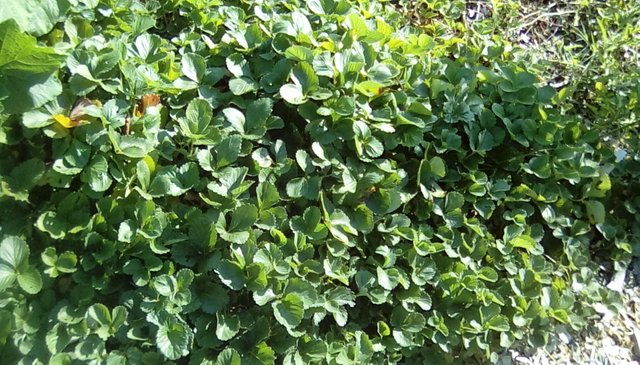 Here is a picturesque view of the back portion of the food forest....the orchard area. I know it doesn't look like much of an orchard yet. The fruit trees are still very young but they are growing wonderfully and in the meantime, I'm using the space for annuals that are mingling in with the perennials.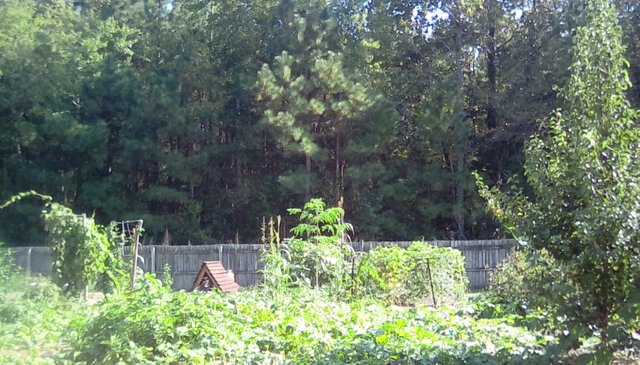 My favorite of all cowpeas....the Mississippi Heirloom Purple Cowpeas are doing fabulous as always. These plants grow so fast, so productive, delicious cowpeas, and excellent for drying for your winter pantry. If you are in need of seeds, don't forget to check out our Etsy shop. The link is below. ;)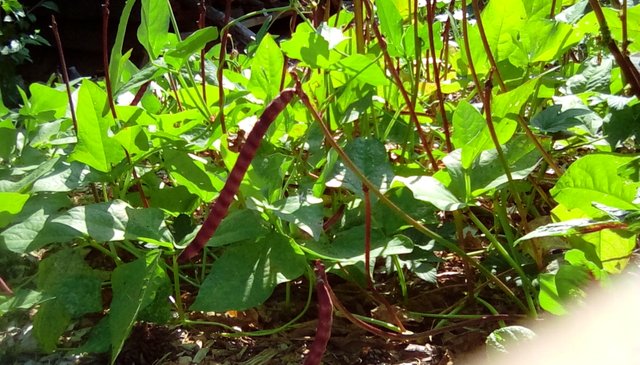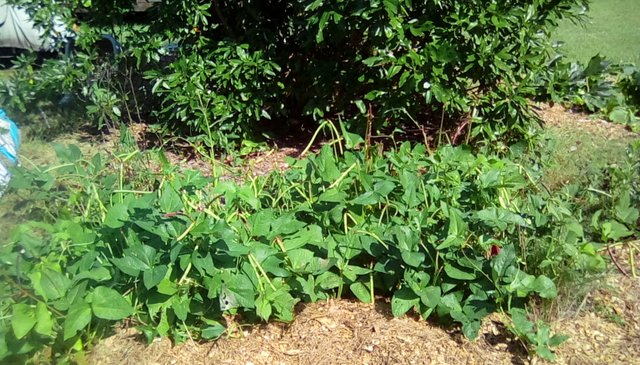 I grabbed a few ready ones while I was out there. :)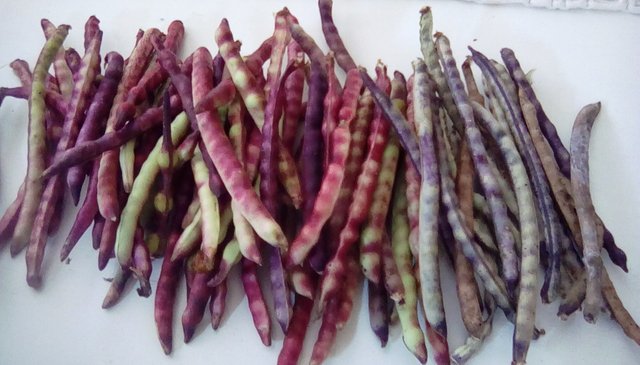 Sweet and hot peppers are still coming in very nicely. My favorite of all sweet peppers is Ajvarski. It is seriously the most delicious sweet pepper I've ever tasted. It's got such depth of flavor I can't even explain. Very juicy, thick-walled, and aromatic (especially when grilled or roasted). We have seeds available in our shop for this as well.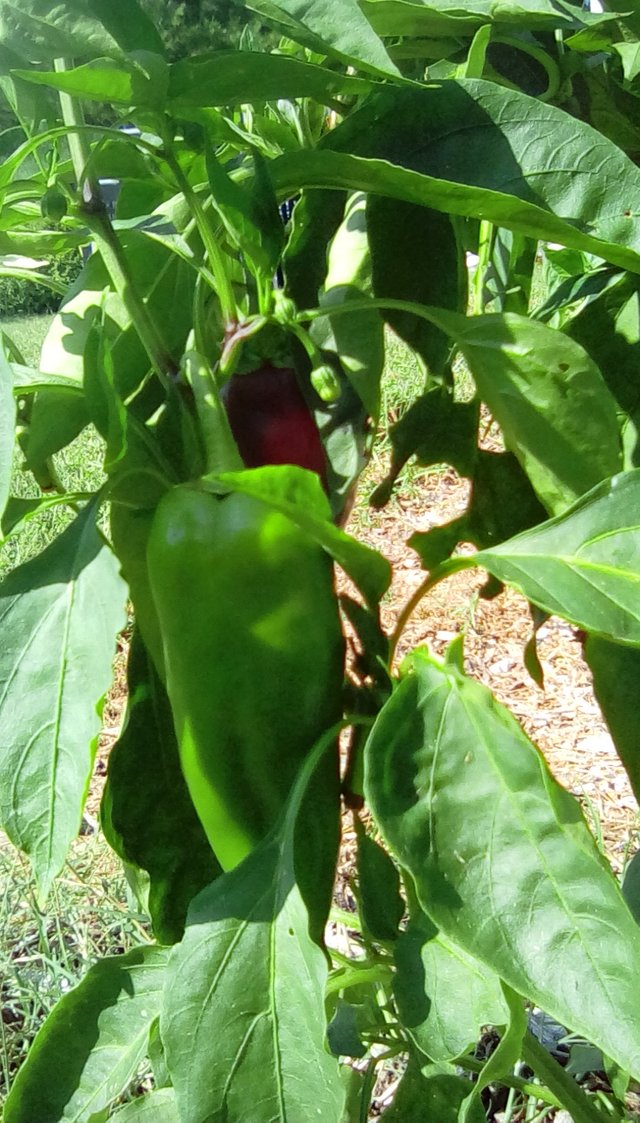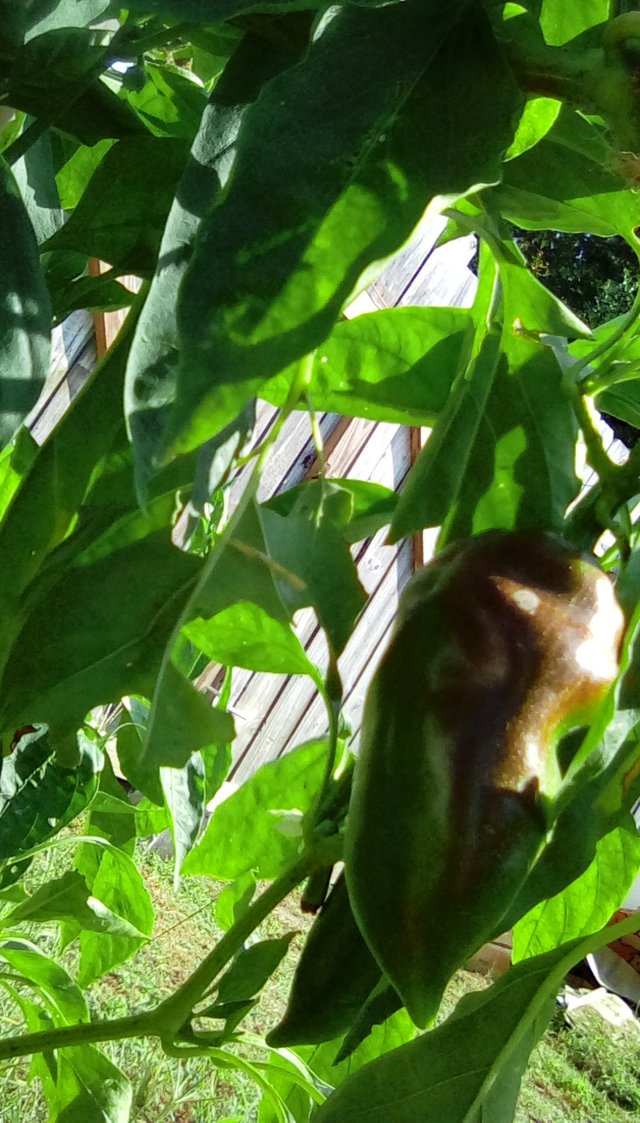 We are harvesting baskets full of hot peppers too. We love to dehydrate them and grind them to a powder for using on and in our food. :)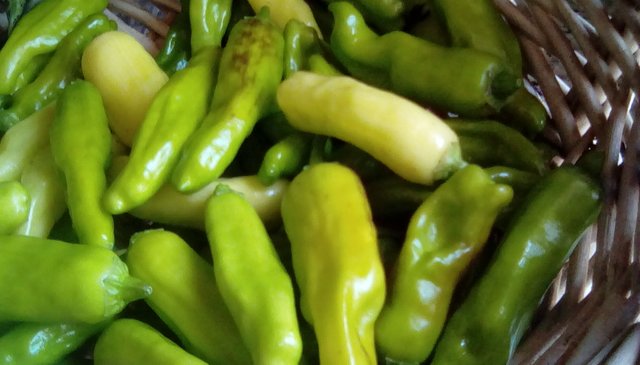 One of the most productive/abundant, delicious, and totally heat hardy leafy veggies to grow is Vegetable Amaranth (aka Chinese Spinach). It's delicious, mild-flavored, soft textures, and ridiculously productive. It's a must-have for our garden. We have been eating them fresh in salads, in saute's, in soups, we dried a bunch and ground to a powder to add to smoothies, etc. And to boot, it's pretty! It's quite the showy plant. Here you can see it bordering our luffa patch.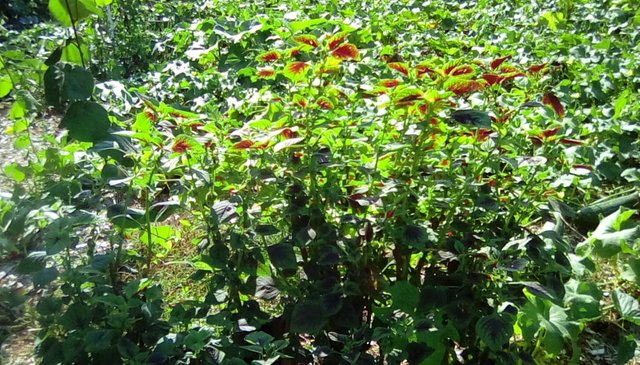 And here is some luffa growing....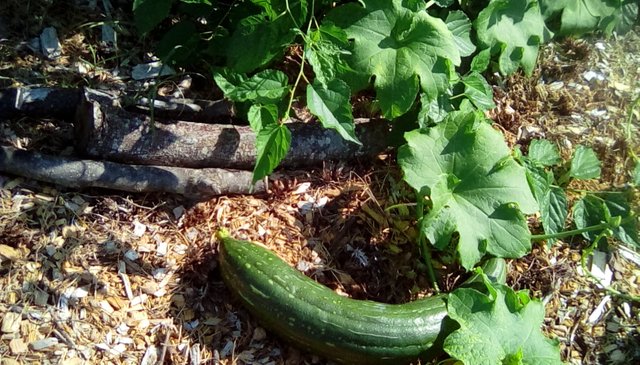 Our Roselle (aka Jamaican Sorrel) has done fabulously this year. We have harvested SO MANY calyx and I feel like we hardly put a dent in what is out there. The leaves on this plant are edible too! They are sour/tart so just a little goes a long way but they are super high in nutritional value, take the beating of the heat, and are a really showy plant. Here you can see the plant is almost done producing leaves and is now focusing on ripening the calyx. The calyx is what is used to make the infamous Red Zinger Tea. It's also used to make jams/jellies, fruit leather, and so many other things. :) Absolutely delicious. We are drying our seeds and they will be available for purchase in our Etsy shop soon. :)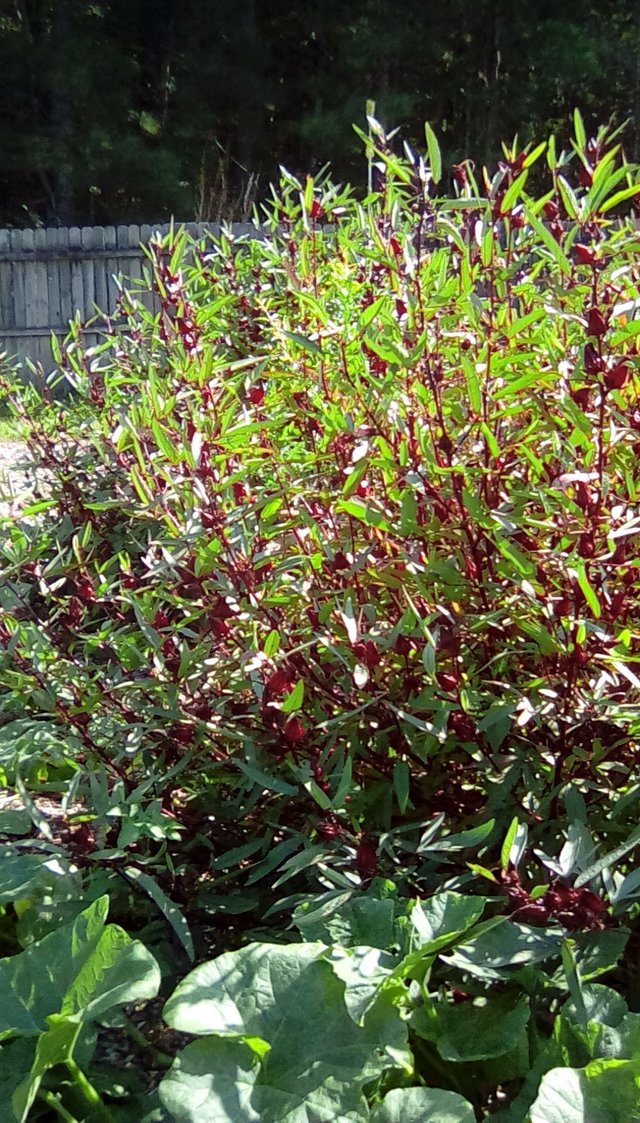 My absolute FAVORITE pumpkin is the Thai Kang Kob. The meat on this pumpkin is very rich, flavorful, and sweet! The pumpkin itself is really gorgeous. It's varying colors of green from sea blue/green to deep green. As it ages/cures it gets some chestnut colors running through it. Stunning. They are a warted pumpkin to boot. Those are always fun! They are in the C. moschata family making it very resistant to pests and diseases. As if that isn't enough to explain why it is my favorite, there is the added benefit of the fact that they store very well. It's a must grow for us here at Kindred Acres.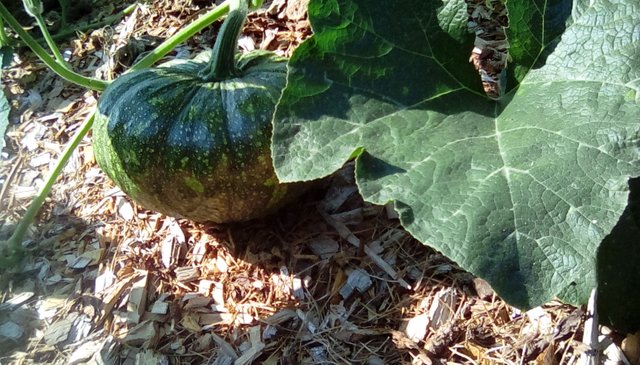 We have 2 fig trees in our orchard area (along with several other fruit trees). This one is from a tiny clipping I brought with us from our tree in TX. It's grown into such a beautiful tree. It didn't produce for us this year because it was obviously focused on growth. It gained quite a bit of height and girth this year so I suspect next year it should be ready to produce. I'm looking forward to tasting the delicious fruits.
Our comfrey patch died back quite a bit during the hot and humid summer. We expected this much so we had planted in this bed a bunch of other plants that are now done for the season. Now that it's calmed down a bit we cleaned the beds out and are allowing the comfrey room to grow. We did put some seeds in here just yesterday but they are all plants that should co-mingle with the comfrey (and benefit from them) just fine. Now it's just a matter of waiting for it all to bloom. :) Comfrey is cherished here. It makes an excellent poultice for booboos. It has wonderful medicinal properties and can be used for a number of things. It also has very deep taproots that mine for nutrients deep in the soil. It brings these minerals up higher to the surface so plants around then can benefit. For this reason, it also makes an amazing chop and drop plant for a natural fertilizer or an amazing addition to the compost tea bucket. It's a must-have for us here at Kindred Acres.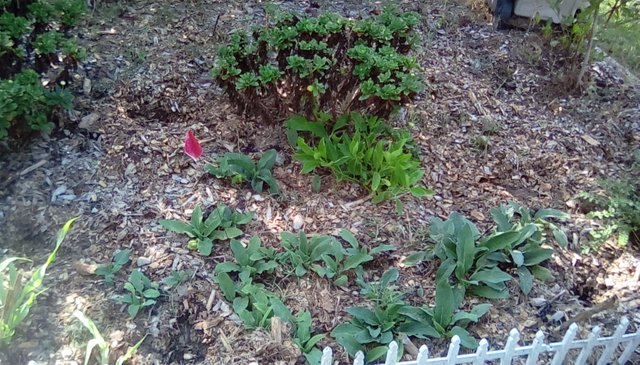 I'm not a big fan of okra. I actually hated it for a long time....until I tasted this variety. Star of David. The BEST okra ever. I especially like them when they are super young....like, just on the plant young. They have a really nice sweet and floral flavor. When they get a little bigger and they take on more of an 'okra' flavor I like them thin-sliced, tossed in salt and pepper, and then dehydrated to make delicious crispy okra chips for snacking. :)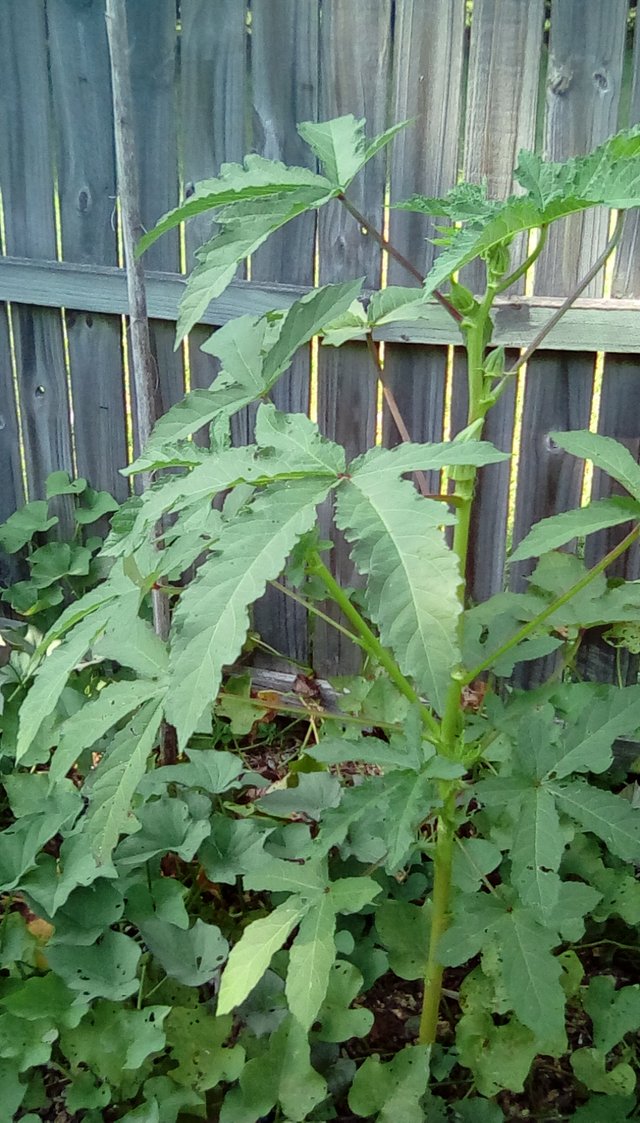 I like them so much, I've planted them sporadically through the garden and liked the front of the chicken yard with them.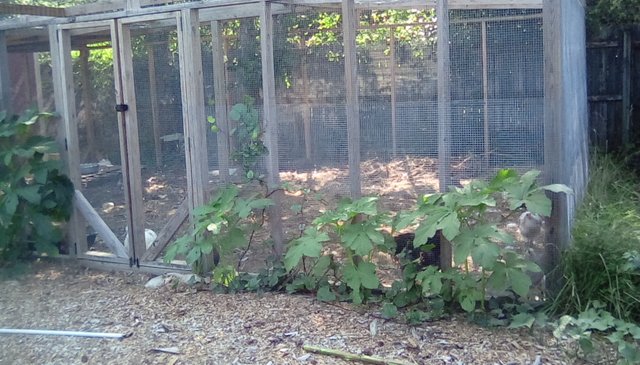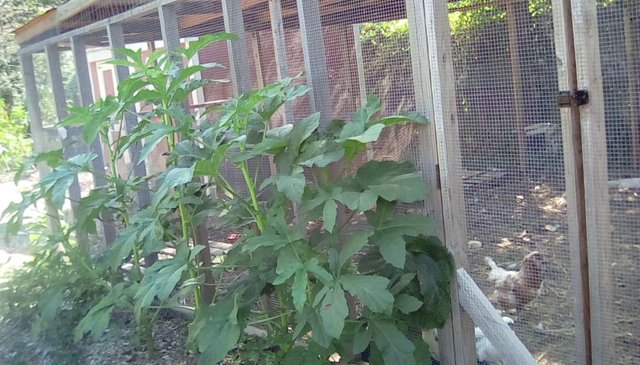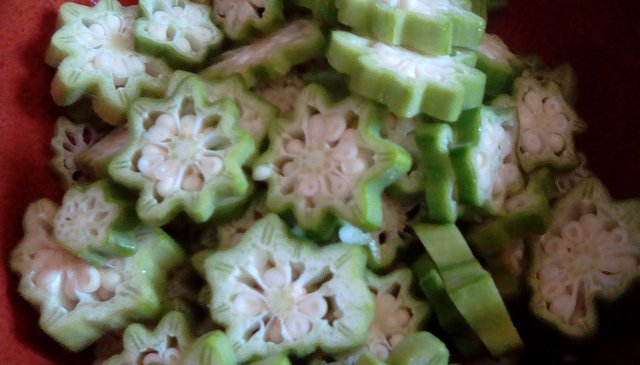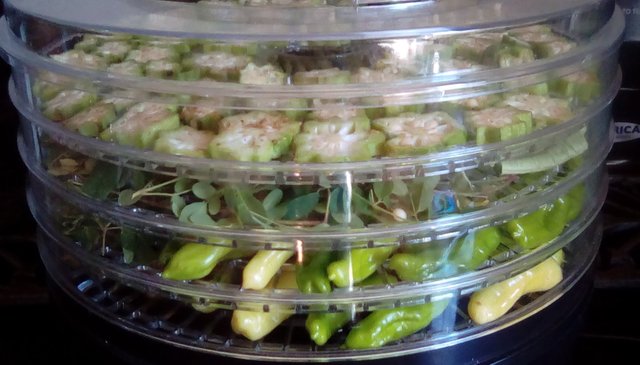 The chicken yard gets full sun in the morning and early afternoon. During the hottest part of the day, the plum tree and these okra plants have helped to shade out the chicken yard, keeping it cool for our feathered friends. :)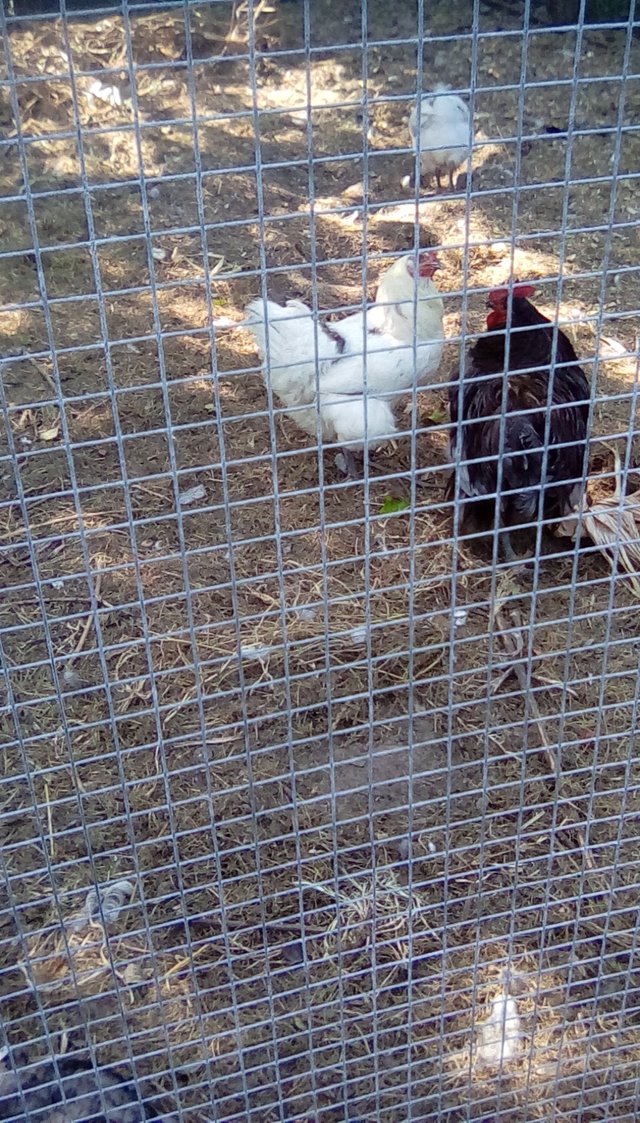 Our banana tree has had babies....many of them. What started as one tree has become a nice cluster. It's offered a good bit of very much needed shade to some of the plants below. We are truly enjoying having them. We use the leaves for cooking/baking too!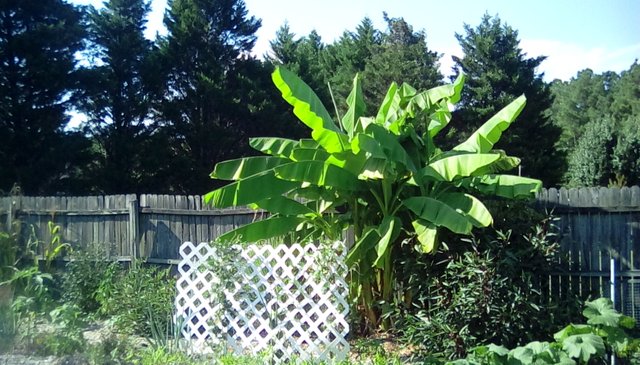 The longer garden run holds our table which has our seedlings growing. We did have a greenhouse but it got destroyed in the storm (twice! oy. no luck). We plan to build a solid wood framed, nice and sturdy greenhouse soon. It's just a matter of saving up to get the materials. I'm not thrilled with the look of this table in the middle of the garden, but it serves a purpose and I'm just blessed to have a space to grow.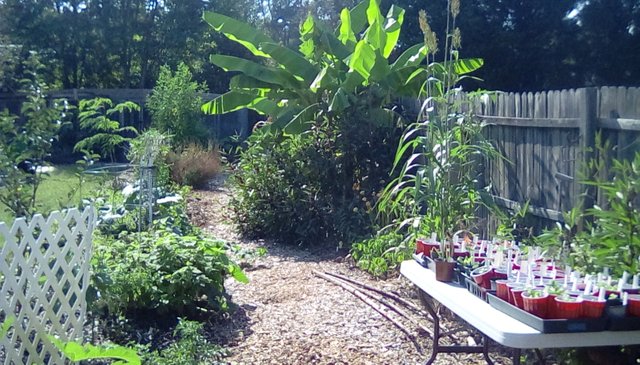 We use red solo cups to grow in because they are re-useable (just wash them out and save for next time!), they are nice and deep so the roots can really grow, they are easy to store and fit nicely in our trays. Here are a few pics of what's in the cups.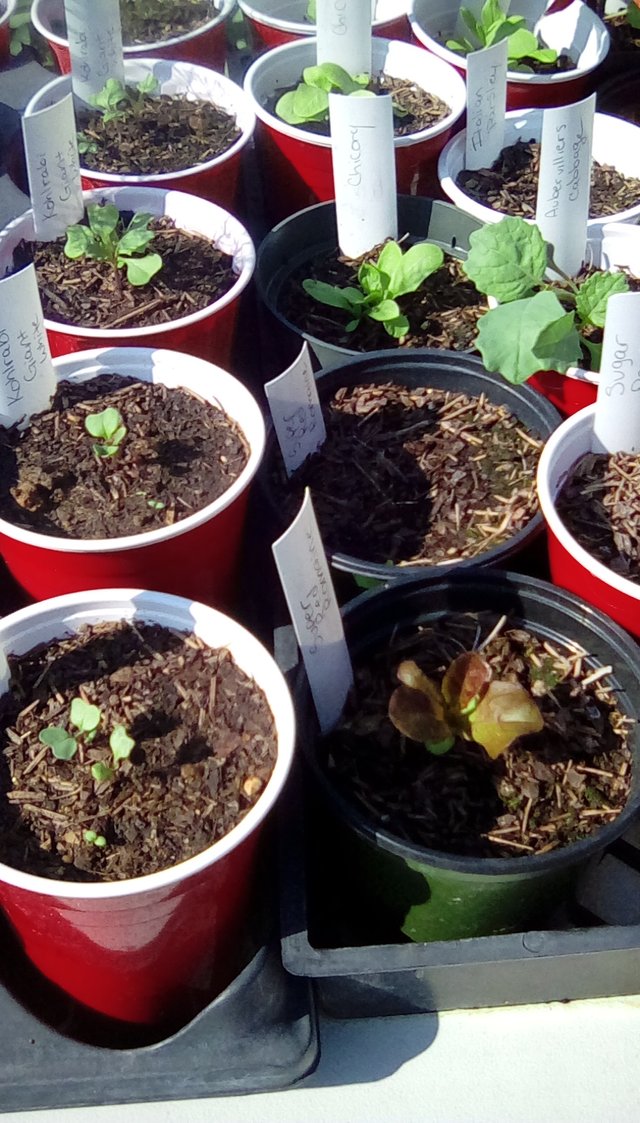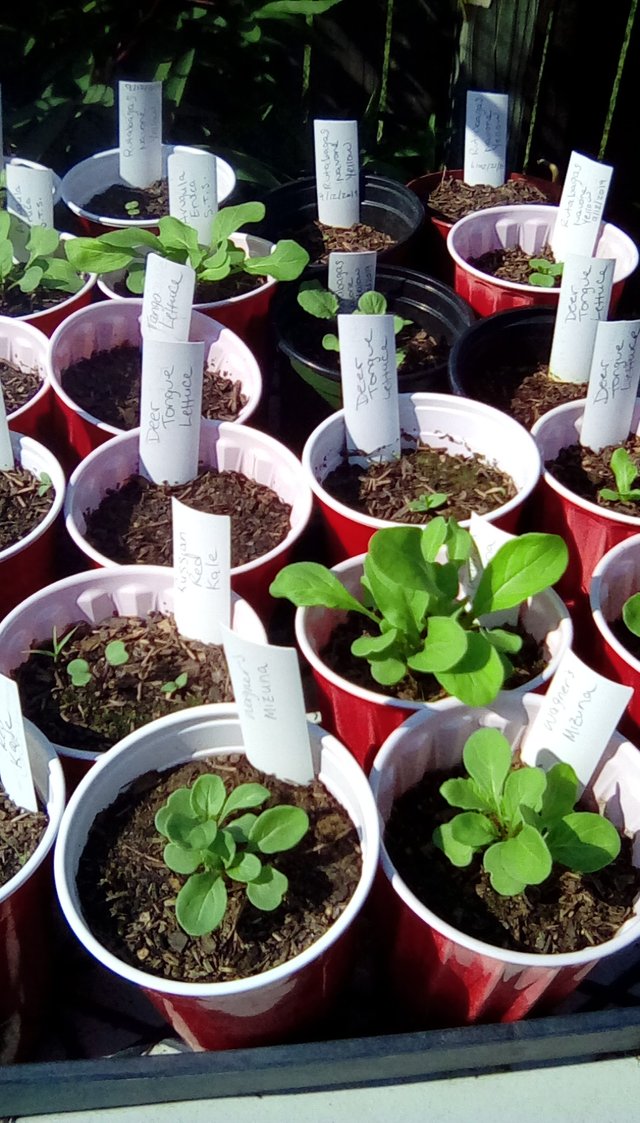 And a look at our happy seedlings that are popping up in the ground for our fall/winter garden. It's exciting to know a whole new season brings an entirely new set of deliciousness, beauty, abundance, and blessings.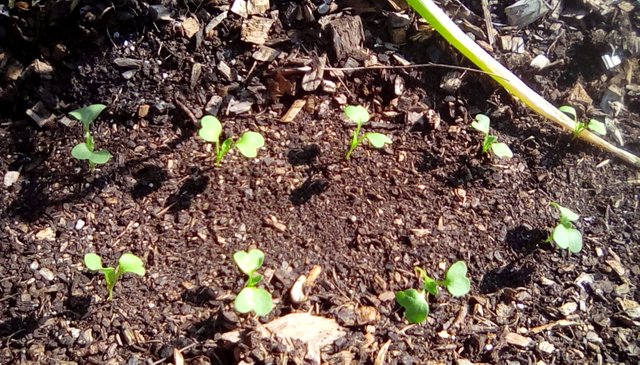 On that note....we leave you with this....
"We might think we are nurturing our garden, but of course it's our garden that is really nurturing us." - Jenny Uglow
Happy Gardening peeps! With lots of love
~Kindred Acres
If you find our blog posts and videos helpful or inspiring and would like to provide a love offering to Kindred Acres for all we do here, you can give us an upvote/comment here on steemit, give us a thumbs up on Youtube, or you can gift us an item from our Amazon wishlist! :) http://a.co/7U2Ibw5
Another option is to send any financial contribution ($1, $5, or whatever you are compelled to leave) via https://www.paypal.me/KindredAcres
We greatly appreciate your help and contributions!
Check out our Etsy shop for live plants, seeds, homestead goodies, crafts, and other options!
https://www.etsy.com/shop/KindredAcres?ref=seller-platform-mcnav
Follow us on Facebook to get notified of any upcoming events https://www.facebook.com/KindredAcresHomesteadAndWellness/
Upvote us on Steemit to show us some love and support!! https://steemit.com/@kindredacres
Give us a thumbs up, subscribe, and hit that bell on our YouTube channel!! https://www.youtube.com/channel/UCiZ8ynfylR5kIR9DnfcGP1g?view_as=subscriber
And finally,
Follow us on Instagram!
https://www.instagram.com/soulofagypsy_heartofahippie/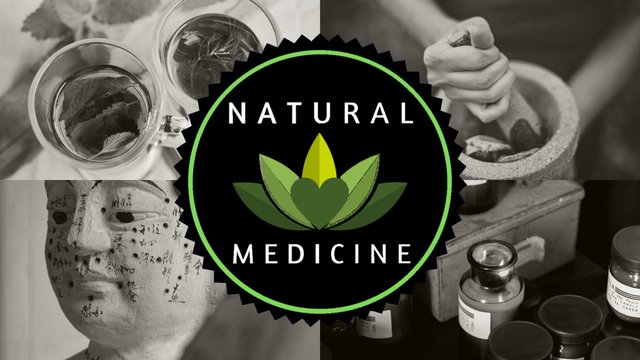 Being in Charge of Our Own Health: A Little Disclaimer | SteemPeak