This article was published on Medium before the Holo ICO. Things have changed for Holo since then, but still, I think there are some useful information you could benefit from.

If there's one thing that the cryptosphere hasn't lacked over the course of it's existence ever since the Bitcoin whitepaper, it's ambition. From replacing Paypal, to making distributed supercomputers, from decentralizing banking to a P2P Airbnb, the blockchain tech underneath it all has sparked some of the most ambitious projects of the past half a decade. But there's one in particular that has dwarfed every other in sheer ambitiousness: enter MetaCurrency.
"Wait a second" you're probably thinking, "what is MetaCurrency? I though this was about HoloChain?". Yeah… I was (still am :D) a bit confused as well… As far as I understand, MetaCurrency is more or less the organisation that is trying to disrupt and revolutionise the whole world's financial system. It's the "idea layer" behind everything they're doing. Then, on top of it, is Ceptr, the tech layer, the implementation of the ideas in MetaCurrency, and then, as part of Ceptr, there's HoloChain.
HoloChain itself is just one part of the whole project, just the "blockchain layer" (that isn't really a blockchain) for the hosting and computing of the decentralised internet (which is Holo). In short, architecturally it's essentially "Git: the blockchain, part 2: the torrenting", in the sense that conceptually it's relatively similar to a blockchain, except it's not made out of blocks but rather distributed hash tables, and it's not one huge chain but lots of small interconnected ones, because "local" nodes don't need to know the global state, so consensus is reached only where needed (i.e. there's no need for Bob and everyone else to know that Anna paid Kevin 10$ for the room for one night, it's just a waste of resources).
Pros:
The whole project started before even Bitcoin, although the Holochain itself (which is just a small part of Meta Currency) has been in development since 2016. It's absolutely enormous in scope, and they're making real, tangible, verifiable progress… It's neither vapourware, nor just an idea in a whitepaper!

Great developers with great code (read Andre Cronje's review of it, he's actually a coder, unlike me :))

User-centric architecture (they're calling it agent-centric, which is probably more accurate ;)) afaik, this is the only something-chain solution that has been designed from the grounds up with the user in mind, not the data the users generate.

Not really a blockchain! Thanks to it's architecture, it should be extremely scalable and efficient. It's so lightweight, you should be able to run a node on a mobile phone.

The MVP is pretty much ready for alpha deployment… But that's not all! If you call in the next 30 minutes, you'll also get a whole bunch of dApps included in the price! stuff like HoloTwitter, HoloKYC and HoloSlack that will get you started in using and developing for Holochain…

… and for only 99$ more you can get your own HoloPort Nano! (yes, they even have their own hardware for sale so you can get a node up and running in no time and for relatively cheap, depending on specs).

Good token economics. Particularly when you consider how big and ambitious this project really is, 25 million € isn't that big of a deal, and no waiting, you get your tokens right away!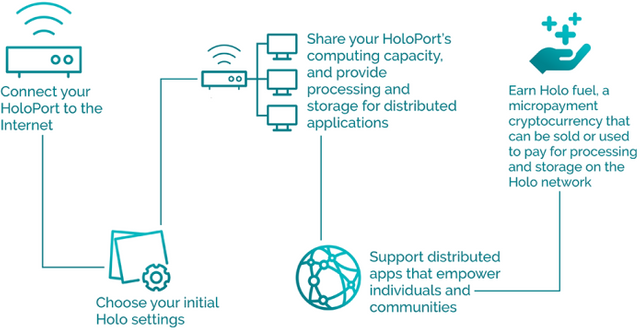 Cons:
Virtually no marketing, so little "mainstream" hype

Rumors of no particular interest in getting listed on exchanges, so there may be a possibility we'll only see it on IDEX and the link for quite a while…

Speaking of exchanges, there's even less info about what happens once the ERC20 tokens get converted to the native HoloFuel token. They're probably just keeping quiet because they're professionals and don't want to announce stuff until it's set in stone (like WanChain?), but i think it's still important to mention.

"Volatile" total supply. The project aims to keep the price of the token somewhat stable by increasing (and decreasing?) the supply (i.e. no hard cap on max supply, like Ethereum).
Apologies for the longer review this time, but this is such a huge project… and I haven't even covered all of it! This is easily the biggest, most impressive project I have seen since I entered this space last year. In fact it's so big and ambitious I'm a bit afraid it might be ahead of its time and the world won't recognize it, like some projects during .com era. Wake up, world! :)
Website: https://holochain.org/