Blockchain Smartphone from HODLER Wallet developer team, able to safely store and transfer cryptocurrencies – on sale from the end of February 2019. It's an entirely new type of a hardware wallet, combining the advantages of classic hardware wallets with all the benefits of popular wallet applications able to store many cryptocurrencies and tokens.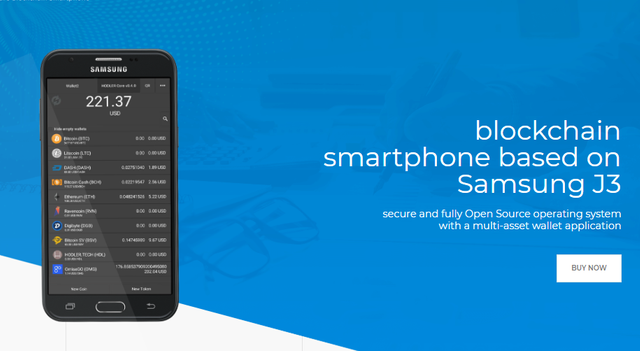 The complete solution consists of:
Samsung J3 hardware platform
HODLER OS operating system
HODLER Open Source Multi-Asset Wallet application
Hardware wallet advantages:
Fully transparent and open operating system running the wallet application. Thanks to this, every aspect of wallet security can be fully verified and doesn't require you to trust the application developer. Full source code is provided with the device.
Separating the wallet from other applications commonly used on a smartphone – isolated environment greatly improves security.
Automatic and constant offline mode of the device. Online connection is only activated for the moment of using the wallet.
Unique features of HODLER Pro:
Doesn't require a connection with a computer or smartphone to make a transaction. HODLER Pro enables making an easy payment in a store, and the mobile use cryptocurrencies in any place, at any time, and with the highest level of security.
The device is easy to use – from the user's point of view it looks like the wallet applications he has used before.
Full protection against "clipboard hijacking" – a method of attack that changes the recipient's address while copying it, endangering user's funds.
Currently HODLER Pro supports following cryptocurrencies:
Bitcoin (BTC), Litecoin (LTC), Bitcoin Cash (BCH), DASH, Digibyte (DGB), RavenCoin (RVN), Bitcoin SV (BSV), Ethereum (ETH), NANO and all ERC20 tokens (over 1500 cryptocurrencies based on the Ethereum blockchain).
Functionalities:
Support of all address formats available for Bitcoin, Bitcoin Cash and Litecoin (Segwit, Legacy, Compatible)
HD Wallet – one backup, consisting of a 24-word long seed, protects all the current and future-generated addresses on which funds are stored
Importing and exporting private keys
HODLER Secure Backup – original method of backups that are encrypted by default
Automatic searching for and adding ERC20 tokens
Receiving each new incoming transaction for a completely new address – greatly improves privacy
Ability to use many profiles and easily switch between them – the user can have many independent wallets on the same device
Auto-Offline Mode – if the device is not being used it automatically switches to offline mode, which improves security of the funds
Support of many fiat currencies and languages
Try before you buy
HODLER Pro is a solution that uses the HODLER Open Source Multi-Asset Wallet application. Before buying the device you can try the software wallet application available for the following systems:
Android – https://play.google.com/store/apps/details?id=tech.hodler.core
Windows – https://github.com/HODLERTECH/HODLER-Open-Source-Multi-Asset-Wallet/releases/
The android application and HODLER Pro differs when it comes to security aspects. HODLER Pro is based on an original operating systems, which eliminates the dangers presented by viruses and malware. Application running in an isolated environment is a better choice for storing large amounts of cryptocurrencies. The Auto-Offline Mode implemented in HODLER Pro can fully protect the unused wallet from hacker attacks and viruses. Thanks to minimal energy expenditure, HODLER.TECH's blockchain smartphone can be ready to use for up to 2 weeks without being recharged.
In the future HODLER Pro will become a platform coordinating many services and enabling them with the highest level of security. Integrations to be included:
Payment processors and exchanges – enabling fast and secure trading between cryptocurrencies and fiat, including sending fiat to bank accounts and making withdrawals at ATMs and Bitcoin ATMs
Decentralized Exchanges (DEX) which become more and more popular thanks to the highest level of privacy and anonymity
Blockchain platforms offering various cryptocurrency services, such as loans against cryptocurrencies, purchasing computing power, creating and managing personal tokens
These integrations will increase the control the users have over their funds. All the accounts and cryptocurrencies will be able to be managed from one, secure place, without the necessity to store cryptocurrencies in unsafe, non-transparent places such as exchanges. Trading and exchanging from the wallet level will provide maximum level of security, as well as easy, automated making of operations that today require a lot of time.
Currently there are two ways of purchasing HODLER Pro:
Purchasing the complete solution that consists of a Samsung J3 smartphone with HODLER OS operating system and the wallet application. Normal price for the complete solution will be 359USD, but for first couple months HODLER Pro will be available for promotional, much lower price – 199USD.
Purchasing software that will allow the users to install the operating system and wallet application on a Samsung J3 smartphone they own. Normal price for this option is 69USD, and the promotional price available for first couple months – 49USD.
HODLER Pro project's website: https://hodler.tech/pro
HODLER Open Source Multi-Asset Wallet free application's website: https://hodler.tech