For Anyone Too Lazy To Read The Most Important Post On The STEEM Blockchain.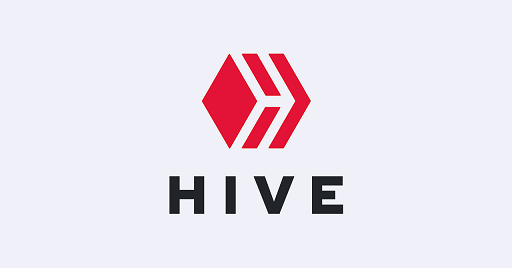 The Hive blockchain launch will be at 10am EST, Friday, March 20th. All of the magic will happen this week! The snapshot and airdrop will take place back to back at the time of launch.
I have to wake up at 7AM to dump my Steem coins?
Damn it!
---
All valid STEEM stakeholders will receive a perfectly mirrored balance of their current STEEM holdings in the new HIVE coin. This will include matching amounts of current liquid STEEM, Steem Power, and SBD.
For example: if your Steem account has 10 STEEM, 5 SBD, and 1000 SP, your new Hive account will have 10 HIVE, 5 HBD, and 1000 HP.
You will not need to claim anything. Simply log in with your existing Steem account details and you will have your new HIVE coins in your wallet and be able to start using the blockchain.
As expected.
Although it is cool that "Hive Power" is HP... like hit-points in gaming!
Also it's funny that everyone is already calling it HIV... lol
---
The Hive airdrop will only be performed on the current version of the Steem blockchain (as of the date of this post). Any "emergency hardforks" performed prior to the airdrop will not be eligible.
Oh shit, son!
Remember when I said Sun's hardfork might be a fly in the ointment?
I was dead wrong, friends.
Hive devs are smarter than @edicted!
Further, any exchange that participates in such a hardfork prior to the airdrop date will null and void the ability to participate in the airdrop for its off-chain balance holding customers.
Don't even think about it, Binance!
---
You can access your Hive account by simply logging in on the Hive Network using your existing Steem account keys. The first frontend available will be https://hive.blog. This is currently pointed at the Steem blockchain, but will be switched to Hive at launch time. Other popular interfaces are completing the switch over to Hive or finishing new products, and will be announcing when they are ready to use!
cool cool...
---
To prevent governance (or funding) attacks, a 30 day delay has been added on crediting vests towards witness and SPS votes. Further governance changes will need to be developed alongside the community.
NOICE!
Exchanges will have to go insolvent for a full month before they attack us. We will get a full month to respond if they even try that BS in the future. This basically nullifies the entire attack... no exchange will ever try this again. Steem leads the way in solutions to DPOS attack vectors. Crap... did I say Steem?
---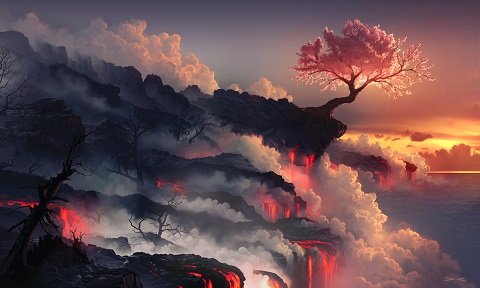 The only accounts who will not be included in the initial airdrop are those containing the Steemit Inc ninja-mined stake, and those who actively contributed to (and publicly declared support for) the centralization of the Steem Blockchain.
These accounts can still choose to take part in the new chain and their accounts will exist, but they will not be included in the initial airdrop.
OH SHIT!
LOOK WHO WAS RIGHT!!! @edicted was right! You guys thought I was a raving lunatic when I said we should freeze every account that attacked us.
Well, guess what? It's happening!
SCORCHED EARTH IS UPON US!
The SCT community is banned!
The exchanges are banned (unless they play nice)!
Steemit is BANNED!
Get wrecked.
BANNED!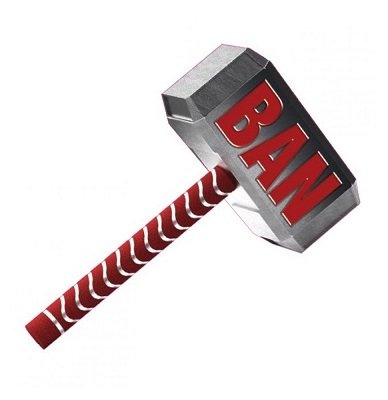 Let's be real.
Anyone who thought these accounts were going to get an airdrop... why would you think that? They are the whole reason we have to fork. We literally can't give them an airdrop.
The whole reason you give someone an airdrop is that you think there is a chance they'll want to be a part of the community and bring value. Obviously none of these accounts want to bring value to Hive, as they have demonstrated time and time again during the #steemhostiletakeover. How ecstatic I am over this turn of events.
---
I think it's funny that so many people thought this was not a viable option on the main chain... when the outcome is going to turn out exactly the same on the sister chain.
---
Important notes for cryptocurrency exchanges that list STEEM

Do you plan to support the Hive airdrop by taking a snapshot of your customer's Steem holdings at the time of the airdrop and credit them with a similar amount of Hive (Yes/No)?
YES) If you DO want to participate in the airdrop, please notify the Hive team that your exchange will distribute the airdrop on a pro-rata basis to your Steem customers (no fixed timeline for distribution is required), and the Hive account that corresponds to your Steem account will receive the airdrop at the time of the launch of Hive.
NO) If you DO NOT want to participate in the airdrop, please send out a notification to your Steem-holding users to forewarn them that you will not be participating, so that they can temporarily withdraw their Steem from your exchange before the airdrop snapshot date, if they wish to participate in the Hive airdrop.
If at all possible, please let us know by Thurdsay, March 19 if you will or will not be participating in the airdrop.
You can notify us by leaving a message on this post using your official Steem account, or you can contact one of our exchange liaisons:
Gandalf (located in Europe)
telegram: @Gandalf_the_Grey
email: [email protected]
Direct follow-ups will be made, but if we do not receive an affirmative response by days end Thursday, March 19th, we will assume that your exchange doesn't wish to participate in the airdrop for holding customer balances.
Wow, Friends....
@blocktrades is not fucking around, ya'll! This is a very serious ultimatum, and they only get 2 days to figure their shit out. Exchanges that do not meet these demands and do not get the airdrop risk being sued by Steem investors who have coins powered up on the exchanges. This is serious business.
They basically must meet these demands, and doing so gets us free listings on the exchanges... lol.
Justin Sun has absolutely no way of pushing a hardfork now... the exchanges will not allow it. This is so well played... so so well played indeed. This thing is so over... we won. Incredible.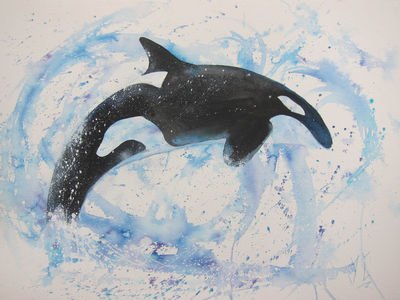 Conclusion
I've bought 11k more coins with the intention of dumping them the second they're cloned to Hive on Friday 7AM PST. This bumps me up to ORCA! This is a huge deal for me because when Steem was trading at $8-$2 I thought being on ORCA on Steem was absolutely impossible. #milestone
All in.
Let's go.
PS
https://twitter.com/TheycallmeDan_/status/1240046275187228673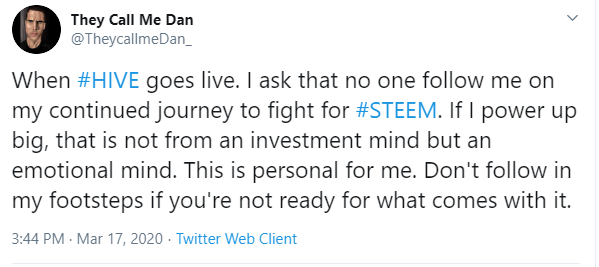 I agree, this is personal... which is the only reason I bought 11k coins just now... so I can dump 11k more coins on Justin... plus that extra 3k from my powerdown that will get here justin-time.
Honestly I don't even understand why @theycallmedan would say something like this. He must be on tilt. Why would you buy Steem AFTER the split when you can buy it now and get them both at the same time?
I guess if Steem is under a penny and he wants to salvage the platform it's possible? Dun know.